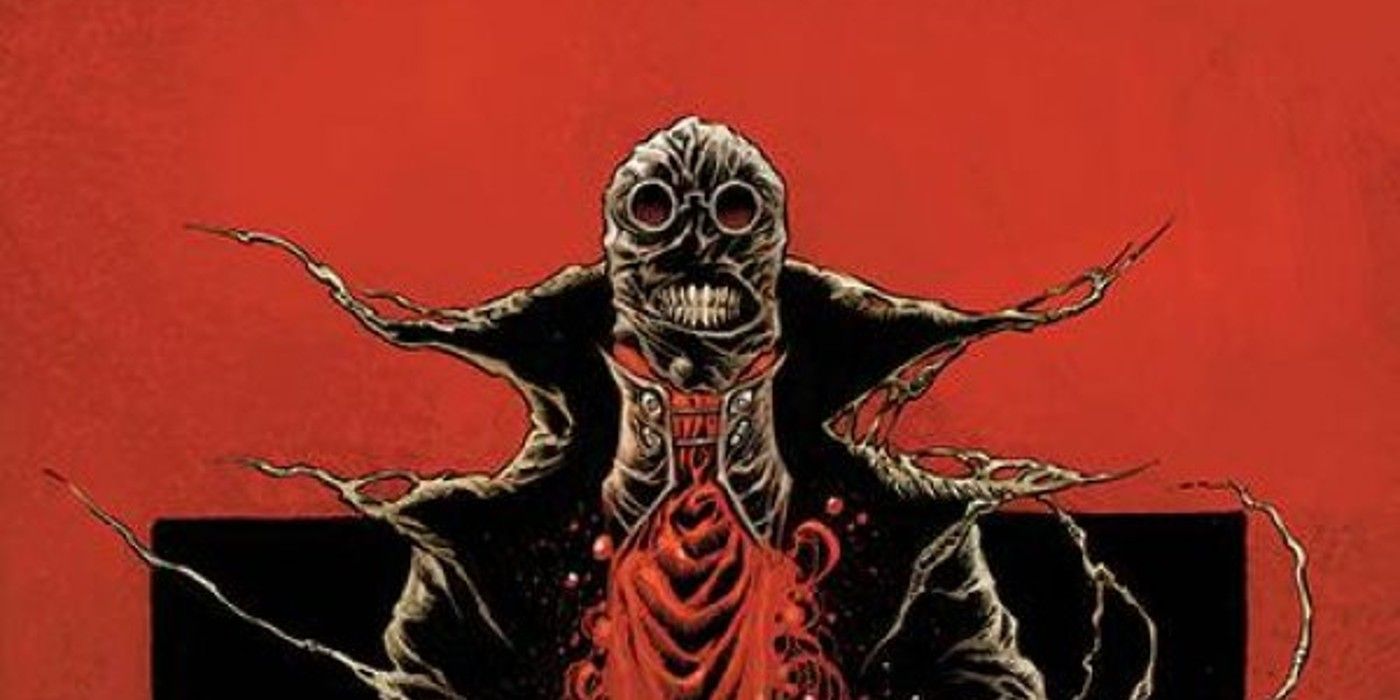 While fans of R. L. Stine may be most familiar with his best-selling books for children and teens, peeks at his latest comic series are showing a far more mature story. Stuff of Nightmares - from BOOM! Studios - revisits classic horror characters, but kids will want to stay away from this one. A peek at one the covers for the first issue reveals a taste of how different this comic will be from what Stine fans are used to.
BOOM! Studios announced Stuff of Nightmares in June. The creative team has already been announced, including R. L. Stine, A. L. Kaplan, and Roman Titov. Numerous variant cover artists for the four-issue series were also announced. Now, many of the variant covers have been revealed, with comic artist Kyle Hotz being particularly indicative of the tone this comic seems to be setting.
Related: Hellboy's Dark Future Is Exposed in First Look at Frankenstein: New World (Exclusive)
On Twitter, Kyle Hotz shared the cover he created with colorist Dan Brown for Stuff of Nightmares #1. Hotz has provided art for Aliens: Colonial Marines - No Man Left Behind, Ghostbusters: Infestation, Billy the Kid's Old Timey Oddities, DC's Cursed Comics Cavalcade, and other series. He has also illustrated covers for Absolute Carnage, Man-Bat, Soul Plumber, Venom, and many more. His new work on Stuff of Nightmares is definitely a horrific highlight.
The cover features the mysterious figure that is present on several of the covers for this first issue. The red handkerchief they wear is particularly grotesque looking with its bloody trail, which streaks down behind numerous monsters. The tendrils stemming from the coat mirror the gangling creatures' corpse-like forms. This creepy image is a far cry from the cover illustrations found on R. L. Stine's Goosebumps books and even diverges greatly from Fear Street's covers and those of its many spin-off series. This BOOM! Studios series has promised a more mature story involving the creation of monsters via mad science - a familiar trope within the horror genre. It is one that Stine has explored before in books such as Stay Out of Basement. However, this series will feature a demented duo of brothers.
BOOM! Studios has been providing readers with a slew of horror offerings that range from friendly to creepy, as well as rather bloody adventures (BRZRKR). These have included Something is Killing the Children and its spin-off series House of Slaughter. Additionally, Stine penned the middle-grade graphic novel series, Just Beyond. Other offerings range from Proctor Valley Road to Bone Parish. This new comic will be the latest, providing horror fans with something new and even unexpected, considering R. L. Stine's publication history. Fans of the legendary horror writer will get to see his latest mature work when Stuff of Nightmares #1 releases in September.
More: Ninja Turtles & Power Rangers Are Reuniting in A New Adventure
Source: Kyle Hotz
from ScreenRant - Feed