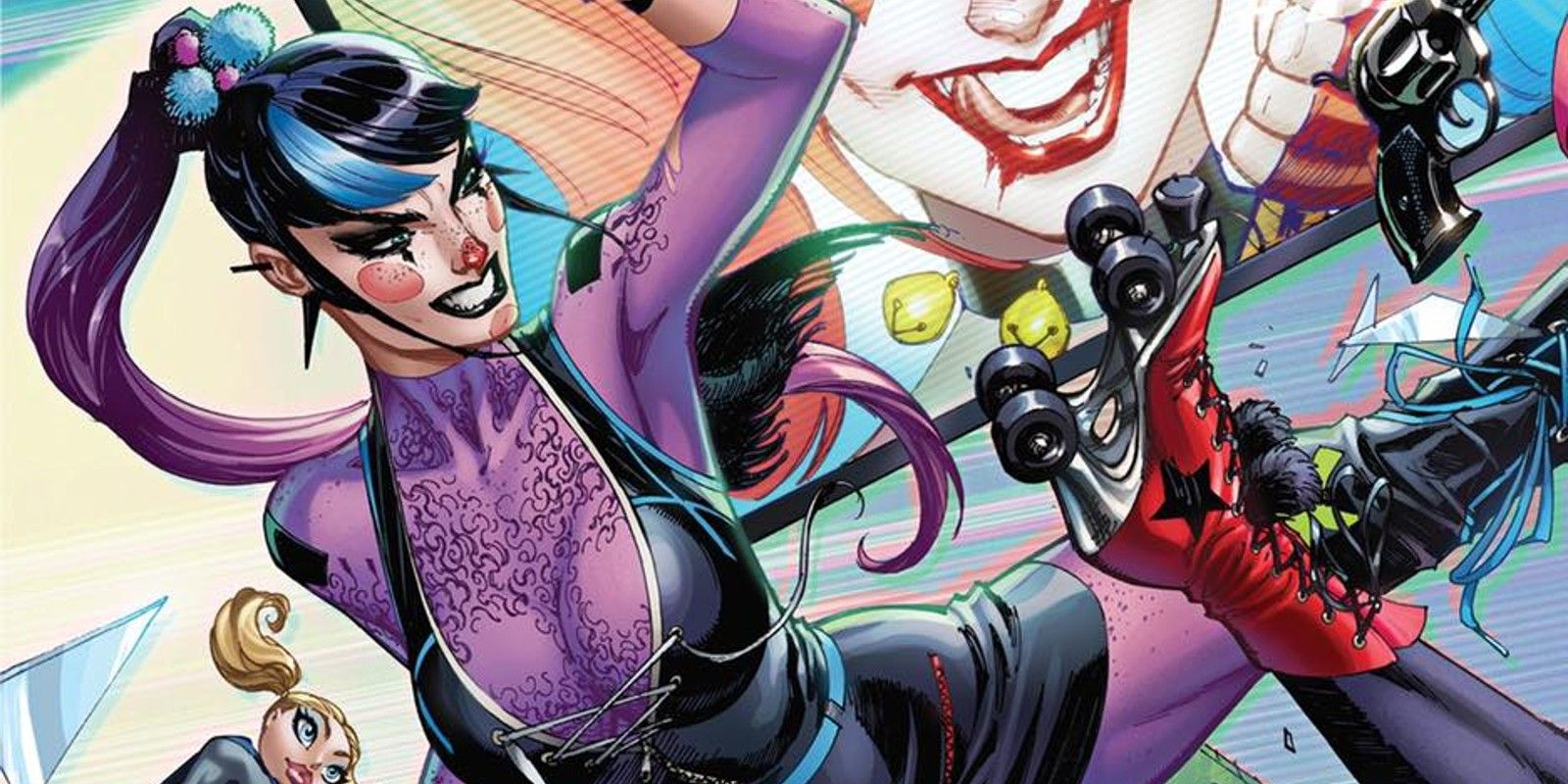 Spoiler warning for the back-up in The Joker #15
Spinning out of the events of her back-up feature in The Joker, Punchline seems to be getting the star treatment in a new series coming this fall to DC Comics. Punchline—a.k.a. Alexis Kaye, the Joker's newest henchwoman and girlfriend—debuted in 2020 during the events of the Joker War. Now, after being acquitted of all charges during the trial of Alexis Kaye, Punchline is gearing up to spread more misinformation and take down Bluebird in Punchline: The Gotham Game #1 sometime this fall.
Created by the iconic Batman team of James Tynion IV and Jorge Jiménez, Punchline made her first appearance in Batman #89. A major character in the "Joker War" Batman event, Punchline is a kind of neo-Harley Quinn; she may be the Joker's new girlfriend, filling Harley's vacancy, but she is far more cold and calculating than Harley. After the Joker War's conclusion, Punchline was imprisoned and put on very public trial, mimicking the high-profile celebrity trials readers often see in the real world. Punchline's manipulative nature was spotlighted during this trial as she turned public opinion in her favor, manipulated events both inside and outside of the prison, and made an enemy in Bluebird and her brother, Cullen Row.
Related: The Joker Just Flipped The MCU's Satisfying Ending
Punchline's back-up, featuring her trial, comes to a close in The Joker #15 in an installment by Sam Johns, James Tynion IV, Sweeney Boo, and Becca Carey. From the beginning of the series, the back-up has focused on Punchline's ability to manipulate public opinion of her, especially her avid (and sometimes rabid) fans on social media. Just previously to this installment, Alexis Kaye had been found "not guilty" on all charges. Now she is roaming free and in Gotham's good graces. Bluebird confronts Punchline only to have the situation summarily turned on her: Punchline manipulates and films Bluebird's attack to create more pro-Punchline social media content. The issue ends with a swarm of Punchline-positive social media entries and a graphic promising that "Punchline will continue in: Punchline: The Gotham Game #1 this fall!"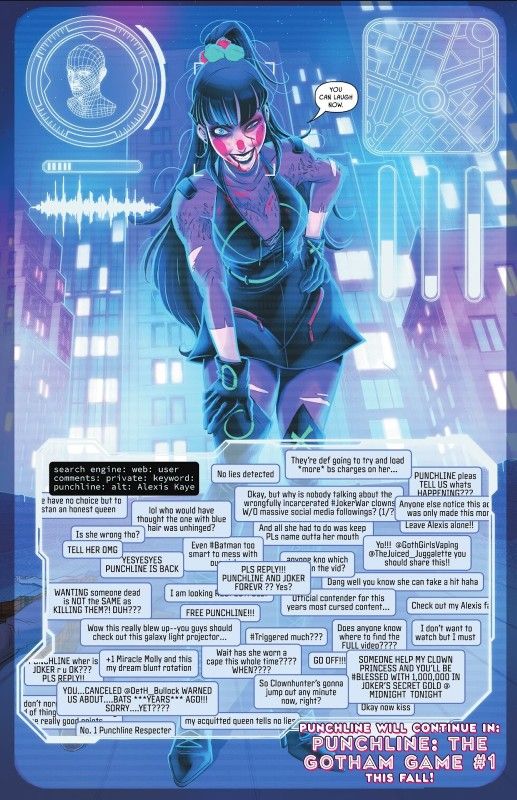 Though DC Comics has yet to officially announce this upcoming series or its creative team, the open-ended nature of this back-up finale promises Punchline fans a lot of excitement this fall. Though Punchline is not the sort of character a reader can root for, she is deliciously interesting; her ability to influence in-universe Punchline "stans" serves as incisive commentary on the nature of celebrity culture in the social media age. In the eyes of the Gothamites who worship her, Punchline is a "girlboss" who has been unfairly slandered by both the press and the Gotham vigilantes alike. This kind of fan culture has masked Punchline's true vindictive and evil nature—she's a villain who lives up to the Joker's legacy.
Punchline fans—including readers who love to hate her—can follow her exploits and manipulations in Punchline: The Gotham Game this fall. Whether or not the Joker will make an appearance is yet to be seen, but Punchline's back-up feature has proven she can carry a story herself. Fans will have to continue reading to see how Punchline will sway the masses next—and whether she will face true consequences for her crimes in her new series from DC Comics.
More: Punchline Cosplay Blurs The Line Between Photography & Comics
Check out The Joker #15 available now from DC Comics!
from ScreenRant - Feed