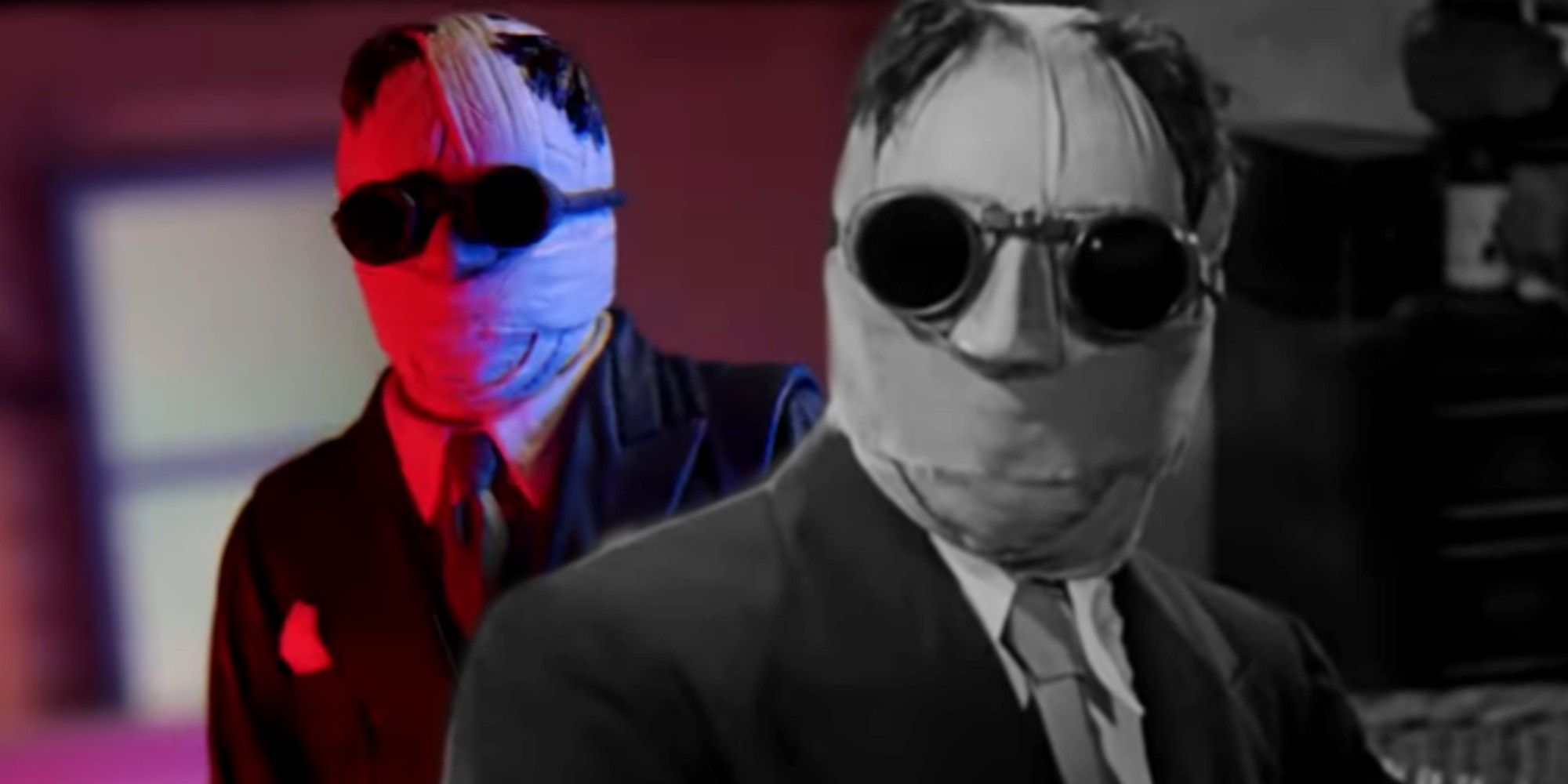 NECA has recreated Universal Pictures' The Invisible Man's opening sequence using their latest action figure, which is inspired by the classic horror film. Claude Rains starred as the titular character in James Whale's influential 1933 film. The Invisible Man was received incredibly well upon release, with the film being selected to join the US National Film Registry for being "culturally, historically, or aesthetically" significant.
In Whale's adaption of H. G. Wells' 1897 novel, Rains starred as Dr. Jack Griffin, a chemist whose experiments leave his body completely invisible, driving him to insanity as he instills fear across a quiet English village. In the film's opening sequence, Griffin is confronted by local villagers when he distresses two innkeepers, leading to him manically revealing his condition to the civilians, shocking them and a local police officer. As one of the key characters in Universal's Universal Monsters franchise, a deluxe action figure of Griffin was revealed in May 2022, set to join other previously released creatures such as Frankenstein's Monster and The Mummy. To promote the upcoming figure, NECA has recreated the film's shocking reveal in stop motion.
Related: How Invisible Man (1933) Did Amazing Effects Decades Before CGI
As shared on the company's official Instagram account, NECA's stop motion animation recreates the moment where Griffin reveals himself to the mob of villagers in his inn room, unwrapping his bandages to reveal his invisibility in an angered state. Using the official action figure, the animation recreates the black and white movie in color, with varied angles to fully showcase the item's details and decoration. The animation also showcases the figure's accessories, including Griffin's notes and alternate hands and heads to capture Griffin's shocking unmasking. Check out the animation below.
Click here to see the original post.
The Invisible Man follows previous NECA Universal collaborations, such as their TMNT Raphael/Frankenstein crossover figure. Following their previous releases based on both the Universal Monsters characters and the Teenage Mutant Ninja Turtles franchise, the figure combined the red-bandana-wearing, sai-wielding Ninja Turtle with Frankenstein's Monster, complete with sai shaped like lightning bolts, and stitching and bolts keeping Raphael in one-piece. Raphael has been followed by other figures in the strange crossover sub-line, such as Leonardo as Igor the Hunchback, Michaelangelo as The Mummy, Donatello as The Invisible Man, and April O'Neil as the Bride of Frankenstein, with the April action figure being based on the likeness of Teenage Mutant Ninja Turtles 1990 star Judith Hoag.
The Invisible Man is one of Universal's most iconic characters in its classic monster line-up, with the character having been recently reimagined and modernized in 2020's The Invisible Man from Leigh Wannell and Blumhouse Productions. While further Universal Monsters reboots have been promised, Rains' Griffin and other monsters of the era have an irreplaceable position in pop culture, inspiring future films and introducing characters and themes that would remain recognizable and often referenced to this day. NECA's stop motion recreation not only shows off their impressive figure but serves as a fun and memorable reimagining of Rains' iconic reveal.
Next: How Universal's Classic Monsters Created Crossover & Multi-Verse Movies
Source: necaofficial
from ScreenRant - Feed