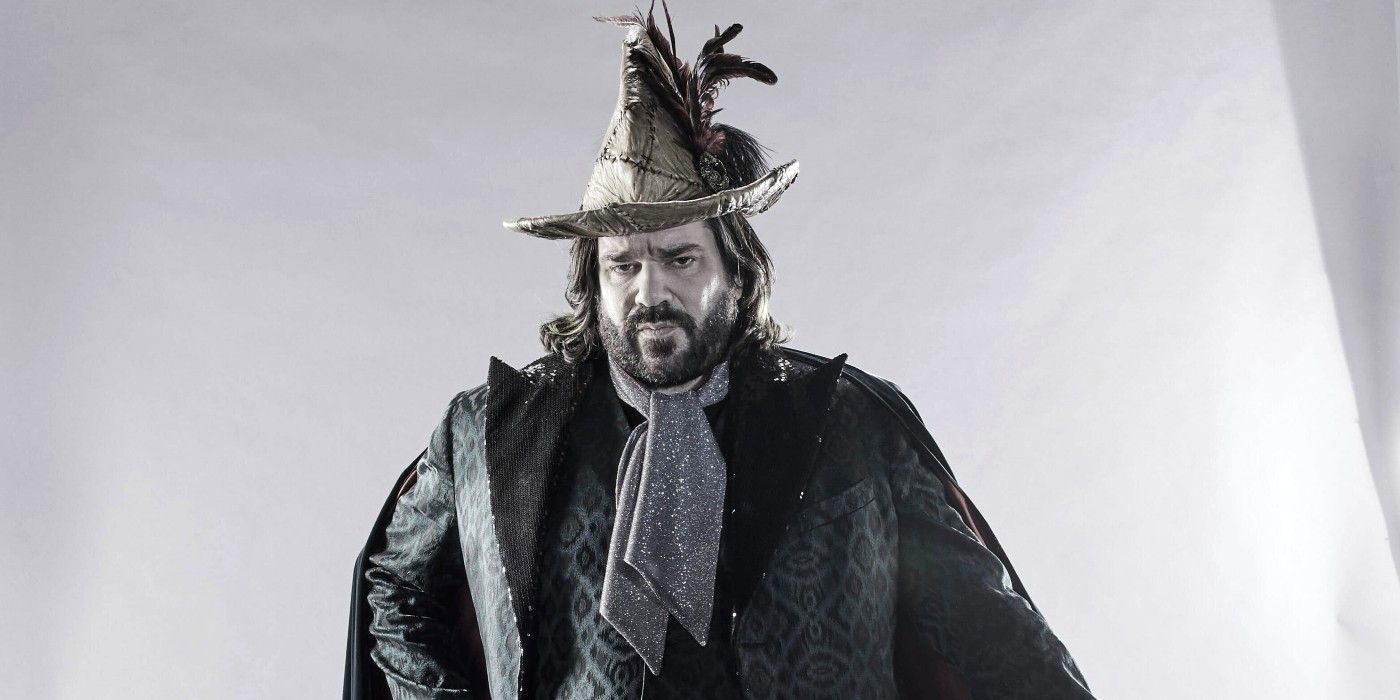 A newly released image from What We Do in the Shadows season 4 spotlights Matt Berry's Laszlo and teases the return of the doomed witch hat. Premiering on FX in 2019, the massively popular, Emmy-nominated supernatural mockumentary series serves as a televised spin-off to Taika Waititi and Jemaine Clement's 2014 cult movie of the same name. In the show, Berry, Kayvan Novak, Natasia Demetriou, and Mark Proksch star as Laszlo, Nandor, Nadja, and Colin Robinson, a new crop of bungling vampires who live in Staten Island with their forbearing human familiar, Guillermo (Harvey Guillén). Throughout its three seasons, What We Do in the Shadows has been at the center of critical acclaim, with praise going toward its hysterical performances, whimsical worldbuilding, and ridiculously delightful take on the vampiric lore. Season 4 is due to premiere on July 12, 2022, and seasons 5 and 6 have already been ordered.
What We Do in the Shadows delivered an out-and-out hit with its previous season 3. However, the show's cliffhanger ending had some fans distressed, as the core crew disbanded, with Nandor, Nadja, and Guillermo setting forth on different journeys and Laszlo staying back at the mansion to nurture a baby Colin Robinson. As shown in the What We Do in the Shadows trailer, however, season 4 will 0ffer some solace to disheartened fans as the vampires will reunite, joining forces again to wreak some comedic havoc. Nandor's quest for love will continue, while Nadja will open the hottest nightclub in all of New York. The roster of What We Do in the Shadows' mythical creatures and top-tier guest stars is also expected to grow bigger. So far, there has been no indication if any of the supporting characters from the previous seasons would return, although a new photo does seem to suggest that season 4 will be closely tied to the previous iterations.
Related: What We Do In The Shadows Proves Laszlo Is A Better Friend Than Guillermo
On Thursday, What We Do in the Shadows shared some alluring images of Berry's Laszlo, showing him all dapper and dashing as he poses in his signature Victorian vampire ensemble. While the images simply poked fun at Laszlo's self-proclaimed charm, a part of his costume in one photo engaged the attention of many series loyalists. In the picture, Laszlo has his prized cursed witch's hat on, meaning that the incendiary fashion accessory is probably making its way back to the show. Take a look at the new pictures below.
Click here to view the original tweet.
First introduced in episode 104, "Manhattan Night Club," the witch skin hat in question has become sort of a staple for What We Do in the Shadows. More of a recurring character than it is a prop, the hat inflicts a streak of misfortune for Laszlo, yet the vampire unwaveringly holds on to it, even going to great lengths to retrieve it when it was stolen. The hat was featured again in episode 207, "The Return," where Laszlo fought Simon the Devious (Nick Kroll) over its custody. He was ultimately able to get hold of it, while the latter seemingly died due to the bad luck imposed by the hat. At one point, the hat was supposed to resurface in What We Do in the Shadows season 3, but that never happened.
The new photo is definitively a positive sign pointing to the witch skin hat's reappearance in season 4. If that is true, then viewers can brace themselves for the riotous chaos that will ensue, as well as a potential rib-tickling squabble between Nadja and Laszlo when the hat pops up again. It's unlikely that What We Do in the Shadows will dedicate another episode to the hat in season 4, rather it will likely be a part of some subplot involving Laszlo's return to his densely stubborn antics after he had grown to become more mature in the previous seasons. There is also the possibility that Kroll's Simon might come back to get the hat again after being absent from the entirety of season 3. But, with What We Do in the Shadows keeping the lid tight on details of returning and new characters this time around, nothing can be said for sure. That said, viewers must keep an eye out for more teasers to find out if the hat is indeed returning for season 4.
Next: What We Do In The Shadows: Why Laszlo's Best Friend Is A Human (& Not A Vampire)
Source: What We Do in the Shadows
from ScreenRant - Feed