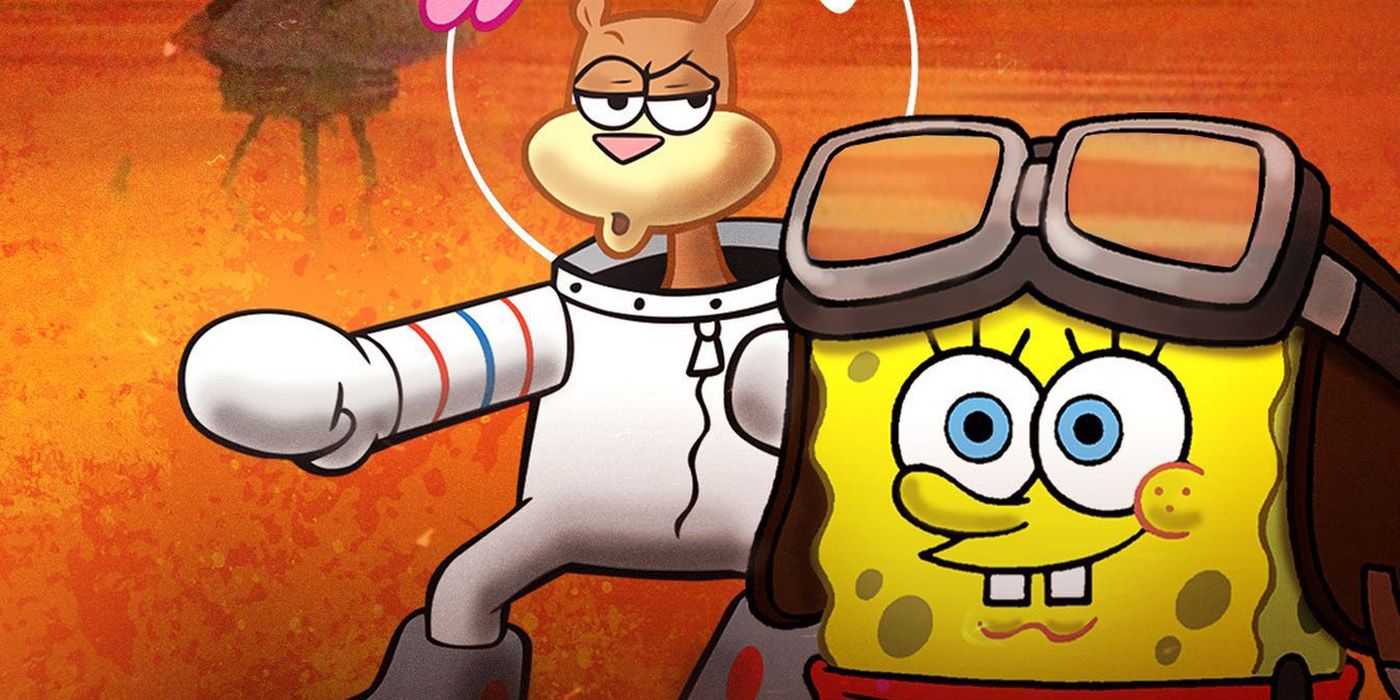 Sandy Cheeks joins Spongebob SquarePants, who looks pretty cool as Maverick, in a Top Gun 2 parody poster. Spongebob SquarePants is one of the longest-running American animated series, and it has become a massive franchise for Nickelodeon and Paramount, with movies and spinoff series following. The original show, created by marine science educator Stephen Hillenburg, premiered in 1999, and it is still going strong in 2022, as it just got renewed for a fourteenth season in March, and there are more film projects in the works as well. Clearly, Spongebob Squarepants is still in high demand.
Spongebob Squarepants follows the life of the titular character and his friends as they live, work, and play in Bikini Bottom, an underwater city inhabited by fish and other sea creatures. There is the grumpy Squidward who works with and lives next to Spongebob, the greedy Mr. Krabs who runs the Krusty Krab, and Spongebob's best friend, Patrick Star. The notable exception to this pattern is Spongebob's friend Sandy Cheeks, a squirrel from Texas who survives underwater by wearing a helmet and making her house in a Treedome under the sea.
Related: SpongeBob SquarePants: Squidward's Name Gets His Species Wrong
In a parody poster from Nickelodeon's Instagram, Sandy Cheeks joins Spongebob in a nod to the wildly successful Top Gun film. Of course, under the water, the title is changed to Top Sponge, and the tagline is Spongebob's well-known catchphrase, "I'm ready." The post's caption further acknowledges the film by mentioning how Spongebob also does all his own stunts, which is the practice of Top Gun star Tom Cruise. The original post can be seen below:
Click here to view the poster on Instagram.
Spongebob characters have recently parodied Doctor Strange as well, and this poster continues the trend. It is entertaining to think about Sandy and Spongebob in the Top Gun program, interacting with Maverick and Iceman, learning how to fly planes. However, one does have to wonder how flying airplanes in the ocean would work. Somehow, they get boats to drive on roads under the water, so they would probably figure it out.
While this crossover is not really happening, Nickelodeon's use of the recent Top Gun sequel is a very smart marketing move. Top Gun 2 is breaking box office records, impressing audiences, and earning praise from critics. Parodying the property shows that Nickelodeon knows what is popular and can contribute to the trend, getting in on the hype with a joke. Spongebob has joked about films before, and it is a fun and effective way to engage with the real world and fans, especially as new Spongebob SquarePants movies are made and released.
Next: #JusticeForSpongebob: What Is Spongebob Movie Rehydrated?
Source: Nickelodeon/Instagram
from ScreenRant - Feed