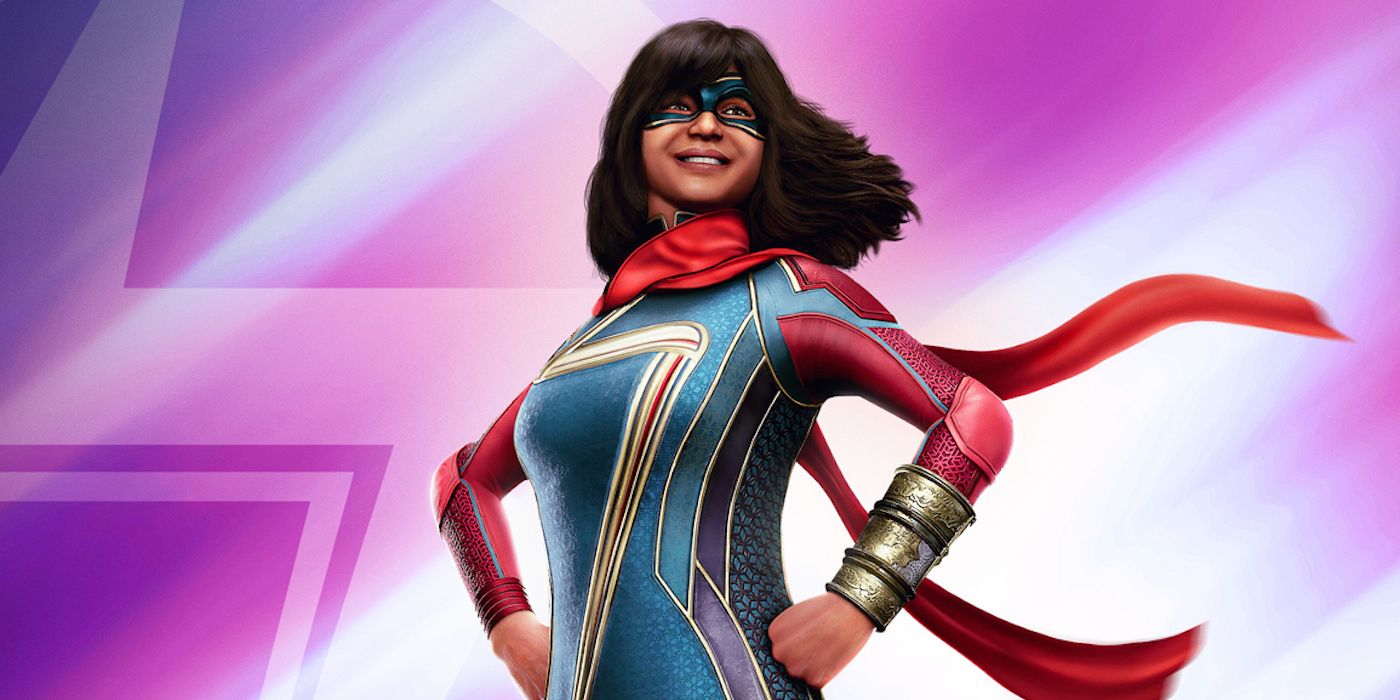 The newest Marvel's Avengers outfit recreates Ms. Marvel's MCU design, which is set to debut in her upcoming Disney+ miniseries. Crystal Dynamics' multiplayer superhero title lets players become Earth's Mightiest Heroes, and each member of the roster comes complete with their own wardrobe of cosmetics. Recently Marvel's Avengers gave Ms. Marvel a Kree nanotech suit, and now the stretchy superhero will gain her exciting live-action design too.
While they have arguably become the game's most popular feature, Marvel's Avengers actually launched without Marvel Cinematic Universe skins. The live-action attire immediately became the title's most highly-requested feature, and eventually Crystal Dynamics began to add MCU cosmetics for its heroes to wear. Over time Marvel's Avengers has gained a huge lineup of outfits from films like Avengers: Endgame, Avengers: Infinity War, Thor: Ragnarok and Black Widow. Crystal Dynamics has also added a number of comic-inspired suits, too, like Captain America as a werewolf and Thor as a cosmic herald of Galactus. Recently Marvel's Avengers added Iron Man armor from Captain America: Civil War, but soon Ms. Marvel will be the game's newest MCU suit.
Related: Marvel's Avengers Adds Thor's Cosmic Herald Comic Outfit
On Twitter Marvel's Avengers has revealed Ms. Marvel's Marvel Cinematic Universe outfit, which is pulled directly from the upcoming Ms. Marvel Disney+ series. The show will adapt the origins of Kamala Khan, played by Iman Vellani, a teenage Avengers fan who suddenly gains superpowers. While Khan will wear a homemade costume for part of the show, the series will also see her don a comic-accurate and seemingly alien suit. This Ms. Marvel costume has been translated directly into Marvel's Avengers, letting players finally dress their entire Avengers roster in Marvel Cinematic Universe suits. The outfit will be available in the Marketplace starting June 8.
While Crystal Dynamics continues to produce new MCU cosmetics, some believe that the end of Marvel's Avengers is quickly approaching. The game's last substantial update came in November 2021, with the recent 2.4 update adding little in the way of actual playable content. Crystal Dynamics has also announced that Jane Foster as Thor will be added to Marvel's Avengers as a new playable hero, but this has done little to calm the concerns of fans. Without a long-term roadmap outlining the game's future, many players feel that the multiplayer Marvel game will soon be abandoned by its creators.
Marvel's Avengers has become well-known for its MCU skins, and now Ms. Marvel can suit up with the rest of her team in live-action apparel. The Ms. Marvel Disney+ series is set to premier tomorrow, and players can commemorate the occasion by purchasing Kamala's costume from the show. Those interested in completing their collection of MCU skins can purchase Marvel Studios' Ms. Marvel from the Marketplace starting June 8.
Next: Marvel's Avengers Gives MCU Thor His Eyepatch With Infinity War Skin
Marvel's Avengers is available on PlayStation 4, PlayStation 5, Xbox One, Xbox Series X/S, PC and Google Stadia.
Source: Marvel's Avengers/Twitter
from ScreenRant - Feed