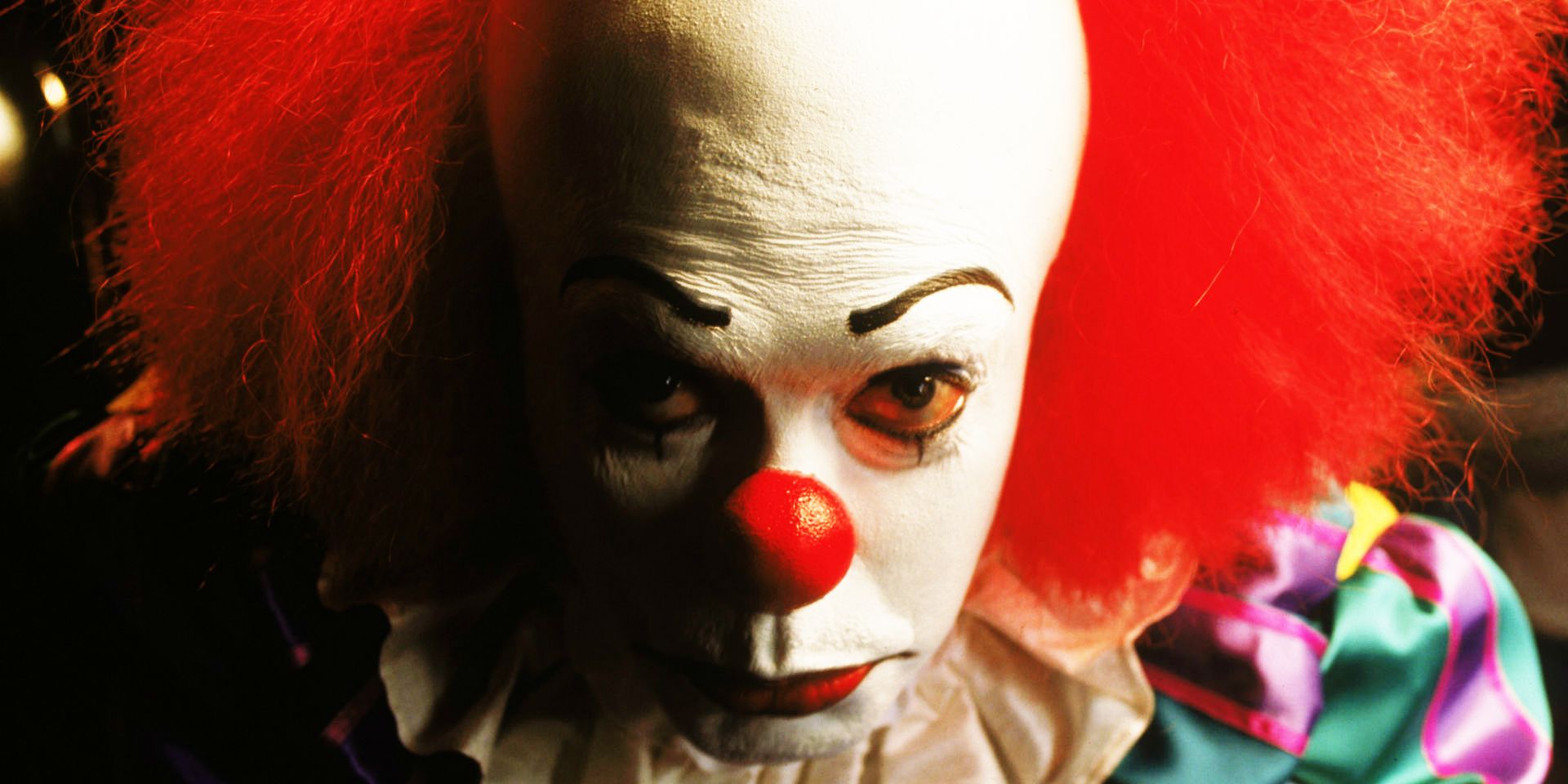 A throwback photo from the set of IT shows Tim Curry's transformation into Pennywise. Curry played the demonic clown in the character's on-screen debut in 1990's IT. Based on the 1986 Stephen King novel of the same name, IT was released as a two-episode miniseries. It has since gained a major cult following and recently enjoyed a boost in popularity on the back of Andy Muschietti's It in 2017 and his 2019 follow-up, It Chapter Two.
Pennywise is often considered to be one of Curry's most iconic roles. His sharp-toothed, child-killing clown had puffy red hair and an all-white painted face that made the actor nearly unrecognizable. Muschietti's It film' starred Bill Skarsgård as Pennywise, updating the hair and makeup style while still paying homage to Curry's classic look. The IT miniseries will soon be the subject of a new documentary, Pennywise: The Story of IT. The documentary will feature interviews with key members of the IT cast, including Curry, and the director, Tommy Lee Wallace, as it explores the miniseries in depth.
Related: IT: Why 2017's Pennywise Is So Different To Tim Curry's
Now, a throwback set photo offers a glimpse at Curry's transformation into Pennywise. According to the photo's poster, Bart Mixon, the snapshot is one of only a few behind-the-scenes photos from the makeup trailer taken during the shooting of IT. While Curry is without his red hair piece and some of the character's finer details in the photo, it reveals a partially transformed Curry sticking his tongue out to the camera. The photo is from a home video shot by Mixon back in 1990. Check it out below.
Click here to view the post on Instagram
Mixon worked in the makeup department on the miniseries. While he did not return to the franchise for the Muschietti films, Mixon has been plenty busy working on makeup and special makeup effects for other major projects including Captain America: Civil War, Avengers: Infinity War, and Obi-Wan Kenobi. With such a talented and versatile makeup artist on the team, it is not surprising how iconic Curry's look became. Though Pennywise's face may not have been as extravagant of a makeup job as characters in some of Mixon's later work, there is something especially chilling about the simplicity of Curry's look.
As one of the few behind-the-scenes photos available, this IT image gives fans a unique look into the making of the now-classic miniseries. According to Mixon, the home video from which this photo stems will be featured in the upcoming documentary. IT fans interested in what went into Curry's makeup and more can delve further into the making of it when Pennywise: The Story of IT is released on Screambox on July 26.
More: Stephen King's IT: What The Controversial Sewer Scene Really Means
Source: Bart Mixon
from ScreenRant - Feed