Warning! Spoilers for Harley Quinn 30th Anniversary Special by DC Comics
In fitting fashion, Harley Quinn is going big for her 30th anniversary at DC Comics as new art showcases multiple looks and eras of the hero as she dazzles in a series of her most popular costumes. In a fittingly chaotic but gorgeous piece from Adam Hughes, Harley Quinn's most iconic looks over the last 30 years collide together in one variant cover that captures the antihero's constantly changing style.
Harley Quinn's comic book debut came in September 1992, with the now a DC Comics A-lister first appearing in Batman: The Animated Series. Quinn would soon transition to comics and quickly became a superstar for the publisher, as she evolved from the Joker's girlfriend into a villain turned antihero, whose unpredictable nature and unique crimefighting methods have made her a fan-favorite character. Quinn has appeared in multiple live-action movies where she's played by Margot Robie, while Lady Gaga is reportedly set to take Harley in the Joker musical sequel.
Related: Tim Drake Coming Out To Batgirl Is An Incredibly Powerful DC Comics Story
Harley Quinn will star in the Harley Quinn 30th Anniversary Special by DC Comics (H/T @GamesRadar), bringing together an impressive collection of creatives to usher in the celebrations. Paul Dini, Amanda Conner, Kami Garcia, Terry Dodson, Cecil Castellucci, Chad Hardin, Erica Henderson, John Timms, Rachel Dodson, and Rafael Albuquerque are among the names who will contribute to the 100-page special. In addition, the one-shot will feature nine variant covers, including one from Adam Hughes, which shows Harley's different iconic looks and costumes over her time with DC Comics.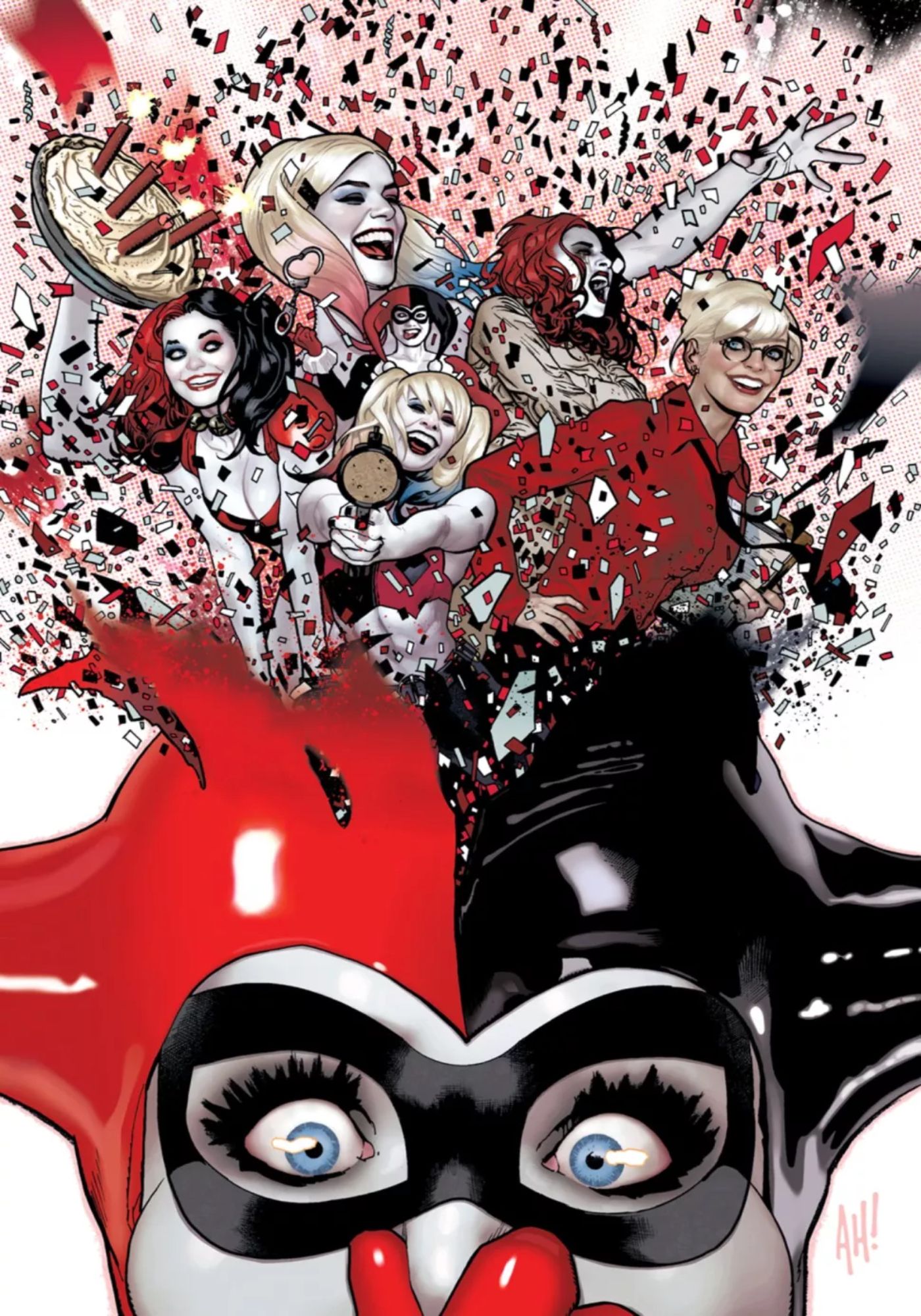 Hughes' cover brings together Harley Quinn's best looks. Included in the image is her time as a physiatrist at Arkham Asylum, her classic costume in her debut appearance, her in a straight-jacket (referencing Hughes' great Harley Quinn #1 variant), and the excellent Amanda Conner-designed look. The different looks, hairstyles, and costumes come bursting out of the head of the classic Harley Quinn, who strikes a hilarious pose as she covers and blows her nose.
Adam Hughes will join J. Scott Campbell, Stanley "Artgerm" Lau, Lee Bermejo, Jerome Opeña, Dodson, and Stjepan Šejić, Amanda Conner, and Bruce Timm as artists providing variant cover art for the 100-page Harley Quinn special. The variants will appear on different DC Comics titles throughout September, while the publisher hasn't revealed whether any of variants will be only available as incentive variants or if all are available via open order. Regardless, it's amazing how far Harley Quinn has come in thirty years, as the Harley Quinn 30th Anniversary Special by DC Comics will be a can't-miss celebration of the antihero. The comic comes out in September.
Next: Raven's Powerful "White Raven" Form Returns In New Teen Titans Art
Source: GamesRadar
from ScreenRant - Feed