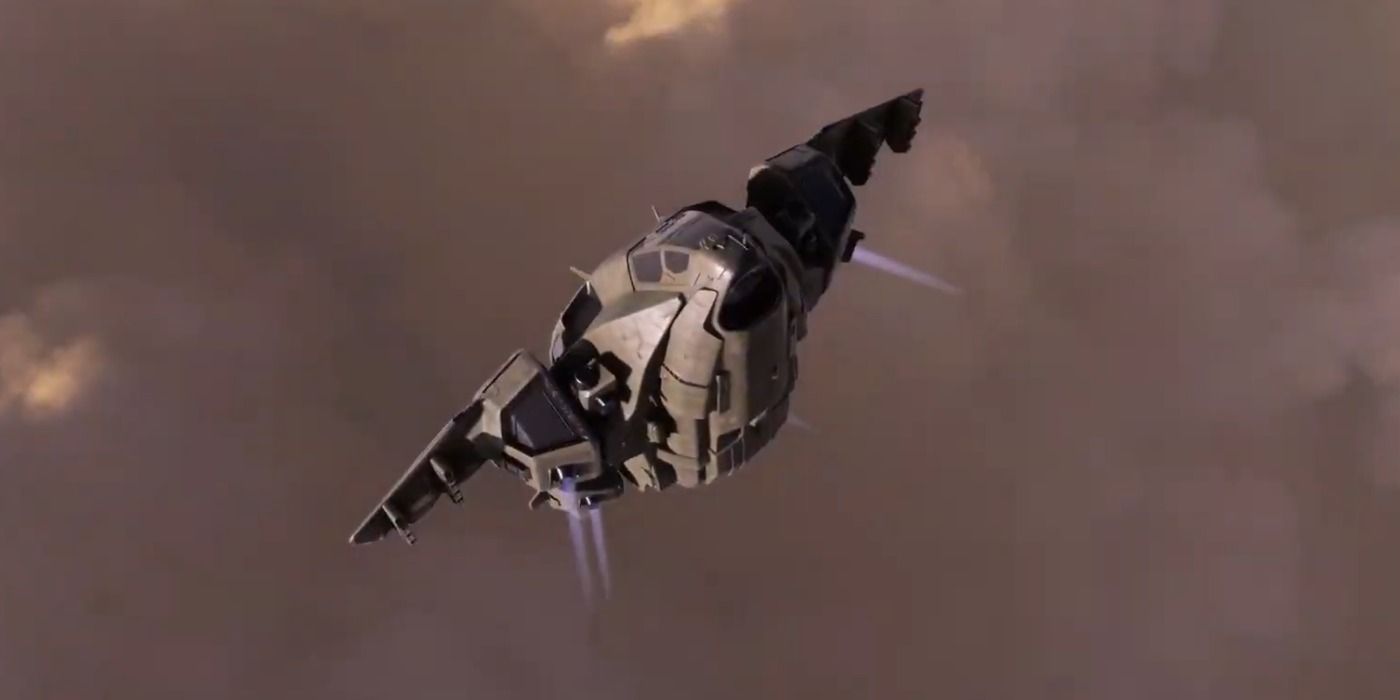 A free Microsoft Flight Simulator add-on will bring the iconic Pelican aircraft from Halo Infinite into the realistic simulator. First launched in November 1982, the long-running simulator series is celebrating its 40th anniversary this year. A free Top Gun: Maverick DLC for Microsoft Flight Simulator went live on May 25, and soon players will be able to reach for the stars in stunning vehicles pulled straight from Halo Infinite.
As the simulator series' latest installment, Microsoft Flight Simulator lets gamers soar through the skies of the real world. First launched in 2020, the ambitious game simulates the topography of the entire Earth using satellite data that is then rendered by an advanced artificial intelligence system. This means that players are not only immersed within the cockpit of a realistic aircraft, but they also find themselves flying to real-world landmarks and locations. The process is not perfect, however, so Microsoft has gone back and fleshed out certain locations over time. For example, a Microsoft Flight Simulator update improved Spain and Portugal in May by adding landmarks like the Barcelona soccer stadium and the Sanctuary of Christ the King statue in Lisbon.
Related: Microsoft Flight Simulator's Air Race Expansion Release Date Lands
A Microsoft Flight Simulator 40th anniversary video, posted to YouTube by Xbox, was shown during Xbox Games Showcase 2022. An expanded edition of the game, coming in November 2022, will see Microsoft partner with the Smithsonian National Air and Space Museum for a special collaboration. Meanwhile, a crossover with Halo Infinite will see the iconic Pelican recreated within Microsoft Flight Simulator. The versatile troop transport aircraft will apparently be able to break the Earth's atmosphere, creating an authentic sci-fi flight experience. The Halo Infinite crossover add-on is available in-game now.
Despite being an iconic Halo vehicle, players are actually unable to fly the Pelican in Halo Infinite. Shortly after release Halo Infinite mods made the Pelican flyable, but in the base game the massive aircraft serves as simple set dressing for the title's first-person shooter arenas. The enormous ships, which are used for various purposes like troop transport and aerial support, made their very first appearance back in the original Halo: Combat Evolved. Since then players have dreamed desperately of stepping into the Pelican's high-tech cockpit, and now Microsoft Flight Simulator will unexpectedly grant them that chance.
The free Halo Infinite add-on is an excellent way to celebrate the 40-year anniversary of Microsoft Flight Simulator. The beloved Xbox simulator series delivers a robust immersive experience for gamers to sink into, and now a crossover will combine it with the most notorious Xbox franchise of them all for some sci-fi simulation. Players can celebrate Microsoft Flight Simulator by taking off in the Halo Infinite Pelican starting right now.
Next: Halo Infinite Season 2 Introduces Bugs & Removes Beloved Techniques
Microsoft Flight Simulator is available on PC.
Source: Xbox/YouTube
from ScreenRant - Feed