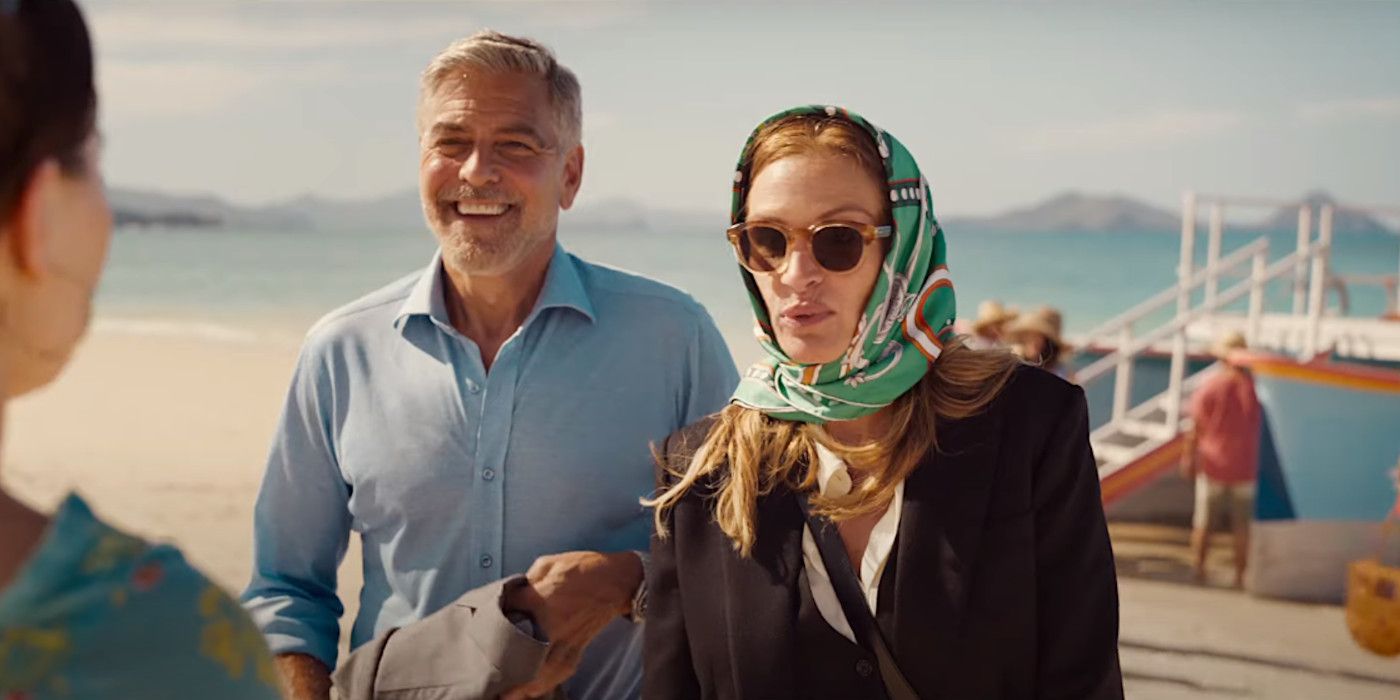 Julia Roberts and George Clooney reunite to ruin their daughter's wedding in the new trailer for Ticket to Paradise. Roberts in the 1990s was crowned America's Sweetheart thanks to roles in hit movies like Pretty Woman, My Best Friend's Wedding and Erin Brockovich. Clooney at the same time became the new Cary Grant thanks to debonair roles in Out of Sight and Ocean's Eleven and its sequels.
Given that both Roberts and Clooney were huge stars by the late '90s and early '00s, it's no surprise that they came to collaborate several times. Of course Roberts jumped aboard the Ocean's train as Danny Ocean's wife Tess in both Ocean's Eleven and Ocean's Twelve. The two also shared the screen in the Clooney-directed 2002 film Confessions of a Dangerous Mind. They then appeared together one more time in the Jodie Foster-directed crime drama Money Monster.
Related: Why Julia Roberts Didn't Return For Ocean's 13
Indeed these past Roberts-Clooney collaborations were all on the relatively serious side of the spectrum. But now the two are set to star side-by-side in a straight-up romantic-comedy, sharing the screen in Universal Pictures' Ticket to Paradise. See the new trailer for the Roberts-Clooney starrer in the space below:
The synopsis for Ticket to Paradise reads, "Academy Award winners George Clooney and Julia Roberts reunite on the big screen as exes who find themselves on a shared mission to stop their lovestruck daughter from making the same mistake they once made." Kaitlyn Dever plays the daughter in question, adding her acclaimed talents to a cast that also includes Billie Lourd, Lucas Bravo and Senayt Mebrahtu. Mamma Mia! 2 helmer Ol Parker directs from a script by Parker and Daniel Pipski.
Indeed the Roberts-Clooney pairing is the clear big hook for Ticket to Paradise. Of course romantic-comedy is nothing new for Roberts, who became the queen of the genre in the 1990s and 00s thanks to films like Notting Hill and Runaway Bride. Much has been made though about Roberts mostly eschewing the rom-com genre in recent years, and the actor herself finally had to explain that she only turned down more romantic-comedy roles because the ones she was offered weren't worth leaving her family for. If the above trailer is any indication, Ticket to Paradise sees both Roberts and Clooney back in fine comedy form, showing all the charm and chemistry they flashed as a battling couple in the Ocean's films. The action in Ticket to Paradise is of course a little tamer, but things still get pretty hairy in the trailer, as Clooney is bitten by a dolphin and gets a little carried away while playing drinking games. Fans will get to enjoy the on-screen reunion of Clooney and Roberts, and all their bickering and scheming, when Ticket to Paradise hits theaters in October 2022.
More: Every Movie George Clooney Has Directed, Ranked From Worst To Best
Source: Universal Pictures
from ScreenRant - Feed