Lightyear is in a pretty unique place in Pixar canon, as it fleshes out the backstory from a character in an entirely different movie. While it serves as a Toy Story spin-off, it is actually a piece of fiction within that universe rather than a prequel or sequel. With the film out in theaters now, audiences can see for themselves how much they love Chris Evans' interpretation of the fearless space explorer, as he portrays the "human" counterpart to Tim Allen's toy version.
While none of the original cast is present, Lightyear features fantastic voice performances from Keke Palmer, Peter Sohn, Taika Waititi, Dale Soules, James Brolin, and Uzo Aduba. Director Angus MacLane also has a long history with the franchise, having been a storyboard artist on Toy Story 2 and participating in various shorts and films since then. With producer Galyn Susman (who worked on Toy Story 4) by his side, it's clear the creative team was full of affection for the characters and ideas that gave birth to Lightyear.
Related: Lightyear's 3 Post-Credits Scenes & Sequel Setup Explained
Screen Rant spoke to MacLane and Susman about their approach to Buzz's story, the Pixar movies they connect most with, and the tools you need to carry with you to become an animation filmmaker.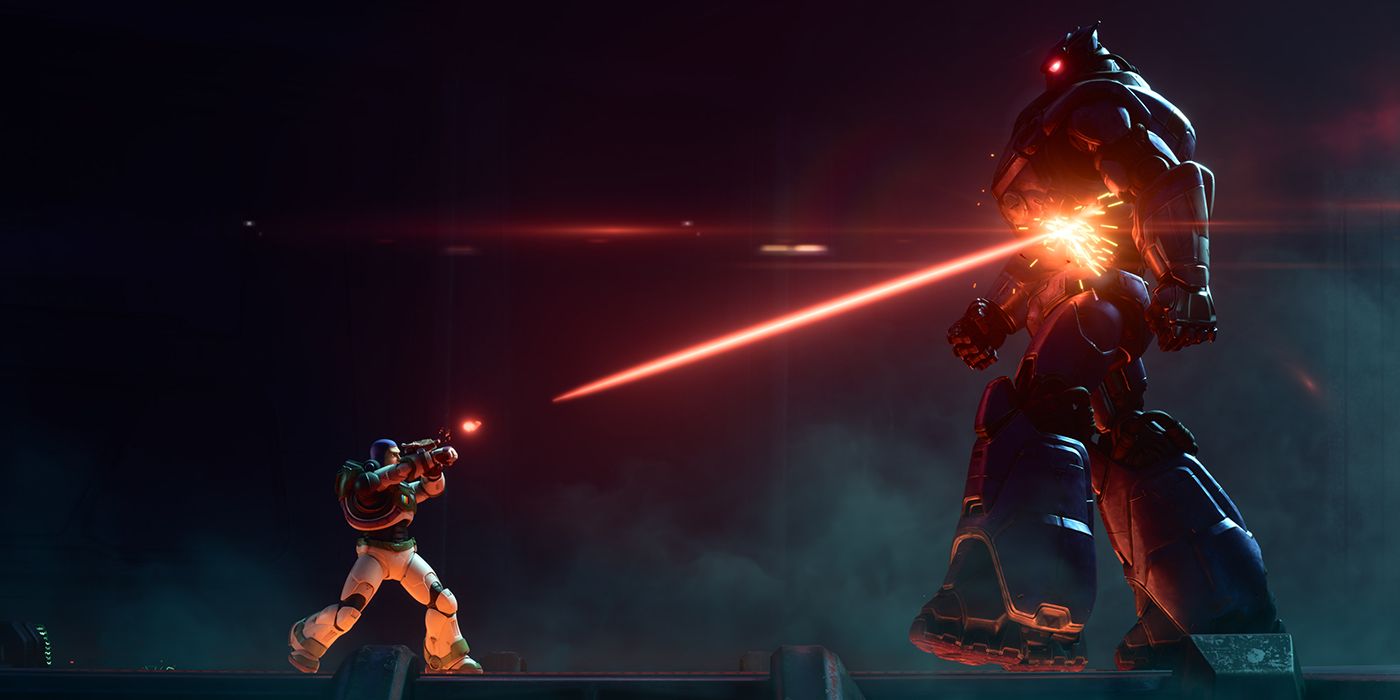 Screen Rant: First of all, congrats on the movie. I was truly howling laughing in the theater, especially at Sox the cat. What was the inspo for Sox?
Angus MacLane: I think it was a childhood terrified by animatronic animals at pizza restaurants. I think that kind of robotic animal is totally goofy to me, and I like the idea of it trying to pass itself off as a comfort animal, but not at all convincing as a cat.

I think we were drawn to that simple [idea]. There's something Muppet-y about it that I really think is funny.
Pixar movies are notoriously heartwarming; bring the tissues. But you also have this balance to strike, because it does have to be Andy's favorite space action movie. How do you feel you were able to strike that balance?
Angus MacLane: For both of those, we wanted to find something that was naturally an action film that we enjoyed. We're just gonna make a cool sci-fi action film. Andy's not really a real person, and since we make the movies for ourselves, in this case, Andy was just us. But if we say Andy, that gets a lot of attention. [Laughs].

But I think for us, you need emotional resonance. Making you care about Buzz Lightyear, and then making all of his goals be rootable. That's a natural byproduct of that, regardless of the space adventure. We didn't want it to be insignificant or non-emotional, so that's really both ways to attack it.

Galyn Susman: Yeah. And if you're gonna spend five and a half years on a film, you start to think about what you wanna say. What are you saying to yourself while you're making the film? I think we were at a point where we were reminding ourselves that we need to be present in the present, and not be too focused on the past or always looking toward the future. And so, it sort of resonated with where we are as filmmakers and what we wanted to remind ourselves.
Circling back to Sox. Chris Evans is a huge Red Sox fan. Is that a coincidence?
Angus MacLane: That's 100% coincidence.
Really?
Angus MacLane: Yeah. Yeah. It is.
I assumed he named Sox or something.
Angus MacLane: No. It just seemed like a generic cat name, and we could visualize that would have little like white feet.

Galyn Susman: And we didn't want to call him Boots.

Angus MacLane: And then the X is just shorter and a little bit spacier, so it actually was totally not related at all.
Completely unintentional Easter Egg.
Angus MacLane: When people go, "It was clear you were influenced by Interstellar." I'm like, "No. I wasn't. But okay."
It is funny watching it, I was talking to people afterwards, everyone kind of grasps to different things that they thought were influences. I'm a big Star Wars fan, so I was like, "oh, there are all these Star Wars nods." And my friend who's a big Marvel person was like, "No, there's a bunch of Marvel nods".
Galyn Susman: But in all fairness, Angus is a student of film; a walking encyclopedia of film and references films all of the time. And so you can't help but have all of that influence affect your filmmaking, I think, in a really great way.
As a huge Toy Story fan, what was your favorite question to answer about Buzz?
Angus MacLane: I don't know if it's so much questions. I just wanted to see Buzz in action doing his thing. The Toy Story 2 opening, the video game thing - I animated a pretty significant portion of that sequence. Just getting to see Zerg fight Buzz again, although I didn't get to animate this time, was surreal to get to have that scene again. But I was directing the film instead of animating on it, and there was this symmetry that was oddly emotional for me.
I never get up in the theater until the houselights are on, after the credits roll. And I'm so glad, because there is a hidden, hidden, hidden credit scene.
Angus MacLane: Oh yeah.
I've never seen it that hidden in the end of the movie
Angus MacLane: Well, It's like Ferris Bueller's Day Off, I think. That's the latest one I can remember, but yeah. I don't think I have anything intelligent to say other than thank you for staying.
I just wanted some props for staying.
Angus MacLane: Good thinking.

Galyn Susman: Good job. Good job.
Do you feel like there is a Toy Story cinematic universe that could happen? I know people are probably already being like, "Well, what about a Woody movie?" or "What about this movie?" or "What about that?"
Angus MacLane: It sounds like so much work.

I'm glad people are excited about that. It's hard at the stage where we are with the movie, but I think the big thing is we were excited about Buzz the character itself in a sci-fi movie. So, as much as I was joking earlier that a Rocky Gibraltar wrestling picture would be a nice addition to the canon, I just think it's so much work. [Laughs]
Yeah, let's get through this first. What is the hardest you've ever cried during a Pixar movie?
Angus MacLane: Inside Out.

Galyn Susman: Up. I was Upped.

Angus MacLane: Well, I'd seen Up. I knew what was gonna happen.

Galyn Susman: The wrap party for Up. Remember that? It got to the the end of that montage, and it's quiet and you can hear everybody just [silent]. And then suddenly somebody couldn't hold it in, [sobbing] in the middle of the movie. It was awesome.

Angus MacLane: Yeah, you could feel the air go last night at the wrap party too.
Angus, you posted this letter from Pixar that you got 26 years ago, and I found it so inspirational. What would you say to people who are aspiring to do what you guys do?
Angus MacLane: You have to really be obsessed with it, because everyone has their own path and every situation is different. I think that there's so much being made right now; there's work out there, but it requires a level of discipline and stick-to-it-ness and luck. You need to meet people that are gonna support you and people that are invested in you and people that are gonna push you.

I was fortunate to have that, and it still took me so long to make a movie. [Laughs] But, I have to do it. This is what I love. So, I was fortunate enough to get to work with friends to make a movie. It's a long process, but I'm just still doing the same thing I was doing when I was a kid. I'm just doing it now with a different set of friends.
I always love these stories. You can talk to a hundred different people, and you'll get a hundred different stories of how they crossed that threshold and broke in. Galyn, what would you say? What would your advice be to somebody who's trying to make it happen?
Galyn Susman: As Angus was saying, there's so many different paths. When it comes to filmmaking in particular and animated filmmaking, there are so many different ways to participate in the making of a film. So, if this is what you love, you have to step back and say, "But what do I want to do as a part of that? How can I make a difference?" Because if you find your ticket in, then you have the passion to carry you through the tough times.
Legendary space ranger Buzz Lightyear embarks on an intergalactic adventure alongside ambitious recruits Izzy, Mo, Darby, and his robot companion, Sox. As this motley crew tackles their toughest mission yet, they must learn to work together as a team to escape the evil Zurg and his dutiful robot army that are never far behind.
Check out our interview with Lightyear stars Chris Evans and Taika Waititi, as well as composer Michael Giacchino. We also spoke with Angus MacLane & Galyn Susman about the filmmaking process prior to the film's release.
More: Where To Spot Pixar's Pizza Planet Truck Easter Egg In Lightyear
Lightyear is currently out in theaters.
from ScreenRant - Feed