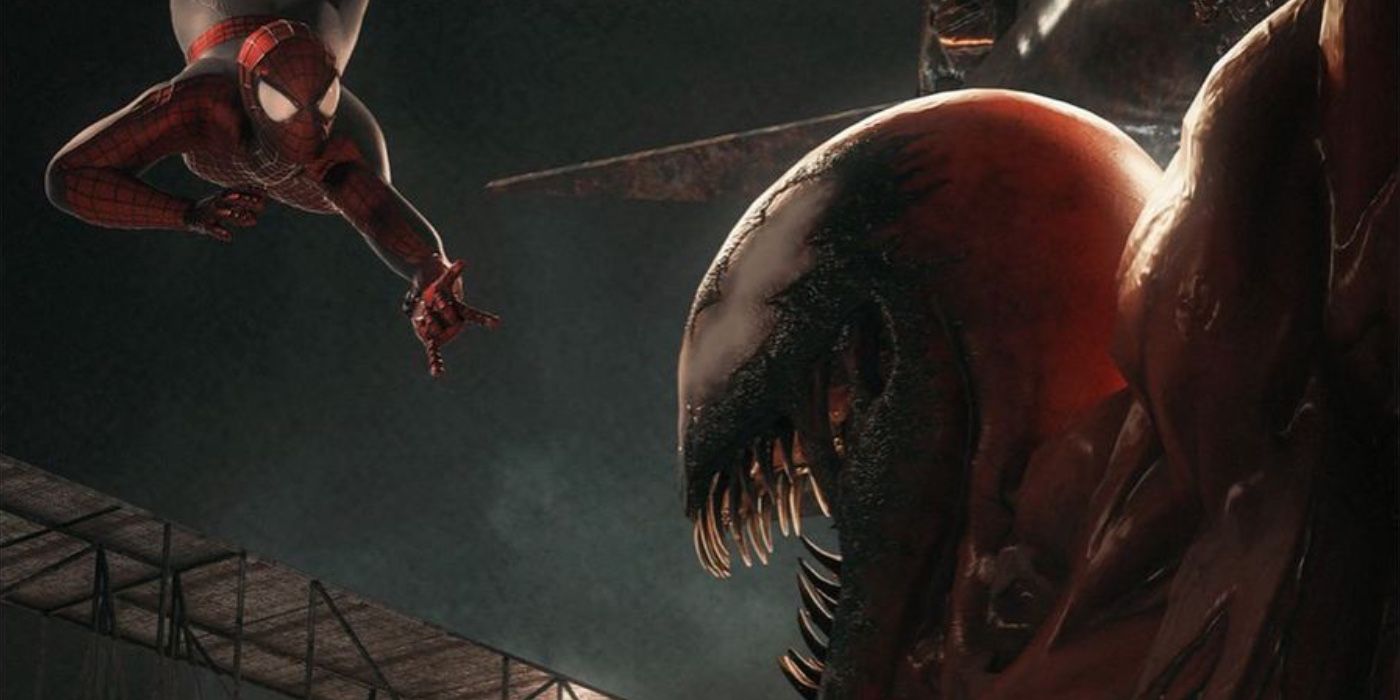 An exciting piece of Marvel fan art imagines an epic battle between Andrew Garfield's Amazing Spider-Man and Woody Harrelson's Carnage. Back in 2012, Garfield made his comic book movie debut as the friendly neighborhood hero, Spider-Man, otherwise known as Peter Parker, with the release of The Amazing Spider-Man. Accompanied by Emma Stone, who played Peter's girlfriend Gwen Stacy, the two returned for a subsequent sequel following the success of the Spider-Man reboot. Despite Sony having had initial plans to continue Peter's story with Garfield at the helm, The Amazing Spider-Man 3 & 4 were ultimately canned following The Amazing Spider-Man 2's somewhat anticlimatic theatrical run.
Garfield's web-slinging days were far from over, however, as the release of last year's Spider-Man: No Way Home saw the star return once again, alongside fellow Spider-Man alum Tobey Maguire. Following a rift in the multiverse, Garfield and Maguire teamed up with Tom Holland, the latest successor of the role of Peter Parker, to take down a series of villains from their past. One particular Sony villain, Venom (played by Tom Hardy) also made a brief appearance in the film's end credit scene after the events of Venom: Let There Be Carnage teased this future link between the two universes.
Related: Garfield's TASM 3 Must Avoid The Sinister Six (Because Of No Way Home)
With Garfield's Spider-Man belonging under the same Sony umbrella as the Venom films, an exciting crossover has now been imagined. Shared to Instagram by @Venomhology, the exciting fan art imagines Garfield's Spider-Man taking on Venom: Let There Be Carnage villain Carnage. The incredibly realistic-looking art sees the pair's fight take place around the Statue of Liberty, the same location as Spider-Man: No Way Home's final battle. Spider-Man appears to be mid-swing, with his hand ready to web Carnage, who bares his terrifying teeth, ready for Spider-Man's approach. The fantastic art was immediately met with calls for Marvel and Sony to bring this crossover to the big screen. Check out the art below.
Click here to view the original post on Instagram
Harrelson starred as Venom's newest enemy in last year's Venom sequel, after his character Cletus Kasady became host to another terrifying symbiote named Carnage and began to wreak total havoc. Despite having been ultimately defeated during the film's final moments, Marvel's current focus on the multiverse opens the door up to all kinds of seemingly unlikely scenarios, such as a revival of Garfield's Amazing Spider-Man, which many are now calling for following his appearance in Spider-Man: No Way Home. Venom's name has been thrown around a fair bit when it comes to speculation of how a future Amazing Spider-Man could pan out, with one fan even recently creating a cinematic-style trailer that imagines an epic battle between the two of them.
This incredible fan art certainly proposes an interesting crossover that will likely excite many who would be keen to see both Spider-Man and Carnage go head to head. While Carnage is not necessarily expected to return in the near future, Hardy recently offered an exciting tease of the script for Venom 3 as Sony continues to expand upon their Spider-Man Universe. As for Garfield, his future as the Amazing Spider-Man remains entirely unclear, however, many are hoping that the actor has yet to truly hang up his web-shooters for good.
Next: Why Sony Announced Venom 3 Just Weeks After Morbius Embarrassment
Source: @Venomhology
from ScreenRant - Feed