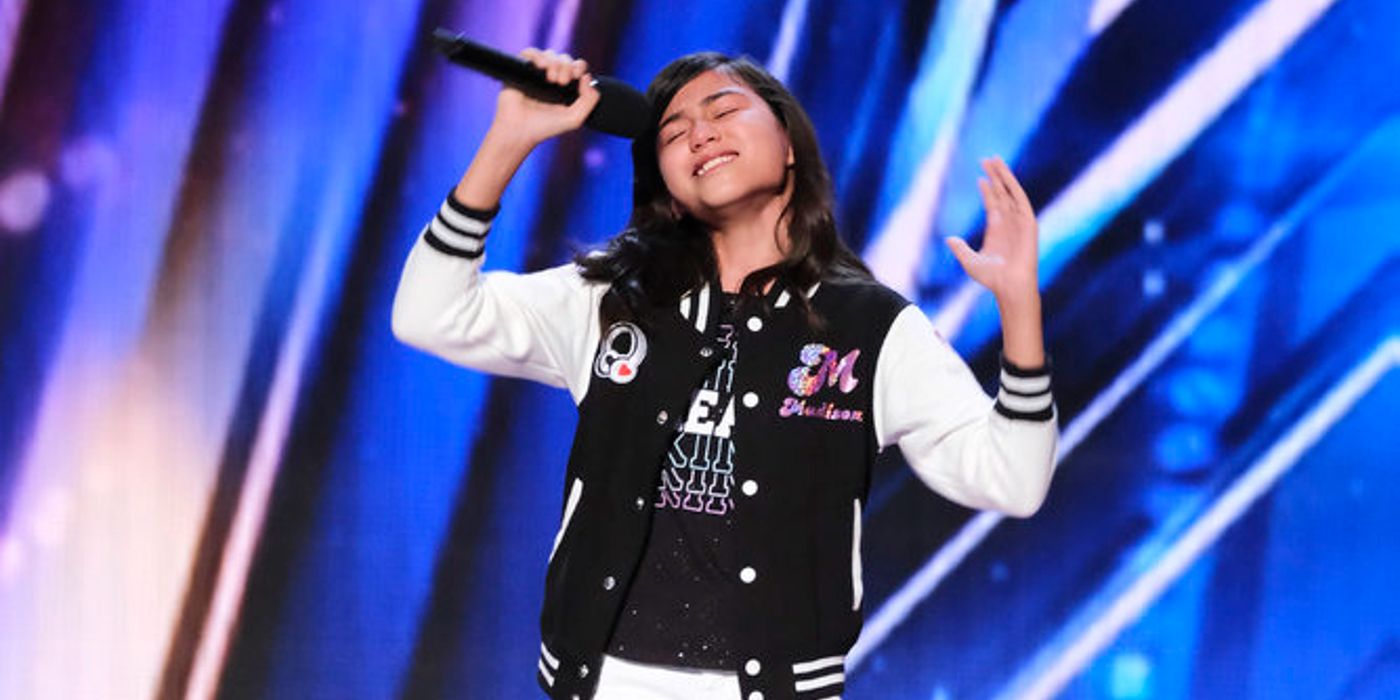 Eleven-year-old America's Got Talent season 17 singer Madison Baez received the second Golden Buzzer, from judge Howie Mandel, in the second episode of auditions. In her introduction, Baez explains to production that she has been a fan of America's Got Talent for her entire life and that competing on the show has always been a dream of hers. Baez's audition had a bit of an unusual start, which began with her singing in the audience during a commercial break. When Simon Cowell walked back out to his seat, he heard Baez's voice and asked her to come on stage for a formal audition.
Baez is the second contestant to receive the Golden Buzzer so far in AGT season 17, with the first being 21-year old saxophonist Avery Dixon. Dixon received the golden buzzer from host Terry Crews in the final moments of the AGT season 17 premiere, after giving an incredible performance and explaining how the saxophone helped him get through being bullied in school. The Golden Buzzer is given to select contestants whose auditions really have an impact on the judges and allows those contestants to go straight to the live shows.
Related: AGT: How Ben Lapidus Made History With Parmesan Cheese Song
When Baez walked onstage for her formal audition, she continued her rendition of "Amazing Grace" that she had begun in the audience. Although she is only 11 years old, Baez has an incredible powerhouse voice that sounds like it could be the voice of an adult. While all of the America's Got Talent judges were very impressed with Baez, her performance seemed to have a particularly notable impact on Howie Mandel. As Hollywood Life reports, Mandel told Baez, "Everybody's going to know your name now," right after her audition. It impacted the judge so much that he stood up and hit the Golden Buzzer, sending her to the live shows.
While Baez's voice was without a doubt extraordinary, her story also resonated with the audience and judges. When Cowell asked her what she would do with the million dollar prize if she were to win the show, she tearfully responded that she would help her father with cancer research as he has been battling Stage IV colon cancer for nine years. When Baez received the Golden Buzzer, her father, who had been watching on from the audience, immediately ran up to hug his daughter on stage. He explained to the AGT judges that Baez began singing when he was going through his cancer treatments and that she would always come to the hospital and sing to him when he was about to undergo a major surgery or procedure. Although he is still dealing with the disease, Baez's father stated that he is doing well for the time being.
In past seasons of America's Got Talent, child singers have been very successful. During AGT season 16, 9-year-old opera singer Victory Brinker made a notable impression on the judges and even led them to grant her a bonus Golden Buzzer as they had already used the five allotted. Brinker made it all the way to the season finale, where she finished in ninth place. Furthermore, during AGT season 15, 11-year-old Roberta Battaglia earned Sofia Vergara's Golden Buzzer and finished in the top five. Both Brinker and Battaglia came incredibly close to winning the show. Viewers can expect to see Baez return to their TV screens later on this summer when the live shows begin.
Next: America's Got Talent: What Happened To Bianca Ryan After Season 1
America's Got Talent airs Tuesdays at 8 p.m. EDT on NBC.
Sources: America's Got Talent/YouTube, Hollywood Life
from ScreenRant - Feed