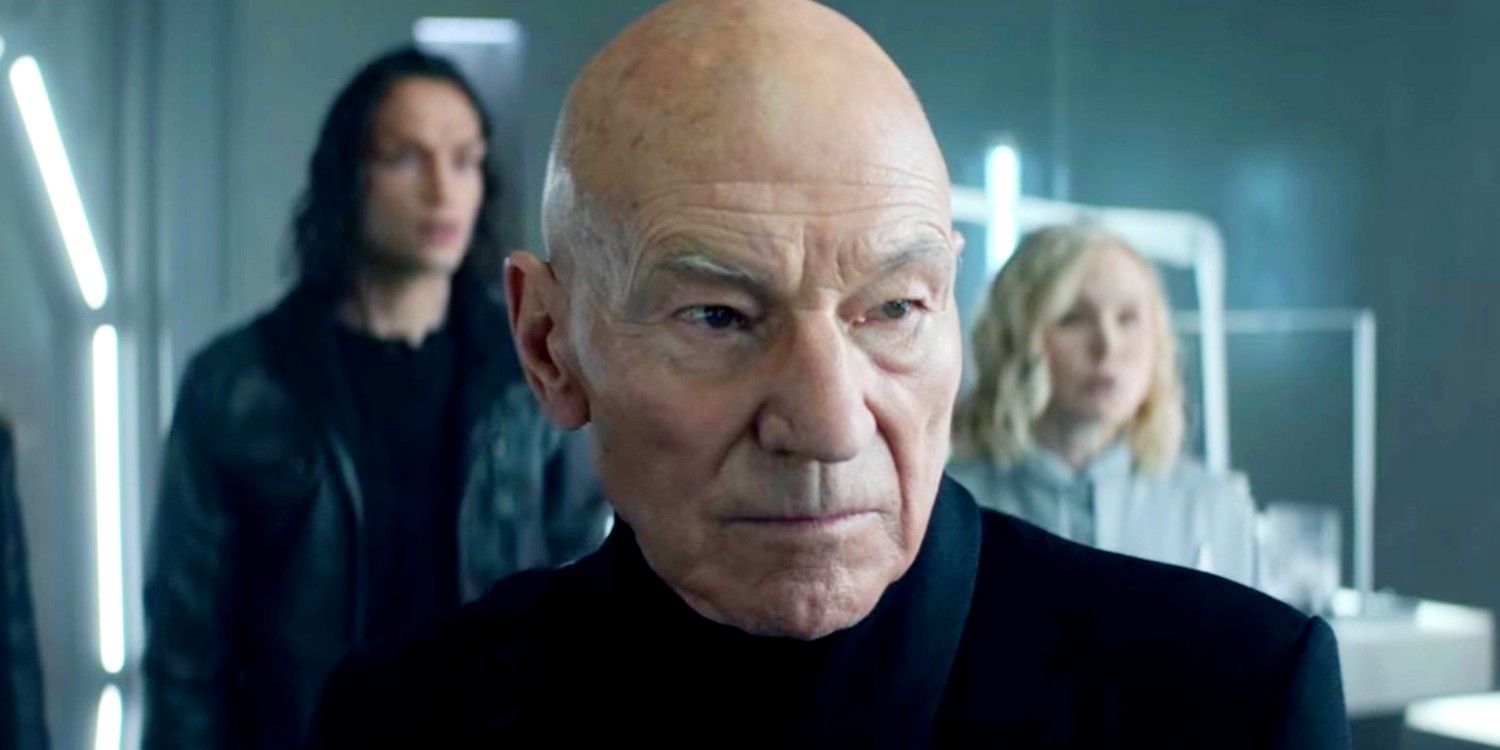 The showrunner of Star Trek: Picard teases season 3's brand new villain and the iconic actor who will be playing them. Picard, which premiered on Paramount+ in 2020, follows Patrick Stewart's Star Trek: The Next Generation character Captain Jean-Luc Picard in his older years. On his adventures, he has encountered many familiar faces from across the Star Trek universe, along with new cast members including Alison Pill, Santiago Cabrera, Isa Briones, Harry Treadaway, Rebecca Wisocky, Michelle Hurd, and Evan Evagora. Picard season 2 saw him and his crew transported back in time to a near-future Earth and exploring deeper into the background of the character. The season also featured reunions with John de Lancie as Q and Whoopi Goldberg as Guinan.
Picard has already been renewed for season 3, which will be its final season. In honor of the series wrapping up its exploration of the title character, they will be reuniting him with a cavalcade of The Next Generation stars reprising their roles including LeVar Burton as Geordi La Forge, Michael Dorn as Worf, Jonathan Frakes as William Riker, Gates McFadden as Beverly Crusher, and Marina Sirtis as Deanna Troi. The season is set to debut on Paramount+ in 2023.
Related: Strange New Worlds' Proves Pike Is Better Than Picard In 2 Ways
On Twitter, a fan reached out to Picard showrunner Terry Matalas to clarify previous comments about being impressed with Picard season 3's villain performance. When asked if it was a character seen before or a brand new villain, Matalas confirmed that it is indeed "a new character." He teased that this villain is "played by someone you've seen a million times before" who he has "always wanted to work with." Check out the original tweet below:
Click here to view original post
In later follow-up tweets, Matalas clarified two things. First, the performer is not Jeffrey Combs, the iconic horror movie character actor who starred in films including Re-Animator and From Beyond in the 1980s. Combs has appeared as different characters throughout the Star Trek canon, including Weyoun in Deep Space Nine, Penk in Voyager, Shran in Enterprise, and the voice of AGIMUS in the Paramount+ animated series Lower Decks. Second, even though he said the performer has been seen a million times before, the actor has never before appeared in the Star Trek universe.
Considering how many working actors have appeared in a Star Trek film or series throughout the years, this revelation does narrow the field considerably. However, there are still so many possibilities that we'll have have to wait for him to drop more clues before the guessing can begin in earnest. Whoever the performer is, the fact that they are bringing a new face into Star Trek: Picard in a season full of TNG reunions is certainly going to shift the dynamic in a very interesting way.
Next: Picard Season 3's TNG Reunion Is Making 1 Big Mistake
Source: Terry Matalas/Twitter
from ScreenRant - Feed