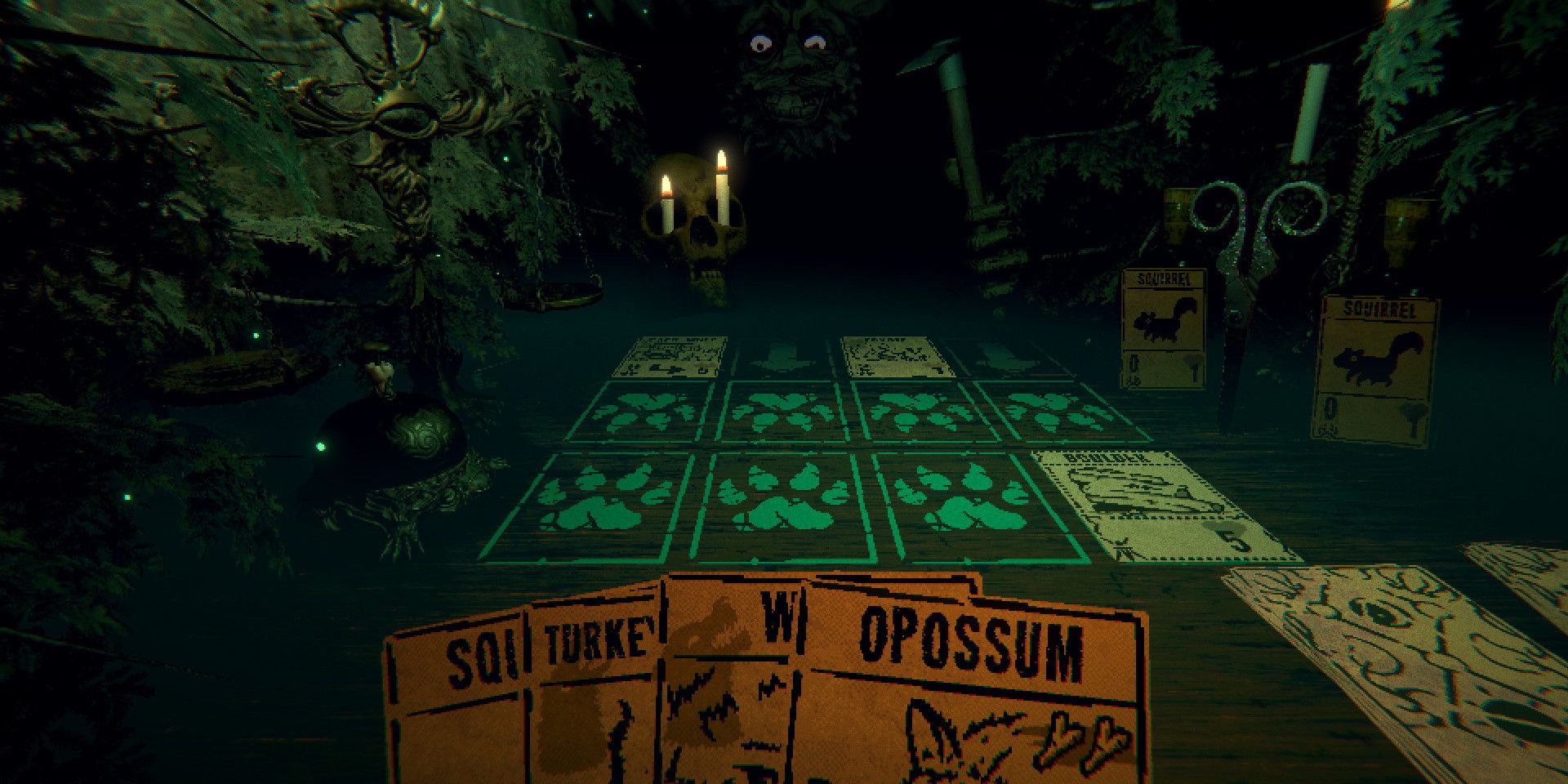 A creative fan has released a free deckbuilding game that fuses the Pokémon Trading Card Game with the unique aesthetics of Inscryption. The roguelike horror game, released in October 2021, has received accolades, including being named Screen Rant's 2021 Game Of The Year.
Inscryption was a huge hit in 2021, presenting its story in a unique style that stretched far beyond the opening act's seemingly-simple card game. Its interactive elements and deep lore led to it receiving much critical acclaim. Players found themselves plunged into a dark story full of twists and turns, beginning with their efforts to escape the cabin of the mysterious Game Master in-between playing rounds of the central card game. The deckbuilding gameplay of Inscryption in Act 1 proved to be hugely popular with fans, so much so that the developer eventually capitalized on this with the release of the Kaycee's Mod update. A free update adding a new mode to the game, Kaycee's Mod allowed fans to play the first part of Inscryption as a stand-alone endless roguelike.
Related: What Pokémon GO TCG Cards Release Date Is
Now a fan inspired by this same gameplay has created a game that combines it with the Pokémon TCG. Reddit user moodytail describes Pocket Crystal League as a "single-player Poke-Card game," albeit one with very different mechanics to the official TCG. Players are tasked with traversing the land of Kyoumu, challenging and conquering gyms until finally reaching the region's Crystal League. Polygon's Nicole Clark describes the game as "a nifty marriage of two concepts," having players arrange cards featuring various Pokémon in a row to fight against enemies in a manner very reminiscent of Inscryption. As players progress, they are able to collect a range of virtual Pokémon cards from the first two generations of the gaming franchise.
Pocket Crystal League is free to download from Itch.io, with its creator being very careful to remove any form of potential monetization. This will, they hope, be enough to deter a Cease and Desist order from Nintendo, a company well-known for being fiercely protective of its copyrights. To this end, the game's description on Itch.io even includes the plea "please Nintendo, let it be!" Interestingly enough, this project is actually somewhat recursive in nature. Just as moodytail was inspired by Inscryption to create their game, so too was Inscryption creator Daniel Mullins inspired by the Game Boy adaptation of the Pokémon TCG in turn.
The retro pixel-art graphics and matching soundtrack of Pocket Crystal League lend it a comfortable, nostalgic atmosphere. The deckbuilding take on a standard Pokémon game's league is likewise a fun concept with plenty of variety. moodycat has created a thoroughly entertaining game, which takes what is perhaps the very best part of Inscryption and infuses it with new life. Fans of both Inscryption and the Pokémon TCG will be no doubt be hoping that the game does not disappear from the internet in short order, though the title being already complete means that there is no worry of development being cut short. Instead, Pocket League Crystal provides a return to Inscryption's popular gameplay mechanics well ahead of any potential future sequel.
Next: Inscryption: What's Happening In Each Act (Full Story Explained)
Sources: moodytail/Reddit (via Polygon)
from ScreenRant - Feed