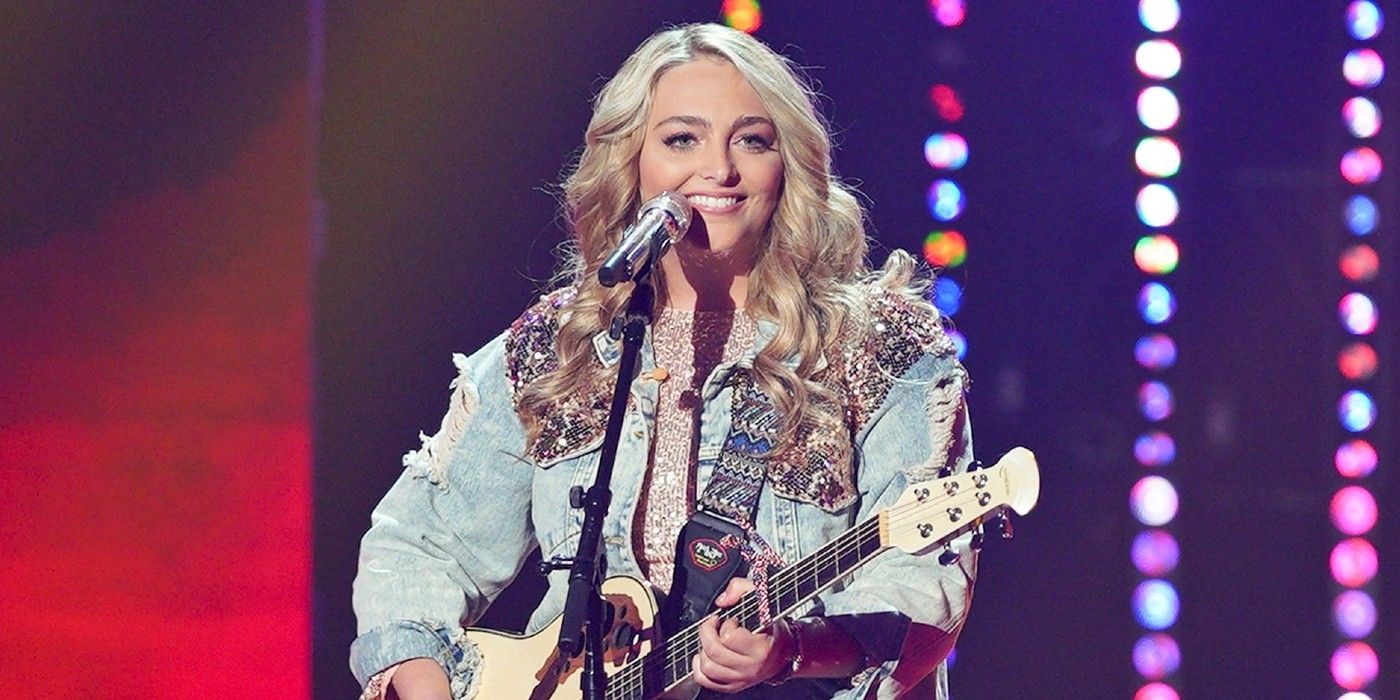 Top 3 American Idol season 20 finalist and country singer HunterGirl has been a frontrunner since her impressive Nashville audition, and she will most likely win the competition. HunterGirl, whose full name is Hunter Wolkonowski, is a 23-year-old music therapist originally from Gruetli-Laager, Tennessee. The judge's Lionel Richie, Katy Perry, and Luke Bryan awarded HunterGirl with the first platinum ticket of the season because of her stunning rendition of "Riot" by Rascal Flatts. Luke called her a "new age Miranda Lambert" and said that HunterGirl was his favorite female country voice that he's heard in his five years on the show.
HunterGirl comes from a long tradition of military service, including her grandfather, great-grandfather, and six great uncles. As a music therapist, she worked with veterans to help them transform their stories into songs. She has said that this work helps the veterans deal with PTSD and is a "therapeutic process" for them. HunterGirl's talent for songwriting is not only entertaining but has changed people's lives.
Related: American Idol: Get To Know First Platinum Ticket Recipient HunterGirl
With her authentic country style and incredible musical talent, HunterGirl has been a frontrunner since the beginning of American Idol season 20. After she sang her original song "Heartbreak Down" for the Top 20 week, the song skyrocketed up the music charts. Additionally, her performances of country classics such as "Baby Girl" by Sugarland, "9 to 5" by Dolly Parton (Top 11), Like My Mother Does" by Lauren Alaina (Top 7), "Undo It" by Carrie Underwood (Top 5), and "Girl Crush" by Little Big Town (Top 5), proved that she can hold her own in the world of country music. HunterGirl also showed her sensitive side with her emotional version of "I See the Light" from the Disney film Tangled. As she takes the stage to compete with her fellow Top 3 finalists, Leah Marlene and Noah Thompson, HunterGirl will most likely win American Idol season 20 for many reasons.
HunterGirl's platinum ticket not only earned her the opportunity to skip the first round of American Idol Hollywood Week and choose her duet partner, but it solidified her place in the forefront of the competition. When Luke invited HunterGirl to perform at his bar, Luke's 32 Bridge, in downtown Nashville, she had no idea that she was about to be awarded the coveted platinum ticket. The judges' selection of HunterGirl for this honor validated her as an artist. She caught the attention of the American Idol audience early on and received their much-deserved votes throughout the rest of the competition.
HunterGirl is a fantastic country singer, but her songwriting ability is another one of her amazing musical talents. In 2018, she released the single, "We're Not in Kansas Anymore." Throughout her time on American Idol, she has released even more original music, including her EP, One Day, along with the popular song "Heartbreak Down," which was her Top 20 performance. Her next single, "Red Bird," was released on May 13. All of her music has been climbing the charts, indicating that she has a large fanbase that supports her.
HunterGirl has the most social media followers of any of the Top 3 contestants, with 116k Instagram followers, 8,847 Twitter followers, and 41.4k TikTok followers as of May 2022. When she began the competition, HunterGirl had about 7k followers on Instagram, so her fanbase has grown immensely since her American Idol debut. HunterGirl often responds to comments on her Instagram Stories and posts and goes Live to interact with fans. Her fans are loyal to her, which help her with American Idol votes.
Related: Why HunterGirl Will Win American Idol Season 20 According To Instagram
Country stars have traditionally done very well on American Idol, and the show has produced country superstars such as Carrie Underwood, Scotty McCreery, Lauren Alaina, and Gabby Barrett. HunterGirl has a lot of experience performing live because she has been playing shows since she was very young. She knows how to engage a crowd and looks like a professional country singer on the American Idol stage. When she performs, HunterGirl already looks like a winner.
HunterGirl is a genuinely good person who has stolen America's heart. Her work with veterans and commitment to using her musical talent to contribute something good to society is very admirable to viewers. HunterGirl, who explained her inspiration behind "Red Bird," has the quintessential American story of someone from a small town making all of her dreams come true. Her giving nature and humble personality make her so easy to root for. Who wouldn't want to vote for someone who is not only talented but also has a heart of gold.
From the very beginning of American Idol season 20, HunterGirl has been an authentic country artist who stays true to herself. Despite so many country singers winning the competition in the past, HunterGirl is one who deserves the win the most. She infuses every performance with her sincere and kind disposition, and the American Idol audience, and judges, have responded positively to that. HunterGirl already looks like a star every time she takes the American Idol stage, and she will most likely win the competition.
Next: American Idol: All About HunterGirl's Work With Veterans
American Idol airs Sundays at 8 p.m. EST on ABC.
Source: American Idol/YouTube, HunterGirl/YouTube, TALENTKINGHD/YouTube
from ScreenRant - Feed