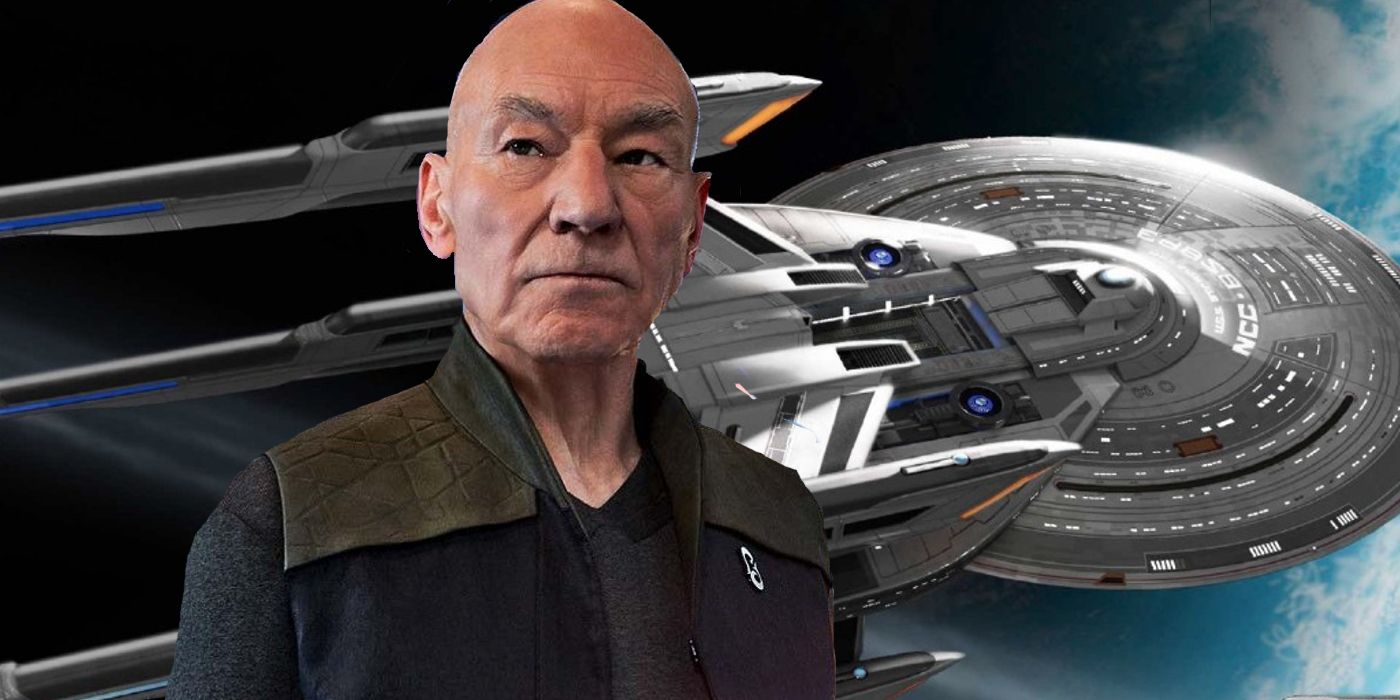 Audiences can get their first detailed look at Star Trek: Picard's USS Stargazer thanks to a new behind-the-scenes video. Season 2 of Star Trek: Picard recently came to an end with some major reveals, as well as goodbyes to old and new characters. The series is set to conclude with season 3, which has already been filmed, and end the long story of Jean-Luc Picard. When the final season hits screens, it will reunite the entire main cast of Star Trek: The Next Generation for the final time, though the details of that reunion remain under lock and key for now.
In its opening episode, Star Trek: Picard season 2 introduced a new Starfleet vessel, captained by Santiago Cabrera's Captain Cristóbal Rios. That new Sagan-class vessel was the USS Stargazer, which was a newly commissioned version of the Constellation-class ship on which Jean-Luc Picard first became a Starfleet captain. The original USS Stargazer became a firm fan-favorite ship when it was seen throughout Star Trek: The Next Generation in the form of flashbacks, as well as regularly showing up as a model replica in Captain Picard's ready room.
Related: Q's Star Trek: Picard Plan, Real Mission & Future Explained
Now, audiences can get a closer look at the new version of the ship thanks to a behind-the-scenes video shared by Star Trek: Picard production designer Dave Blass. The video takes viewers through a conceptual design of the interior of the ship, including the corridors, the turbolifts, the bridge, and the conference room before panning to show the ship's exterior. Keen eyed viewers will also notice that the design is lighter and brighter than what was eventually depicted on the show. Check out the video below:
Click here to view original post
The new video will undoubtedly be greeted with delight by Star Trek fans, many of whom are particularly fascinated by the detail that goes into the design of the franchise's many ships. Though the USS Stargazer was briefly shown in Star Trek: Picard, the show's characters didn't spend much time there and audiences were unable to get a comprehensive look at the ship. Now, they can see what the Stargazer was meant to look like in detail, including small aspects which went completely unseen like the conference room.
Whether or not the USS Stargazer will show up again in season 3 of Star Trek: Picard is uncertain. The ship was last seen with Seven of Nine in command, after Rios chose to remain in the past with Dr. Teresa and her son. Whether the character will become the ship's permanent captain after being given a field commission by Admiral Picard isn't clear. If she does become the new captain of the USS Stargazer, the ship may well make another onscreen appearance giving audiences a final chance to see the vessel in action.
More: Star Trek: Picard's TNG Cameo Fixes A 30-Year Mistake
Source: Dave Blass / Instagram
from ScreenRant - Feed