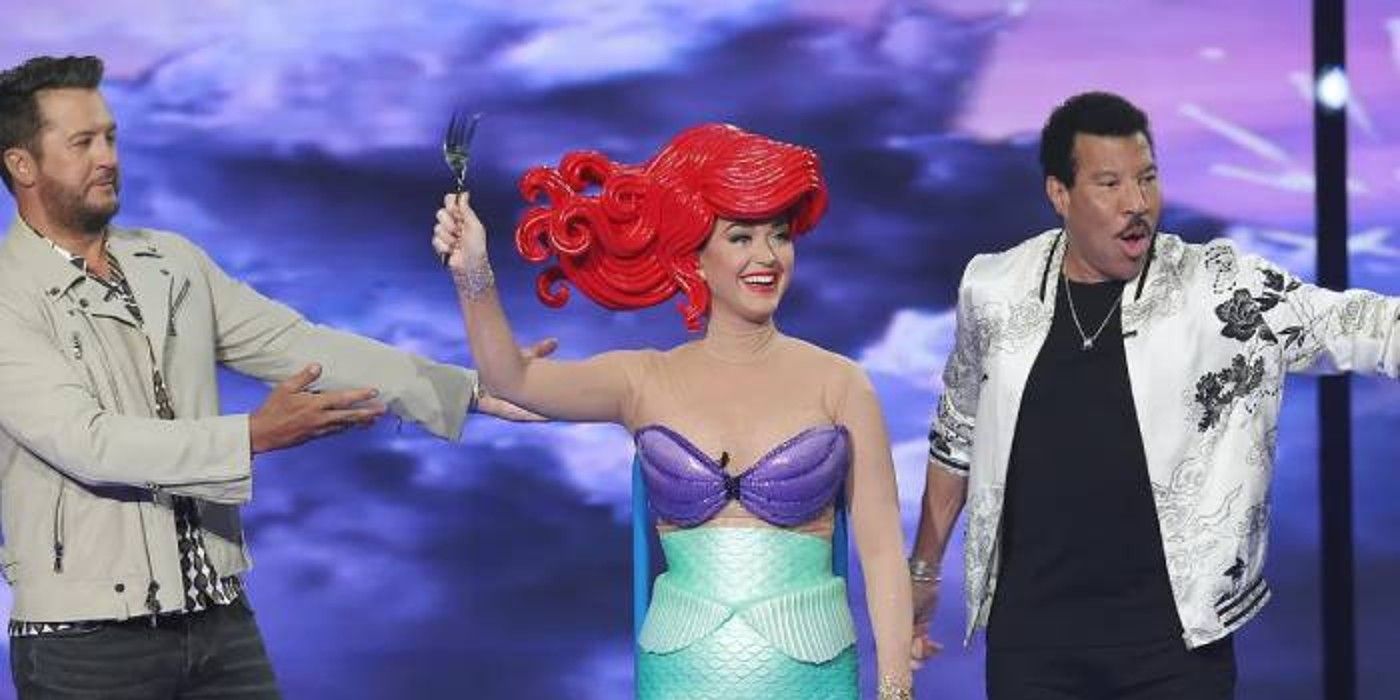 On American Idol season 20 Disney Night, Katy Perry took a tumble, and now her fellow judges Luke Bryan and Lionel Richie are reacting to the hilarious moment. Every season, Katy dresses as a different Disney character, and this year she delighted fans with her costume of Ariel from The Little Mermaid. Katy wore a red plastic wig that looked like Ariel's hair was flowing in the water. She carried a fork, or, as Ariel would call it, a "dinglehopper." The highlight of the costume was the sea foam green mermaid tail that was very beautiful, but made it very difficult for Katy to move around. In fact, Luke and Lionel had to wheel Katy out onto the stage on a dolly because she could not walk in the costume.
Once Katy was in her seat, host Ryan Seacrest began to speak about the American Idol Top 10, but suddenly there was a loud off-camera crash. Ryan was startled and said, "Oh!" Katy had fallen backwards in her chair as it tipped over. As Ryan rushed toward the judges' table, Luke howled with hysterical laughter, pointing at Katy as she was on the floor. Lionel immediately jumped up to help her, and Luke and Ryan then helped him pull Katy to her feet. Thankfully, she was not injured. She smiled and waved as Ryan held her up while Luke picked up her chair. Katy laughed and sipped her drink as the supportive audience chanted her name and cheered for her.
Related: American Idol: Why Kenedi Anderson Left The Competition
In an interview with ET, Katy's fellow American Idol judges Luke and Lionel reacted to the memorable moment. Luke joked, "Katy in normal clothing is a lot to deal with. But mermaids are, you know, they're challenging." He added, "Mermaids and chairs...you know, they don't mesh well." Luke also gave some inside information about Katy's costume revealing that they were "thinking about toting her, but there was all these oils that she, I guess, had to coat down in like Crisco or something. So she was slippery." Luke joked that it was like "fish slime." At the last minute, Luke decided that they should use the dolly instead. He admitted, "We knew that all of that would create some fun stuff, and obviously it did."
Lionel also thought that Katie's Disney Night fall was a moment of pure hilarity. The judge said, "It was somewhere between I Love Lucy, and I don't know what that was...slapstick. It was so much fun tonight." Lionel explained that Katy could not walk while dressed as the mermaid. They asked if Luke and Lionel could carry her out, but Lionel confirmed Luke's assertion that Katy was too slippery because she was "oiled up." Katy revealed with a smile that the judges did not like the oil because it was "getting all over their really expensive clothes." In a post on Instagram, Katy joked about nearly stabbing her fellow American Idol judge Lionel with her fork, or dinglehopper, when her chair fell, writing, "Flippin' your fins you don't get too far. swipe to see what almost accidentally killed @lionelrichie." In character as Ariel, she explained why she fell, saying, "Human chair?! What were they thinking?! I'm used to just being on rocks!"
Luke and Lionel's reactions to Katy's fall demonstrated their brotherly relationships with her. They jumped to help her and make sure she was okay, but also laughed at the mishap. This moment really showed the camaraderie among the American Idol judges. The audience always looks forward to Katy's outrageous outfits, and this Ariel costume did not disappoint. On American Idol season 20's Disney Night, Luke and Lionel had the chance to play the heroes to a Disney princess.
Next: American Idol: How The Top 10 Spent Their Days At Disneyland
American Idol airs Sundays & Mondays at 8 p.m. EDT on ABC.
Source: ET, Katy Perry/Instagram, Entertainment Tonight/YouTube
from ScreenRant - Feed