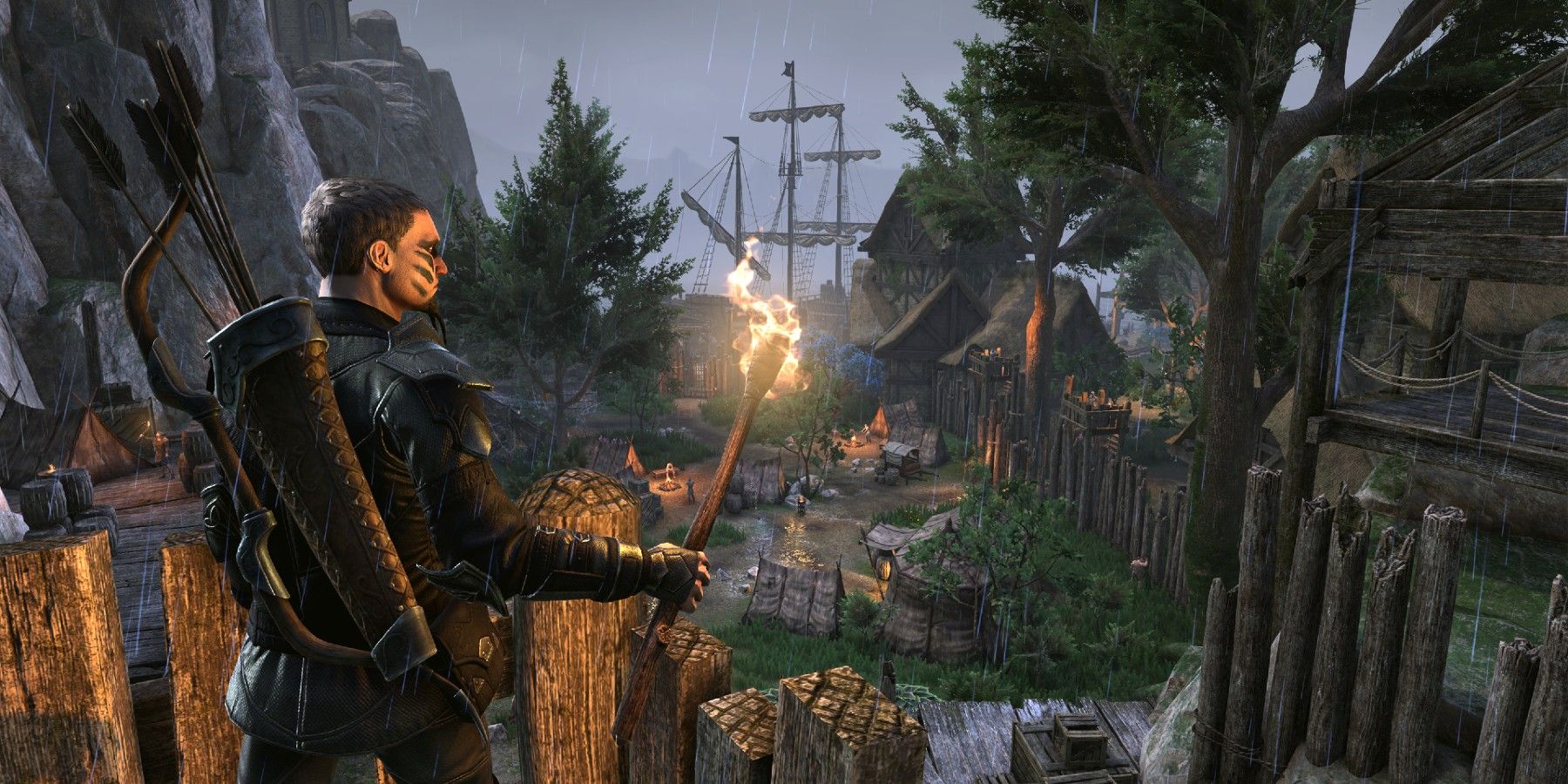 The next chapter of The Elder Scrolls Online will take players to a new part of Tamriel called High Isle, the home of Breton nobility. High Isle will be the sixth chapter released for Bethesda and Zenimax Online Studios' popular MMORPG and is the second release in a year-long roadmap titled Legacy of the Bretons. As with most new chapters of ESO, players are able to jump into High Isle at any time, whether they are new to the game or veterans, and enjoy the over 30 hours of questing, added mechanics, new Trial, and quality-of-life improvements the expansion introduces.
The main story of High Isle takes players to the Breton kingdom in Tamriel's Systres Archipelago. High Isle has been declared the site of secret peace talks to negotiate an end to the Three Banners War. These talks are sponsored by The Steadfast, a humanitarian organization that aids those affected by the war. However, other factions are also at play working toward their own ends. Rather than focusing on larger and more supernatural threats like the Daedric princes, High Isle's story is firmly set in the real world of Tamriel and hinges on political intrigue like other classic Elder Scrolls stories.
Related: ESO: Ascending Tide DLC Out Now, Adds New Dungeons & Haunted Shipyard
The major new mechanic coming to Elder Scrolls Online in the High Isle chapter is a new deckbuilding tavern game called Tales of Tribute. For players who want to take a break from questing and killing monsters and live like real citizens of Tamriel, many NPCs throughout the world will take them up on an offer to play Tales of Tribute. The game includes elements of PvP and PvE. Players can rank up in PvP play or progress a storyline in PvE. Unlike Gwent in The Witcher 3, Tales of Tribute does not require players to traverse Tamriel to collect cards. Instead, each player brings a Patron deck and must attempt to build the best hand from all cards available. There are eight Patron decks to collect and use, each focusing on a different theme that can buff the player or debuff an opponent. Players will receive four of these decks when they complete the tutorial and can collect the other four by simply playing Tales of Tribute within the world.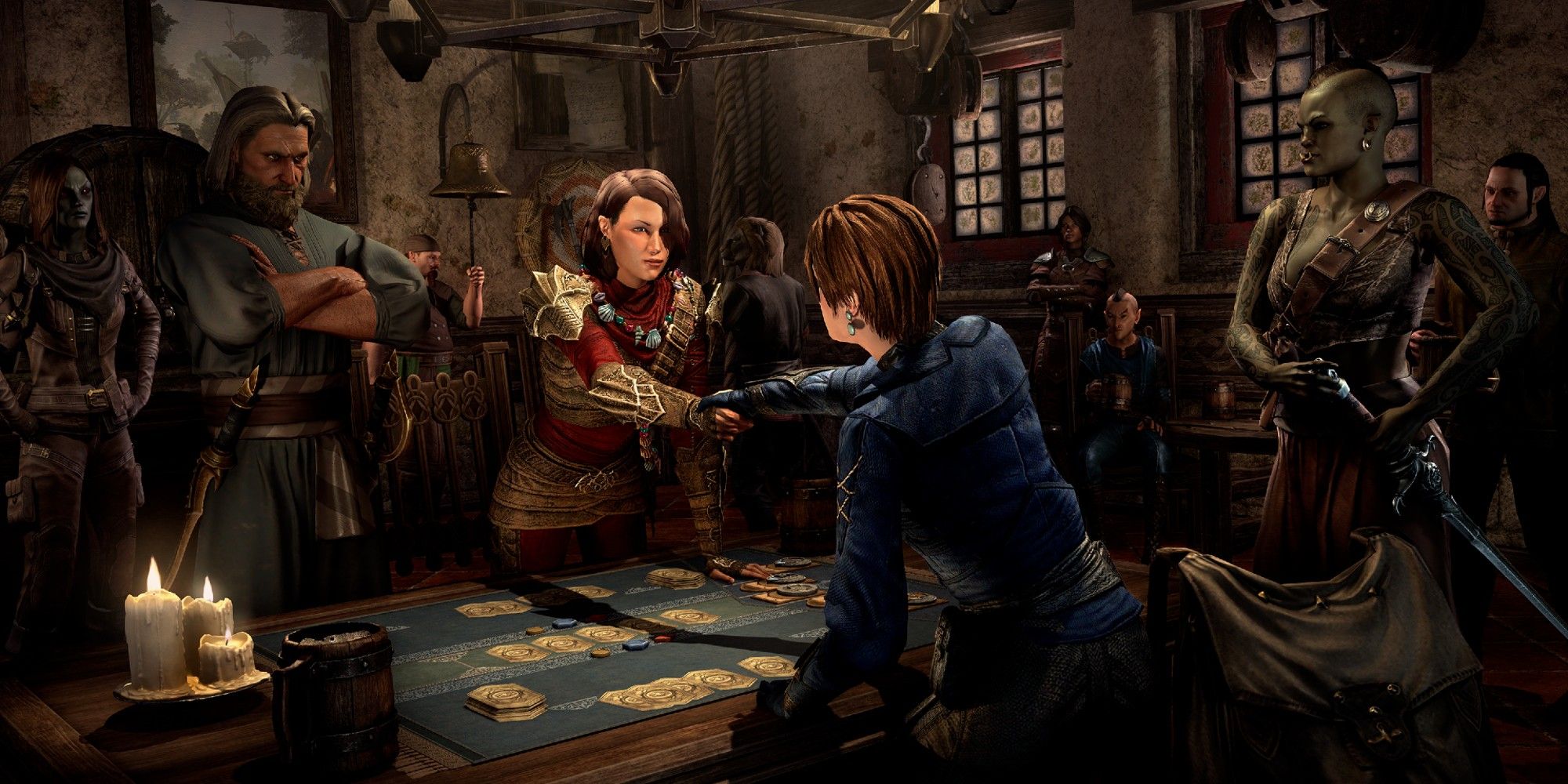 In addition to the deep lore and mechanics of Tales of Tribute, players will also have the chance to meet and adventure with two new companions, Ember and Isobel. Ember is the first Khajit companion to accompany ESO players on their adventures. She had a rough upbringing on the streets and therefore follows a looser, more survival-based moral code, allowing her to overlook illegal actions like stealing. By contrast, Isobel, voiced by Laura Bailey, is a Breton Knight who has a stronger sense of right versus wrong. High Isle hopes to expand on the companion mechanic added in the Blackwood chapter by giving the characters deeper stories and questlines, more intelligent combat strategies, and less repetitive dialogue.
As with most major expansions to ESO, in High Isle, players can also expect a new, pirate-themed, 12-player Trial called Dreadsail Reef that bears some similarity to Blackwood's Rockgrove Trial. They will also have the chance to explore more islands of the Systres Archipelago, including the prison island Amenos, where dissidents, criminals, and political prisoners are sent. Here, they will need to navigate the main prison in the caldera and the lush jungle landscape to find a way off the island. Finally, the High Isle chapter's release will also include bug fixes and quality-of-life updates for the base game, including allowing Mundus stones to be saved in the Armory, an overhaul of the Leaderboard system, several new quick-select wheels for different item categories, and support for AMD FSR. Players can expect to receive these upgrades even if they do not purchase the chapter.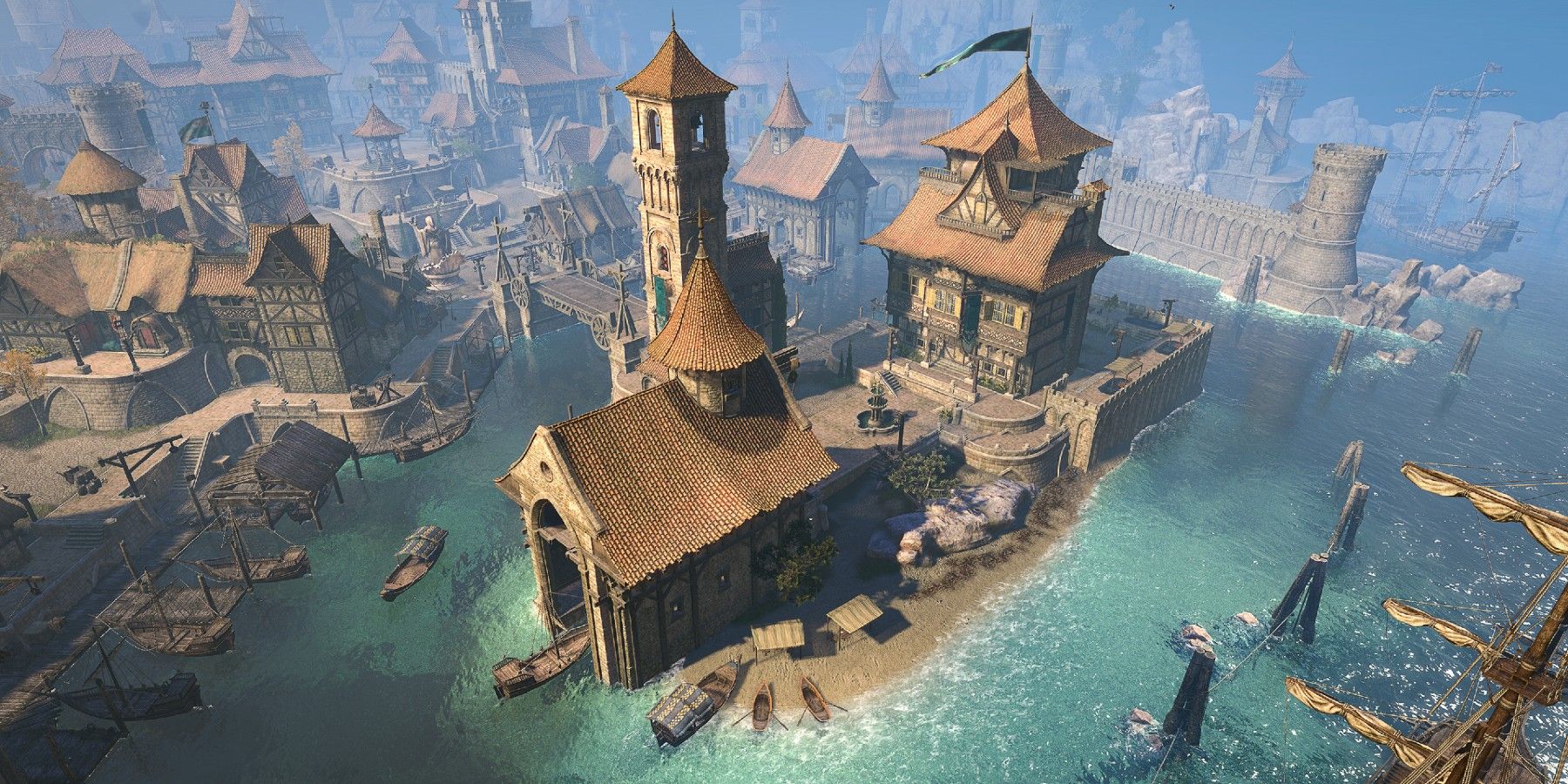 The Elder Scrolls Online: High Isle presents a shift from the more bombastic elements of Blackwood and Greymoor, and, though it feels like a smaller story, it has no less impact on the world and the player. The addition of Tales of Tribute makes sense for the chapter's world, where those with wealth and power can have more leisure time and pirates often rest in the taverns, but it als0 makes sense for the world of Tamriel as a whole and provides more depth and immersion. Finally, the new companions' personalities feel a little more distinct and interesting than those of the original Blackwood companions, indicating an overall upward trend for the fledgling companion system. The Elder Scrolls Online: High Isle seems poised to introduce a sophisticated story in an exciting new part of the world and builds on the mechanics introduced in previous chapters to improve them while also introducing new mechanics and features that bring Tamriel to life and that could easily become series staples in the future.
Next: Elder Scrolls Online Unlocks Morrowind DLC for All Players
The Elder Scrolls Online: High Isle will release on June 6, 2022 on PC, Mac, and Stadia and on June 21, 2022 for PlayStation 4, PlayStation 5, Xbox One, and Xbox Series X|S.
from ScreenRant - Feed