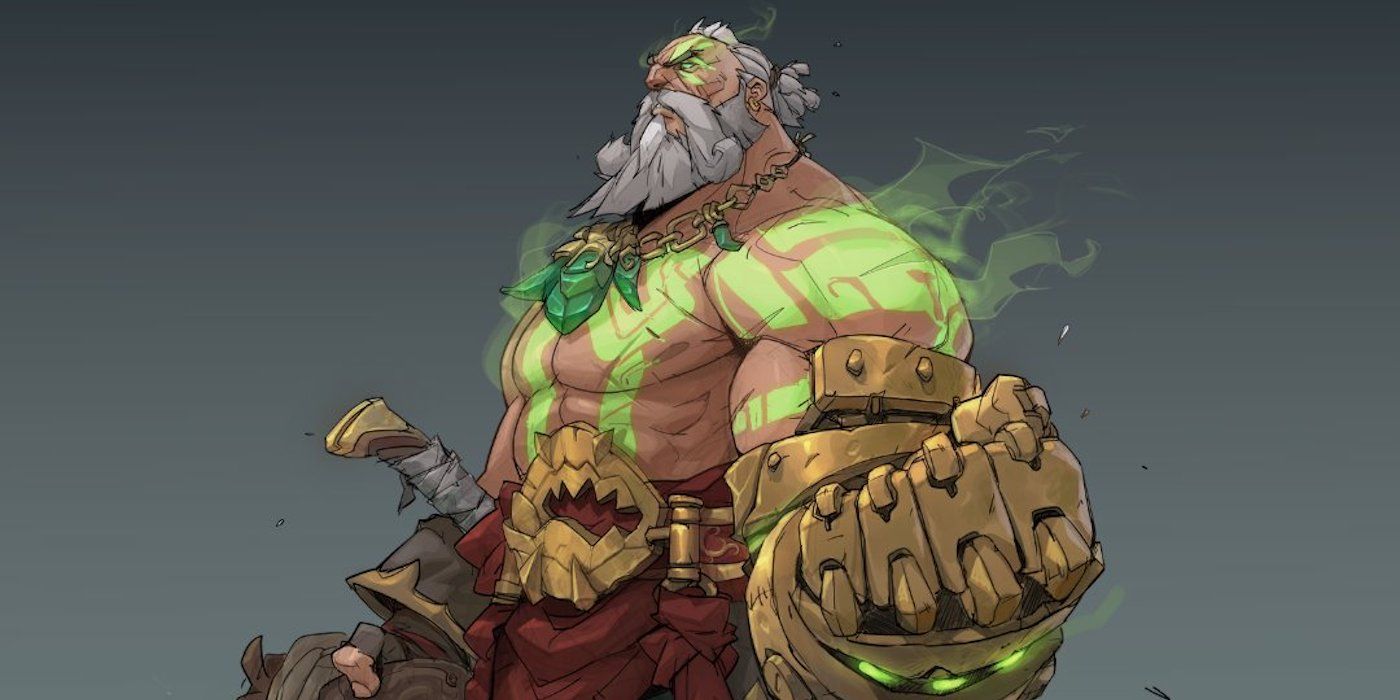 The new Gangplank the Betrayer skin coming to League of Legends is clearly based on the cantankerous character's appearance in Ruined King: A League of Legends Story. The turn-based role-playing spin-off, released in 2021, makes use of League of Legends' characters and setting to create a single-player experience. While he is not playable in the game, League of Legends' bloodthirsty pirate Gangplank is a returning character in Ruined King who serves as a seafaring antagonist.
Ruined King: A League of Legends Story abandoned online gameplay in favor of a single-player role-play experience. Controlling LoL icons like Pyke, Braum and Miss Fortune, fans can explore established locations like the pirate city of Bilgewater and cursed region of the Shadow Isles. Players traverse these fantasy locations from a top-down perspective, and encountering enemies leads to turn-based brawls which are influenced by an Initiative Bar. While Ruined King pulls its playable heroes from League of Legends, it also borrows antagonists like the dreaded pirate captain Gangplank. The ruthless mariner killed Miss Fortune's parents, creating a personal connection between the two characters while forging new League of Legends lore for players to enjoy.
Related: League Of Legends Debuts New Trailer & Insights For Champion Renata Glasc
A new League of Legends skin for Gangplank, revealed via Twitter, gives the salty seafarer his design from Ruined King: A League of Legends Story. Riot Forge released a detailed look at the outfit in January, also via Twitter, and now players will be able to become Gangplank the Betrayer in the multiplayer online arena. While he usually has a large black hat and grey beard, the Ruined King-inspired skin removes the hat and gives the powerful pirate a white beard instead. Combined with a necklace of green stones and a shining gold gauntlet, Gangplank the Betrayer looks poised to dominate the high seas in style. Gangplank the Betrayer is currently available in the League of Legends public beta.
Alongside Gangplank the Betrayer, Riot Games recently revealed new LoL Arcana skins through the MOBA title's public beta. The mystical tarot card-inspired skins made their premier last year, and now new champions like Ahri and Ryze will get their own unique designs inspired by the Major and Minor Arcana. Unique new battle animations, sound effects and recalls will also be included with these original designs, giving an entirely new flair to classic League of Legends characters.
League of Legends is known for its wide wardrobe of different cosmetics, and Ruined King introduced brand-new designs for some of the game's oldest characters. Gangplank in particular received an exciting new coat of paint for his villainous role in the single-player title, and now fans can use that design in online combat. Losing a hat but gaining a necklace of crystals, Gangplank the Betrayer looks ready to dominate the oceans of Runeterra.
Next: League of Legends Might Be Adding a $130 Skin, According to Leaks
League of Legends is available on PC.
Sources: League of Legends/Twitter, Riot Forge/Twitter
from ScreenRant - Feed