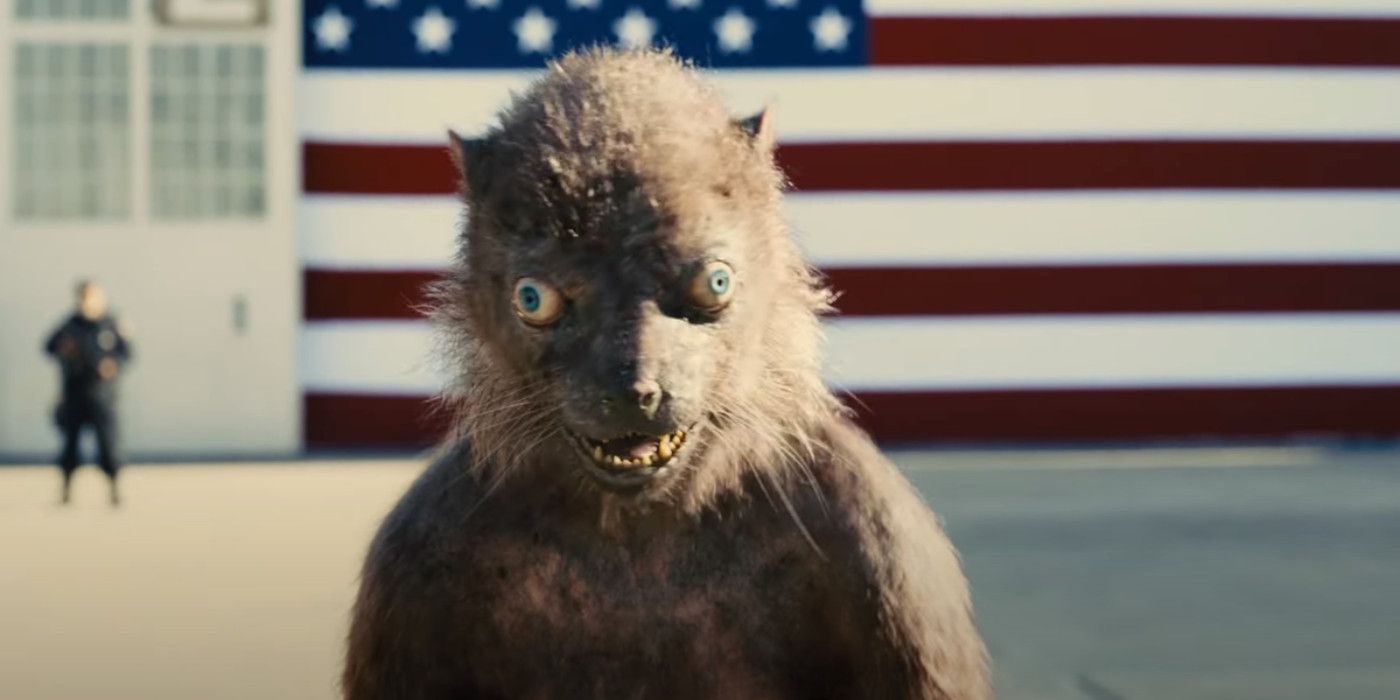 James Gunn has teased the impending DC Extended Universe future for his infamous The Suicide Squad character Weasel. The Suicide Squad, which cames to theaters and HBO Max on August 6, 2021, had an extended opening that turned out to be one of James Gunn's costliest and most elaborate jokes. Mimicking the opening sequence of the 2016 Suicide Squad, it introduces a brand new team of villains played by an all-star cast being gathered for a brand new Task Force X mission, including returning characters Harley Quinn (Margot Robbie) and Captain Boomerang (Jai Courtney). The team that is gathered - which also features Blackguard (Pete Davidson), Savant (Michael Rooker), Javelin (Flula Borg) and TDK (Nathan Fillion) - almost instantly dies the second they storm the beach at Corto Maltese, with the exception of Margot Robbie's Harley Quinn, who later joins up with the other, more successful Task Force X team gathered by Amanda Waller (Viola Davis).
One of the characters in this opening sequence that got the most attention was the off-putting anthropomorphic rodent called, simply, Weasel. Weasel is a CGI character played by Gunn's brother Sean, who also provided on-set mo-cap for Bradley Cooper's Guardians of the Galaxy character Rocket Racoon. Although he was presumed dead after the opening sequence, a goofy end credits stinger proves that he is alive, kicking, and still rather gross to look at.
Related: How Weasel Is Alive
On his Twitter account, the ever-active James Gunn gave an update on the future of his DC contributions. Today, a fan expressed the wish that Weasel would appear in the impending Peacemaker season 2. Although Gunn didn't confirm or deny that this would be the case, he did quote tweet that message, saying that, while there are no promises, "I don't believe we've seen the last of Weasel." Check out the post below:
Click here to view original post.
As for where Weasel may show up in the DCEU, Peacemaker season 2 certainly seems like his best bet. Gunn is not currently attached to any DC projects other than the series, which is itself a spinoff of John Cena's character from The Suicide Squad. Although Peacemaker never interacted with Weasel, it seems unlikely that the goofy throwaway character would have a place in any project not helmed by Gunn.
Likewise, the tone of Peacemaker is very willing to push the envelope in terms of R-rated comedy. Nothing other than a follow-up film to The Suicide Squad would be able to match that energy, which is exactly what a character like Weasel needs. Considering that a Suicide Squad 3 film does not currently seem to be in the cards, avid viewers can keep their fingers crossed about that Peacemaker season 2 cameo.
Next: What James Gunn's Plans For The Suicide Squad's Weasel Could Be
Source: James Gunn
from ScreenRant - Feed