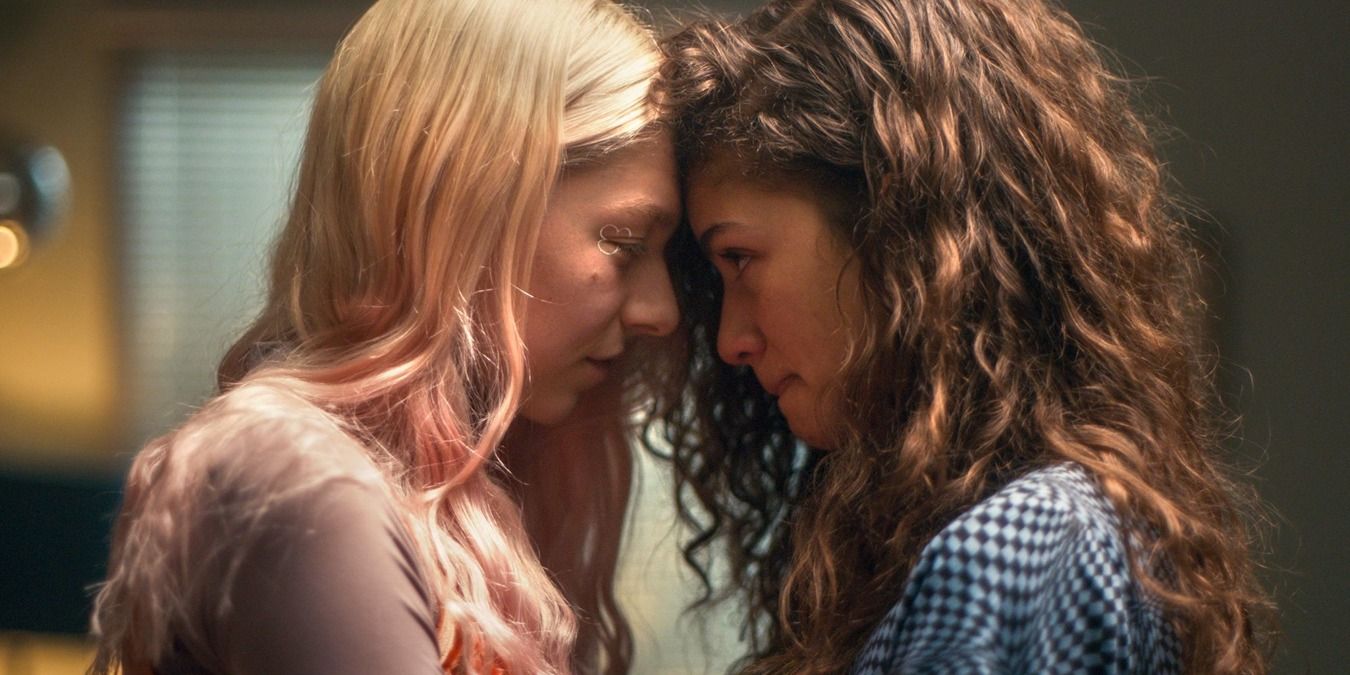 Euphoria season 2 star Hunter Schafer says that the show's choice to end Rue and Jules' relationship was probably for the best. Schafer stars in the hit HBO Max series as Jules, the beautiful yet damaged high-school girl who begins an intense friendship with Rue, played by Zendaya. Their relationship develops in capricious, multifaceted ways throughout the two seasons (so far) of Euphoria.
The hit show Euphoria follows Rue, a smart, loving, but deeply troubled high schooler who struggles with drug addiction and other mental illnesses. The show navigates her drug abuse's impact on her familial, platonic, and romantic relationships; however, the show frames Rue's story with immense empathy and intimacy, never shying away from the harsh realities of addiction but also lovingly leaning into genuine moments of tenderness presented in between the scenes of heartache. Both ends of this emotional spectrum present themselves through the tumultuous passion of Rue and Jules in Euphoria, whose close friendship slowly turns romantic over the course of the show; however, the romance between them eventually can't withstand the devastating blows of Rue's increasing reliance on drugs and other emotionally destructive tendencies rooted in the trauma of her past, as well as the less conspicuous nature of Jules' own demons.
Related: Euphoria Season 2 Finale: Why Rue Walks Away From Jules
Schafer reflected in a red-carpet interview with Variety, posted on Twitter, on the ending of Rue and Jules' relationship. She offers a wise and mature mindset towards the break-up of the widely-beloved couple, acknowledging that while the relationship might be over, and while that might be for the best, the love they have for each other remains. Check out Schafer's statement below:
The way the season left off is probably the best way for them to go right now. I think they still love each other a lot...I hope they can look back at that relationship & smile at some point.
Season 2 of Euphoria left Rue and Jules on bittersweet and tearful terms, with Rue walking away from Jules rather than choosing to reconcile after an emotional viewing of Lexi (Maude Apatow)'s reflective play. The moment followed a period of fractured silence between the two; in previous episodes, an intervention for a relapse in Rue's drug abuse, carried out by Jules, their mutual friend Elliot, and Rue's mother, left both girls emotionally shaken and their relationship in pieces. While the finale of season 2 didn't offer the romantic reconciliation some might have desired, Schafer's comment suggests some sort of future reunion of the girls due to their mutual love for each other, offering hope to the fans devastated by their parting.
Schafer's healthy outlook on her character's relationship mirrors the conscientiousness, empathy, and skill with which she approaches the role of Jules, offering a continually impressive and poignant performance that contributes hugely to Euphoria's continued success and acclaim. Likewise, Euphoria's unapologetic and authentic exploration of this messy, passionate, and deeply complicated relationship between two teenage girls strengthens the emotional impact of its unraveling, even if the unraveling might be in the characters' best interest. Euphoria honestly and brilliantly depicts the volatility of Rue and Jules' relationship, but just as honestly illustrates the deep love between them. This poignant and nuanced depiction allows for not only the beloved characters, but the audience itself to, in Schafer's words, look back on their relationship and wistfully smile.
Next: Euphoria Season 2 Proves There's A Future Without Zendaya
Source: Variety via Twitter
from ScreenRant - Feed