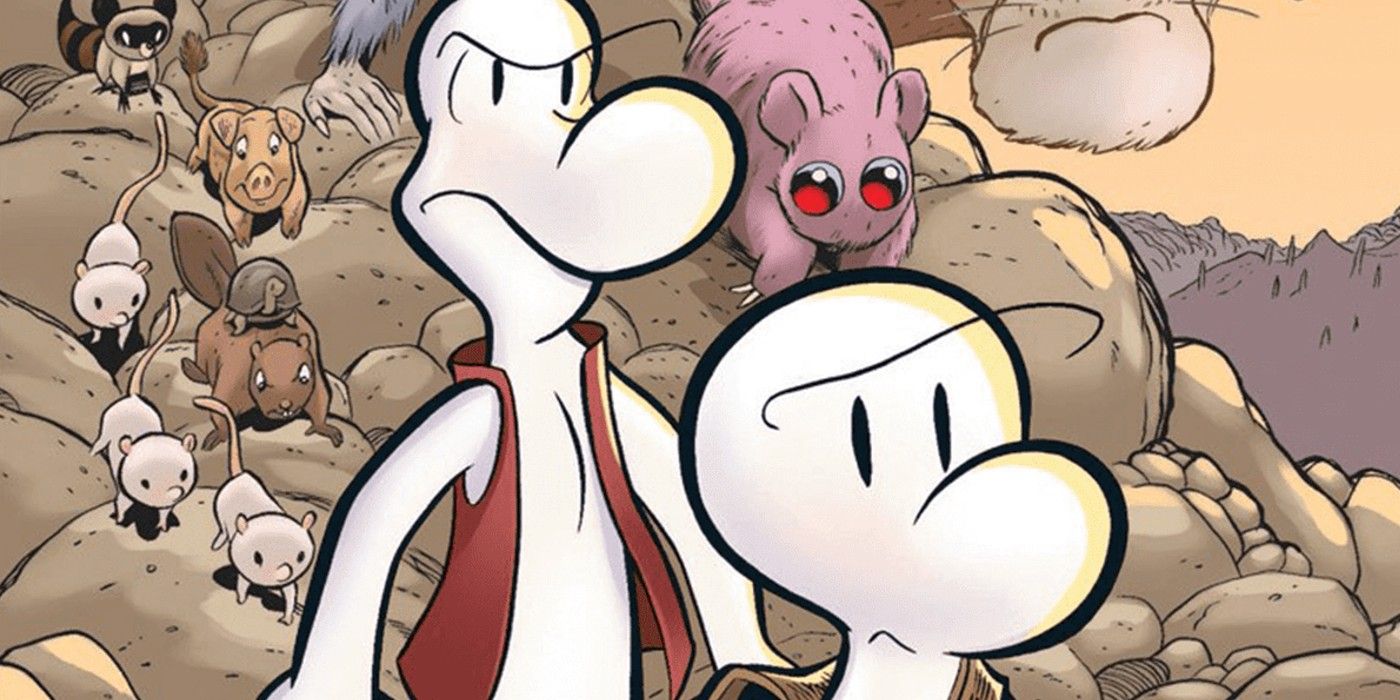 Bone creator, Jeff Smith, responded to Netflix's cancellation of a Bone animated series with the perfect comic strip. Bone is a graphic novel series written and illustrated by Smith and released between 1991 and 2004. The comedic fantasy series follows Fone Bone and his two cousins, Phoncible P. "Phoney" Bone and Smiley Bone, as they attempt an escape from their home of Boneville. In their escape attempt, they end up lost in a fairy tale landscape and end up getting sucked into a heroes quest within a mysterious valley.
Bone has received numerous awards, including multiple Eisner and Harvey awards. The series appeals to both adolescent and adult readers with its comedic elements and the intensity of the Bones' adventure. In October of 2019, Netflix acquired the rights to Bone and announced they were developing an animated Bone TV series. Smith was excited by the news, indicating that Netflix was the perfect home for Bone. However, it was recently reported Netflix had cancelled the Bone adaption due to its recent initiative to reduce investment in animation.
Related: Netflix's Resident Evil Character Trick Avoids The Movies' Silliest Problem
Smith reacted to the news of Netflix's cancellation on Twitter with a comic strip that perfectly sums up his feelings. The strip sees his Bone characters recreating the iconic Peanuts scene in which Charlie Brown tries to kick a football being held by Lucy, only for her to quickly pull it away before Brown can kick it. Smith's strip shows three versions of that scene, one for each attempt at adapting Bone by Nickelodeon, Warner Bros., and most recently Netflix. Check out Smith's comic strip response, below:
Click Here to View the Original Post
Smith's comic strip perfectly summarizes his frustrations with getting a Bone adaption. The first attempt came back in the late 1990s, when Nickelodeon approached Smith about creating a Bone animated film. However, Smith wasn't on board with their vision of Bone and the adaption fell through. In 2008, a more concrete attempt to make a Bone film occurred when Warner Bros. bought the film rights. The studio struck a deal with Smith and there were plans to make Bone into a 3D animated film trilogy. Then, years and years went by with no film and little progress being made. Finally, in 2019, Warner Bros. shelved the Bone film series and that was when it went into Netflix's hands. Now, they too have cancelled their attempt, meaning it has been well over 20 years since Smith was first approached about a Bone adaption and it still hasn't happened.
Smith's comic strip also highlights the fickle side of the film industry that isn't often seen. Viewers often only see the completed piece, but are oblivious to the years-long process that it takes to get to that point. When this happens, it is simply a reflection of how the business is and not at all a reflection of the creator or the quality of his work. Smith's Bone is an award-winning comic that is adventurous and hilarious and would make a great film or TV series. The fact that it hasn't panned out is disappointing to fans, and even more so for Smith. In his comic, Smith writes, "never again," indicating that he may just be done with these Bone adaption offers. Despite this, hopefully Smith is still willing to try kicking the football again because his fans would surely love to Bone on either the big or small screen one day.
More: Netflix: The Best New TV Shows & Movies This Weekend (April 22)
Source: Jeff Smith
from ScreenRant - Feed