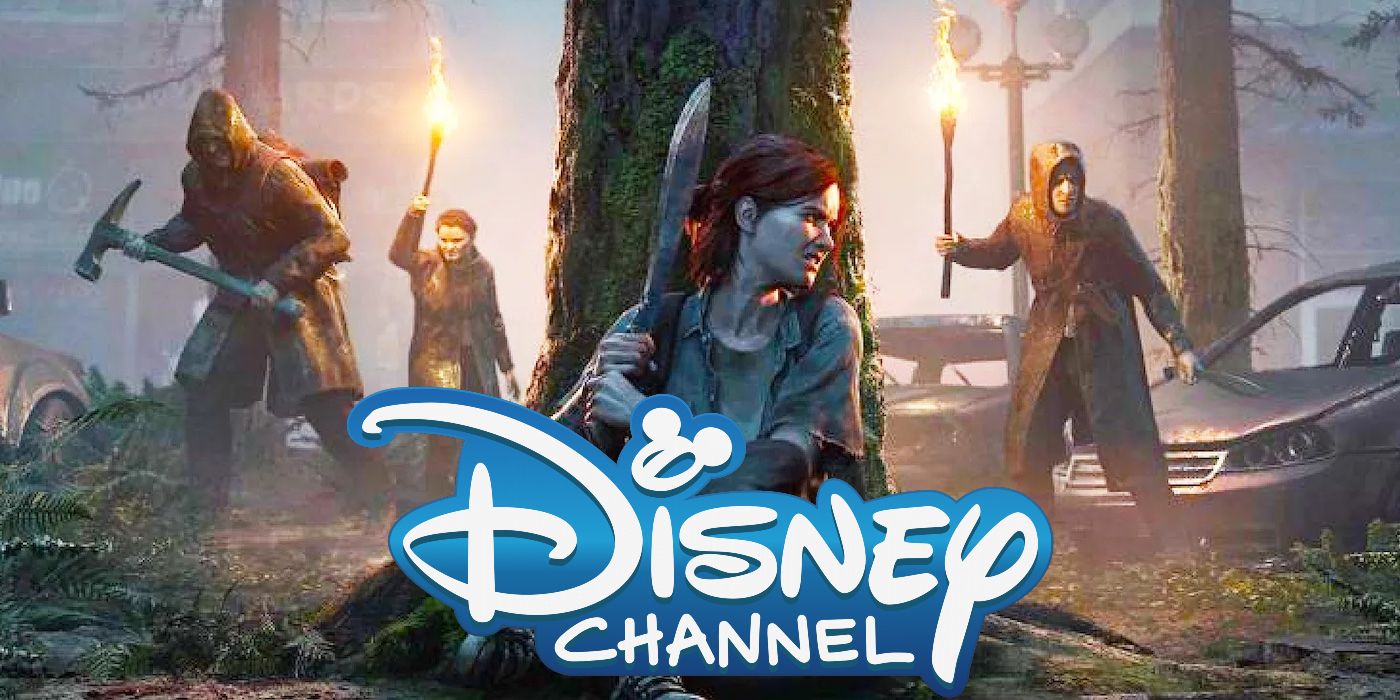 A hilarious fan edit turns The Last of Us: Part 2 into an old-school Disney Channel comedy complete with a laugh track. Naughty Dog's post-apocalyptic sequel is notoriously somber and gritty, offering a realistic look at life after the end of the world. Criticism of The Last of Us 2 stemmed from the game's relentlessly brutal narrative, but some fans have found a way to add levity to the experience.
Naughty Dog's 2013 hit The Last of Us tells the tale of Joel and Ellie, two survivors forced to venture across a post-apocalyptic America. Most of the world has been turned into zombified monsters following the outbreak of a horrific fungal infection, leaving small groups of humans to fight for survival. While the first game finds levity through Joel and Ellie's growing relationship, The Last of Us 2 damages this lighthearted tone by killing Joel towards the start of the game. Joel's gristly demise outraged fans, leading some to even create playable TLOU2 Joel mods which let the hardened survivalist live on past his canon demise.
Related: Rare TLoU 2 Animation Shows How Effective Ellie Is With a Machete
The Last of Us: Part 2 fan and Reddit user Greysbastard has hilariously transformed the grounded survival story into a Disney Channel sitcom. An early TLOU2 scene sees Ellie discuss the previous night's events with her friend Jesse. While the conversation is typically humorous, Greysbastard inserts live audience reactions to overemphasize the humor and transform the scene into a TV production. The audience cheers when Jesse gets introduced, reacts in shock when Ellie mentions kissing Jesse's ex Dina and cackles at every joke. A Disney Channel logo, and a bit of music from Hannah Montana, help to complete the amazing transformation.
While Greysbastard reimagined the game as a family-friendly comedy-drama, another artistic fan designed a The Last of Us 2 tilt-shift game to provide another unique perspective of the title. Naughty Dog's action series usually strives to achieve photorealistic graphics, with the overgrown ruins of America rendered in breathtaking detail. However, the tilt-shift game design looks at the post-apocalypse from an isometric view, telling a tale of loss and decay through clever environmental storytelling.
A merciless murder with a golf club kicks off The Last of Us: Part 2, and the game only gets more and more brutal as the plot thickens. However, clever editing from Greysbastard has successfully transferred the series' characters and their bleak battle for survival into lighthearted programming fit for Disney Channel. The video puts the laugh track to expert use, though it seems unlikely that audiences would be laughing for long given the horrific nature of The Last of Us and its world.
Next: TLOU2: Multiplayer Armor For Ellie Discovered In Hidden Game Files
The Last of Us: Part 2 is available on PlayStation 4.
Source: Greysbastard/Reddit
from ScreenRant - Feed