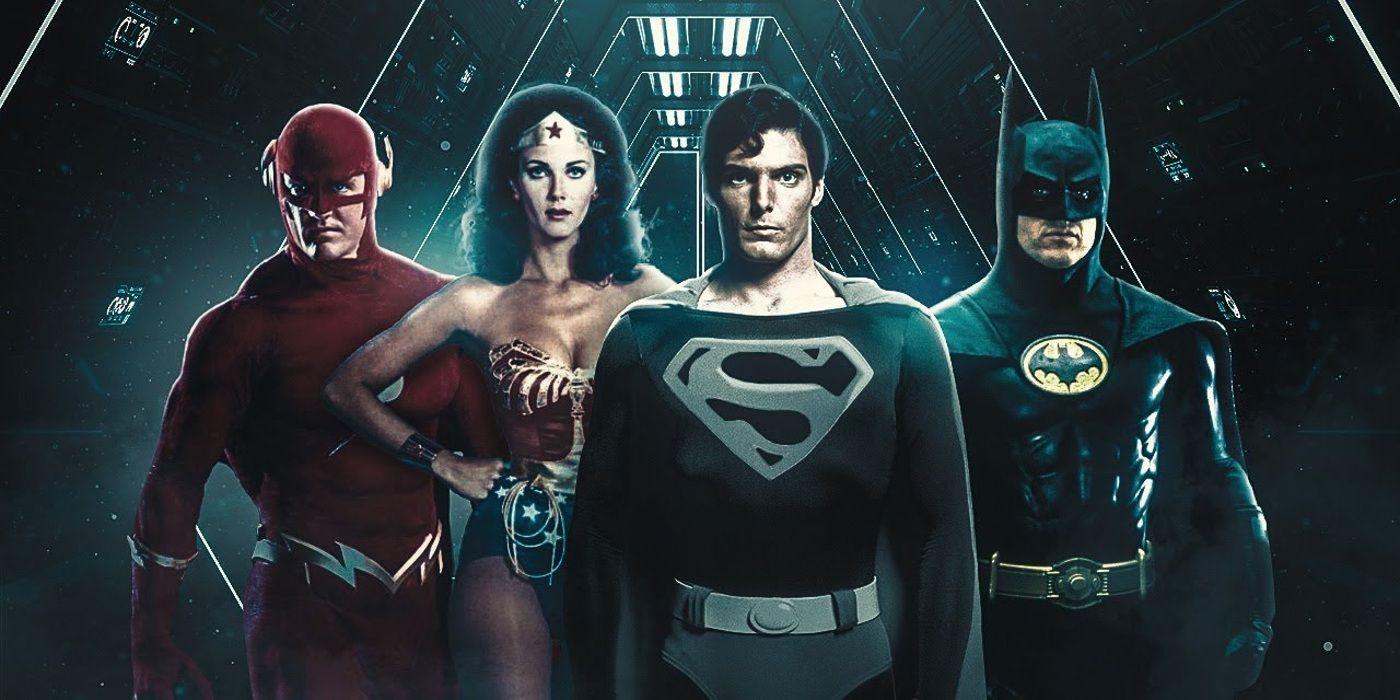 The Justice League movie gets the retro-treatment as a fan-made trailer brings the pre-DCEU versions of the iconic DC Comics heroes together. One of the most beloved fictional teams in the world has and always will be the Justice League of America. While the DC icons have been depicted multiple times in animation, some of them have had a handful of live-action interpretations. Even though the DCEU hasn't really focused on any further team-up adventures since 2017's controversial Justice League - and the HBO Max correction (Zack Snyder's Justice League) - Warner Bros. is continuing to focus on some of those characters in their own solo films.
Ben Affleck, Henry Cavill, Gal Gadot, and Ezra Miller have taken on the roles of Batman, Superman, Wonder Woman, and The Flash, respectively, but they were not the first actors to portray these icons. Prior to Gadot's Wonder Woman franchise, Lynda Carter was most associated with the Themysciran warrior princess through her '77 television series. Since his Superman films, the late Christopher Reeve has continued to be part of the hero's everlasting legacy. Before Miller became the first cinematic Barry Allen, John Wesley Shipp and Grant Gustin's respective TV iterations of The Flash existed before the DCEU incarnation. Keaton's Batman, who is joining the DCEU later this year as Affleck is finishing his run, has been considered the ultimate Caped Crusader for many fans since the '90s. And of course, everyone loves Adam West's '60s take.
RELATED: The State Of The DCEU Canon After Zack Snyder's Justice League
As the DC Multiverse helps different generations of live-action properties get more exposure than ever, filmmaker and content creator AList has brought the pre-DCEU version of the Justice League together. Through AListProductions, the YouTuber has crafted a special retro trailer for what Zack Snyder's Justice League would look like with Reeve, Keaton, Carter, Shipp, and other actors who played iconic DC characters in the '80s and '90s. While members like Aquaman and Cyborg hadn't been introduced on the big screen prior to their current iterations, some recognizable faces do pop up in their place. Check out the fan-made trailer for Zack Snyder's RETRO Justice League below.
The wonderful trailer highlights how massive it would have been if Warner Bros. had somehow found a way to do a Justice League project with these actors back in the '90s. Even though the Snyder Cut was the first time Darkseid appeared in live-action, it's still fun to speculate how a filmmaker would have adapted him to screen over 30 years ago. Although Reeve's films told their own original stories, it'd have been intriguing to see him in The Death and Return of Superman arc, including the black suit. AListProudctions' retro trailer is also a reminder of what a shame it was that Reeve and Helen Slater's Supergirl never got to share the screen together.
This version of a Justice League film was never to be, but many of these actors had their DC legacies extended through other projects. Reeve showed up as Dr. Virgil Swann on Smallville as a key figure who helped Tom Welling's Kal-El learn about Krypton. Slater played Kal-El's mother in Smallville while she portrayed Eliza Danvers in the Arrowverse's Supergirl. Shipp's The Flash TV show may have only lasted for 1 season, but the actor has been an active part in the 2014 iteration, both as Henry Allen, his version of Barry from Earth-90, and Jay Garrick, that also includes Stargirl. In many ways, the Zack Snyder's RETRO Justice League trailer serves as a pleasant refresher on how these actors and iterations still matter to this day.
MORE: Where To Watch Every Zack Snyder Movie Online
Source: AListProductions
from ScreenRant - Feed