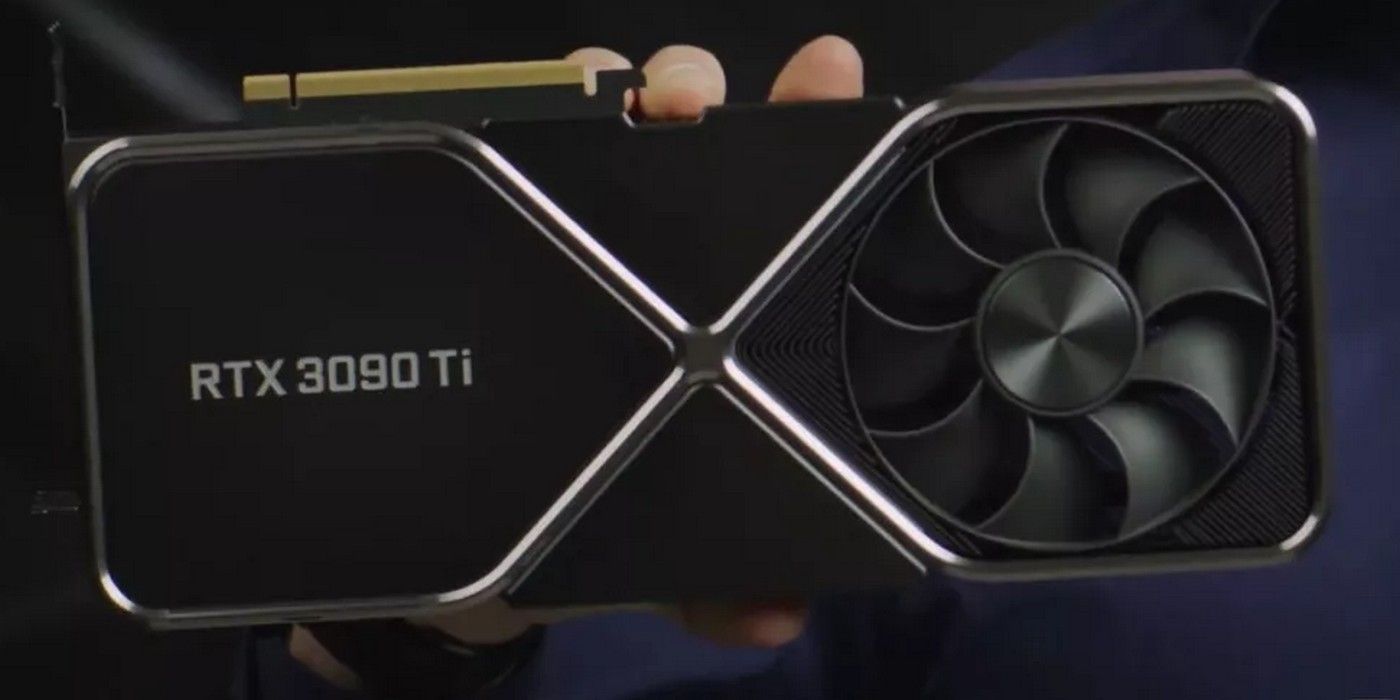 Nvidia is reportedly launching its GeForce RTX 3090 Ti graphics card on March 29. The GPU was initially announced at the Consumer Electronics Show 2022 back in January, promising more information in the next few weeks. However, two months have passed since then without any official announcement from Nvidia, leading to speculations that it might have been delayed due to issues with its GDDR6X memory.
There's been an acute shortage in the supply of graphics cards over the past couple of years, thanks mainly to the ongoing chip shortage and the cryptocurrency boom that are preventing buyers from getting their hands on their favorite graphics cards. The high demand and low supply also encourage scalping and price gouging, but the situation is so bad that even scalpers are finding it hard to get their hands on the cards.
Related: NVIDIA's Next-Gen GPU Plans Leak After Cyber Attack
According to a new report from VideoCardz, Nvidia plans to release its RTX 3090 Ti graphics card on March 29. The report is said to be based on a leaked embargo timeline, which seems to suggest that not only will the product be announced and put on sale on March 29, the embargo on press reviews will also be lifted the same day. So as long as the supposed leaked document is accurate, the RTX 3090 Ti might be just a couple of weeks away from general availability.
It is worth noting that rumors from earlier this month also suggested that the card would go on sale on March 29, and it now seems as though those rumors were right on the money. That said, there's still no official confirmation of the release date from Nvidia, so take it with a pinch of salt for now. Either way, even if the leak is accurate and the card is available for purchase at the end of this month, supplies are still likely to be at a premium in the short term. It's also likely to sell out super fast, so gamers wanting to get their hands on the card will do well to put their order in as soon as it goes on sale.
The GeForce RTX 3090 Ti will feature GA102-350 GPU and will ship with 10752 CUDA cores — an increase of 256 CUDA cores over the standard RTX 3090. It will also have a base clock of 1.56GHz and a boost clock of 1.86GHz, both of which are higher than any other card in the RTX 3000-series. The 3090 Ti will also ship with a memory clock of 21Gbps and a memory bandwidth of over 1TB/s. Recent rumors have also suggested that it will be a reasonably power-hungry card with a massive 450W TDP. However, what will make a difference for gamers is its price tag. The Nvidia GeForce RTX 3090 Ti is not expected to be cheap, given that the standard 3090 has a whopping $1,499 asking price.
Next: When Is NVIDIA GTC 2022? What To Expect
Source: VideoCardz
from ScreenRant - Feed