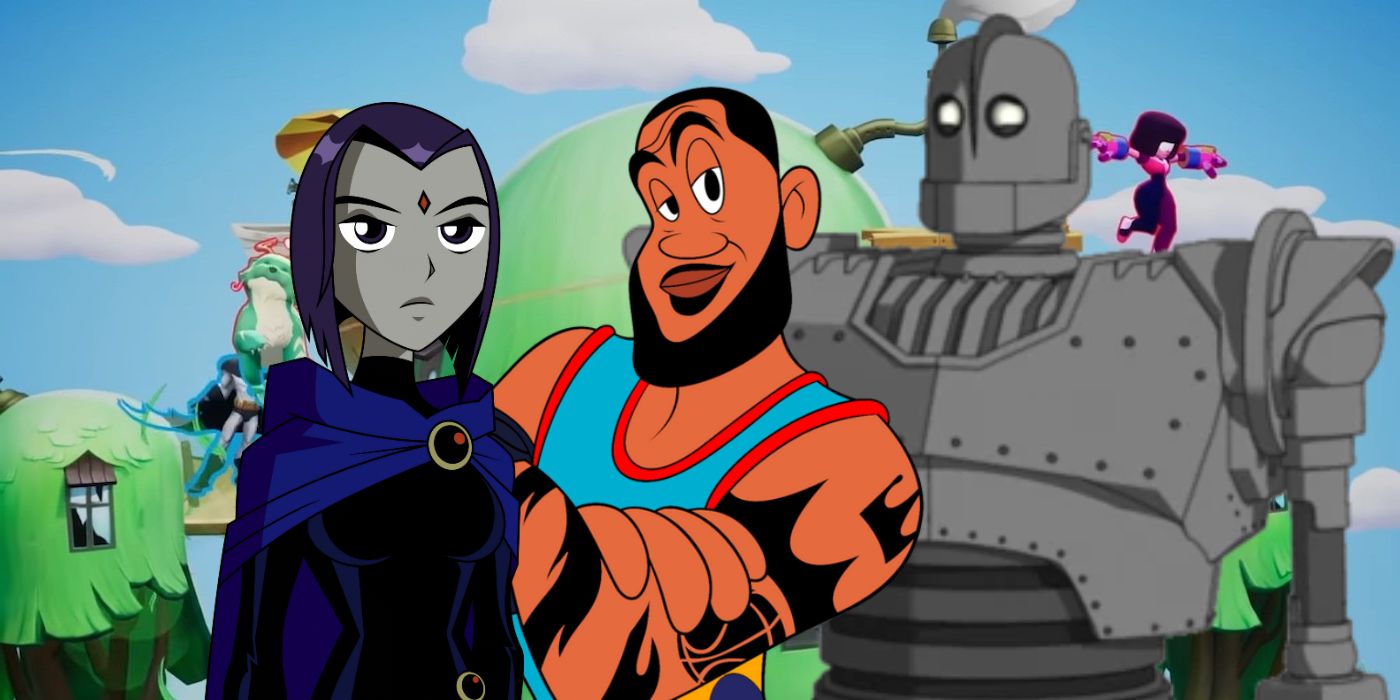 Leaked voice lines seem to confirm additional MultiVersus characters like Teen Titans' Raven, LeBron James and The Iron Giant. The Warner Bros. crossover fighting game will include characters from various different properties like DC Comics, Game of Thrones and Looney Tunes. While many pop culture icons are already confirmed to appear, MultiVersus roster leaks continue to hint at additional exciting fighters.
MultiVersus will bring together many of Warner Bros. most beloved franchises and allow players to face off as a variety of different characters. DC superheroes like Batman and Superman will face off with Shaggy from Scooby-Doo, while Arya Stark from Game of Thrones duels with Adventure Time's Finn the Human. MultiVersus is also poised to adopt a live-service format, with the platform fighting game being free to play and supported by free updates after launch. This free-to-play model, and impressive features like professional voice acting for each fighter, may give MultiVersus a leg up over competitors like Super Smash Bros. A series of MultiVersus technical tests has allowed fans to try out the upcoming game before its launch later in 2022.
Related: Smash Bros. & Nick All-Star Brawl Problems MultiVersus Could Solve
As reported by Video Games Chronicle, new voice lines from MultiVersus have been leaked through a recent technical test. Shared by Reddit user higashikujo, the voice lines seemingly confirm unannounced characters like Teen Titans' Raven, Lebron James, The Iron Giant and Loony Tunes icons Taz and Marvin the Martian. The star of the 1999 animated film The Iron Giant takes an interest in Superman, tying into the film's explicit references to the DC hero, while Lebron James maintains a friendly rivalry with Bugs Bunny following Space Jam 2. Raven makes frequent references to her allies from Teen Titans, while Marvin and Taz's lines perfectly reflect their cartoonish origins.
The vast collection of Warner Bros. properties gives MultiVersus the potential for an incredibly diverse roster. Many fans have created their own MultiVersus character roster concepts, demonstrating nearly endless possibilities for the platform fighting game. LeBron James actually seems to be a popular choice for inclusion, due to the recent release of Space Jam 2 and the basketball star's legendary status. Other frequent theories include Harry Potter, The Joker, Scooby-Doo, Static Shock, the Wicked Witch of the West and more, and post-launch support means many of them may actually be playable at some point.
MultiVersus is set to launch with a fascinating roster of different characters, and the game's cast will only grow larger over time. Fourteen characters have been officially announced, but the recent voice line leak seems to add several more pop culture icons to the ring. From superheroes like Raven to sports legends like LeBron James, every player will have at least one character they love in MultiVersus.
Next: WB's Smash Bros-Like Fighting Game Could Add LeBron James In DLC
MultiVersus will launch in 2022 for PlayStation 4, PlayStation 5, Xbox One, Xbox Series X/S and PC.
Sources: Video Games Chronicle, higashikujo/Reddit
from ScreenRant - Feed