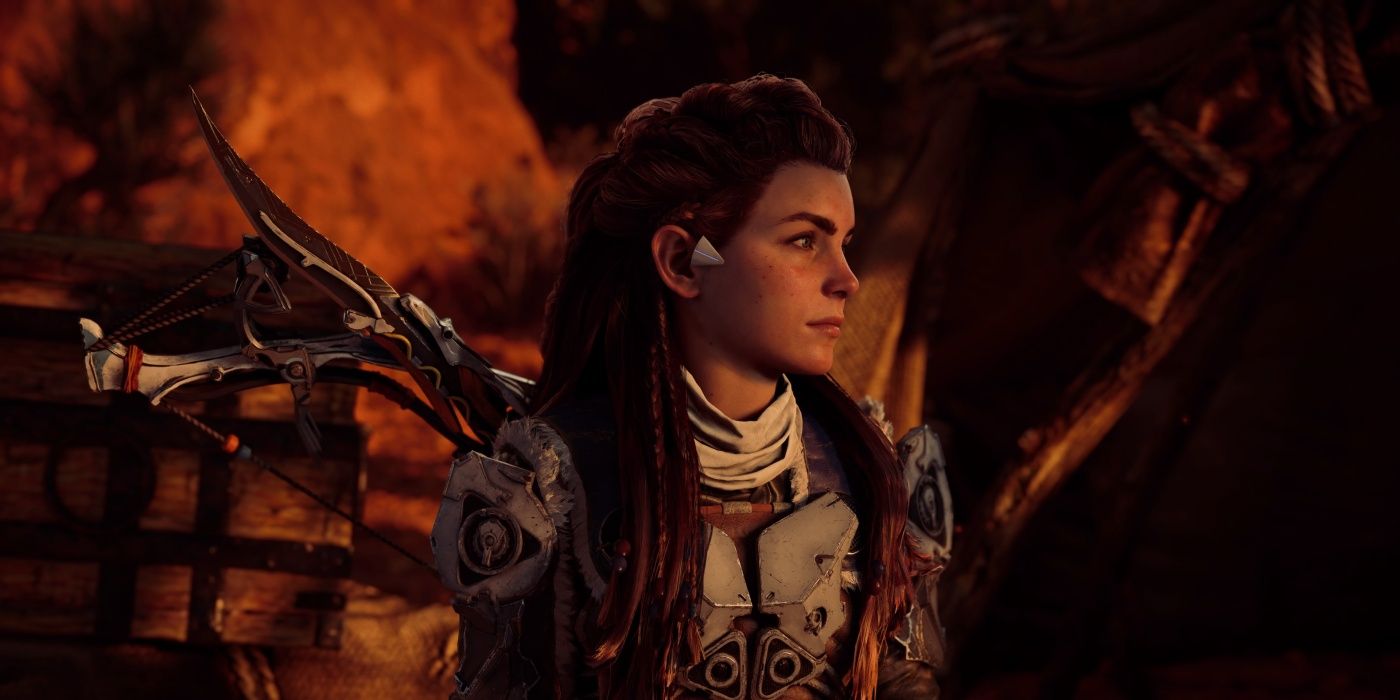 Patch 1.06 for Horizon Forbidden West recently went live, addressing Photo Mode-related errors and instances where Aloy mentions her stash a little too often. Considered a massive leap above its well-received predecessor, Horizon Forbidden West launched to rave reviews in late February. The cross-gen PS4 and PS5 title follows series protagonist Aloy into the titular Forbidden West as she searches for a way to restore GAIA and put a stop to a devastating blight; naturally, myriad obstacles stand in the huntress' way.
Like most games, the Horizon Zero Dawn sequel didn't launch in pristine condition, thanks to more than a fair few bugs that can prove immersion-breaking. One glitch, in particular, results in Aloy regularly mentioning her stash, a chest that excess inventory items get transferred to for safekeeping. It's not too big of a deal in the grand scheme of things, but most players would agree the constant reminder can become annoying after extended playtime. And while Horizon Zero Dawn's stellar Photo Mode received notable improvements for the sequel, this feature also suffers from a hitch or two. Most notably, switching Aloy's poses in Photo Mode tends to make some outfits look blurry.
Related: Horizon Forbidden West's Aloy VA Ashly Burch Praised By John Carpenter
Today, March 2, developer Guerrilla deployed Horizon Zero Dawn Patch 1.06, which tackles dozens of bug fixes. Various issues plaguing main quests, side missions, graphics, and open-world activities are outlined in patch notes on the official Horizon Reddit page. Notably, digital photographers will be pleased to learn that blurriness on Aloy's outfits caused by changing poses in Photo Mode should no longer prove an issue. Instances of the protagonist constantly referencing her stash when picking up an excessive number of items should be reduced in Patch 1.06, as well. (It's worth noting that some bullet points in the patch notes feature spoilers.)
Patch 1.06 should go a long way in improving the experience for many players. But those who run into additional hiccups while tactically taking down Horizon Forbidden West's machines are advised to report glitches through PlayStation's official support forms. Hopefully, not too many issues continue to linger in the open-world game.
Apparently, Forbidden West isn't the end of the road for this particular chapter in Aloy's story. Comments made by the VSC Rating Board, a PEGI system administrator in Europe, recently suggested the sequel may receive an expansion of some sort. While Guerrilla Games and Sony have yet to corroborate, such post-launch support wouldn't come as a surprise since Zero Dawn's Frozen Wilds DLC was so well-received by critics and players in late 2017.
Next: Horizon Forbidden West: Every Salvage Contractor Location
Horizon Forbidden West is out now on PS4 and PS5.
Source: Guerrilla/Twitter, Horizon/Reddit
from ScreenRant - Feed