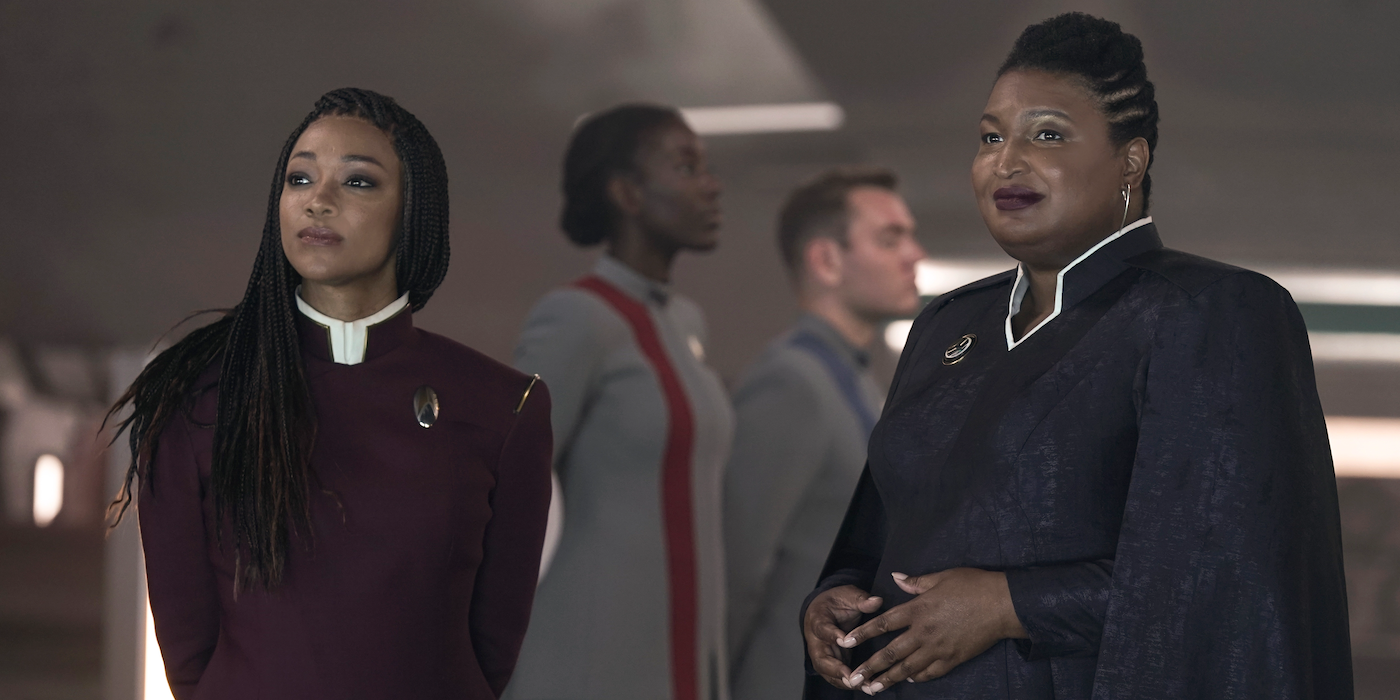 Star Trek: Discovery gave viewers a surprise, with real-life politician Stacey Abrams' cameo as the President of United Earth in the Discovery season 4 finale paying homage to the long-established vision of Star Trek creator Gene Roddenberry. Once Captain Burnham and the crew of the Discovery had found a diplomatic solution to the DMA and their interactions with species 10-C, Burnham was given the opportunity to meet the as-yet-unseen President of United Earth. The two women shared a moment of victorious comradery before Abrams announced that Earth would immediately begin the process of rejoining the United Federation of Planets. By giving the prominent political darling the role, the show perfectly encapsulated the vision that Roddenberry wanted to create with Star Trek in a subtly empowering way.
Roddenberry, who first promoted the original message of Star Trek as a "Wagon Train to the stars," was always very clear about his desire to provide viewers with a peaceful, equitable, and exploration-driven future. He pushed for diverse casting, including the hiring of a Black actress to play one of the bridge crew. Nichelle Nichols was cast in the role of Lieutenant Uhura, and she would soon be told by Dr. Martin Luther King, Jr. that her performance as an intelligent Black woman in a position of power was critical to the civil rights movement. Lieutenant Uhura is often described as one of the most influential characters in the series, and now that continues with Star Trek: Discovery's most recent cameo appearance. There is a direct correlation between Roddenberry's vision for Star Trek and Stacey Abrams' political career, despite the half-century between them.
Related: Discovery's 10-C First Contact Struggles With New & Classic Star Trek
Long before her appearance on Star Trek: Discovery, Stacey Abrams began her political career as a speechwriter for a congressional campaign at age 17. She graduated from Yale Law School and was appointed deputy city attorney of Atlanta, then won a Georgian House of Representatives seat, which she held for 10 years. In 2018, she became the first Black woman to be nominated by a major party for a gubernatorial seat. Abrams lost the gubernatorial race by less than 55,000 votes, but gained nationwide attention as she brought focus to the issue of voting rights and voting protections for minorities. Since the failed election bid, she has worked tirelessly to spearhead efforts to equalize voting in America through her organization Fair Fight Action, and many attribute her efforts to register minority voters with the 2020 Democratic presidential win.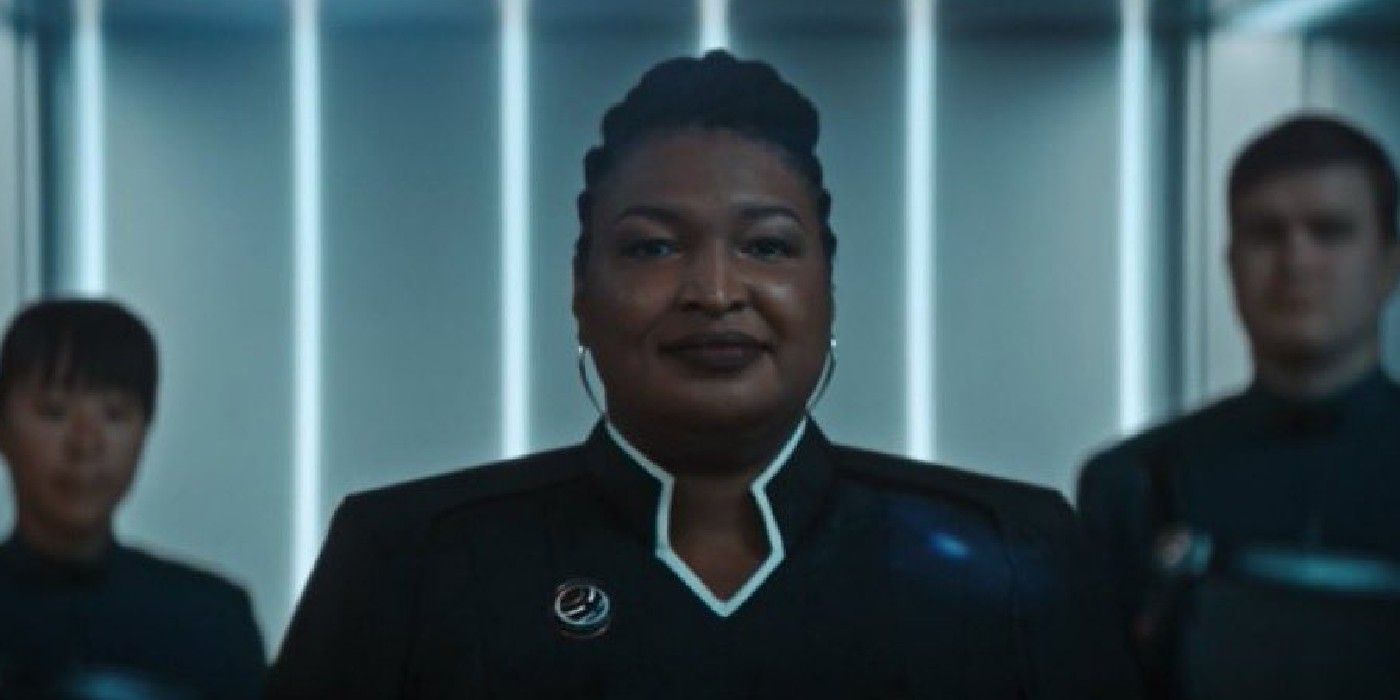 Abrams has published novels under the pen-name Selena Montgomery, as well as a legal thriller and two non-fiction books under her own name, has plenty of opinions on pop culture as well as politics. She has also admitted that Star Trek has had an enormous effect on her life, and she has been a fan of all of the franchise's iterations. She even wrote that she has sometimes used Star Trek scenes to help her problem-solve real-life situations. By acknowledging the impact that Star Trek has had on her life and career, she herself has paid homage to Roddenberry's vision of a more equitable future for all. And with her appearance on Star Trek: Discovery, she has now become the ultimate realization of Roddenberry's vision of the future as Star Trek's new and respected President of United Earth.
Abrams' work in real life and Roddenberry's utopian vision both embrace the idea of a more equitable, just, and peaceful world. With her cameo, Abrams paid deep respect to the history of the Star Trek franchise and the goals and ideals of Gene Roddenberry. Star Trek: Discovery continues to push the envelope for social change, diversity, and equity and the series gracefully and subtly saluted the visionary's dreams when they showed a future that connects directly to our real-life present.
Next: Discovery: The Federation's DMA Mistake Could Severely Impact Star Trek
from ScreenRant - Feed