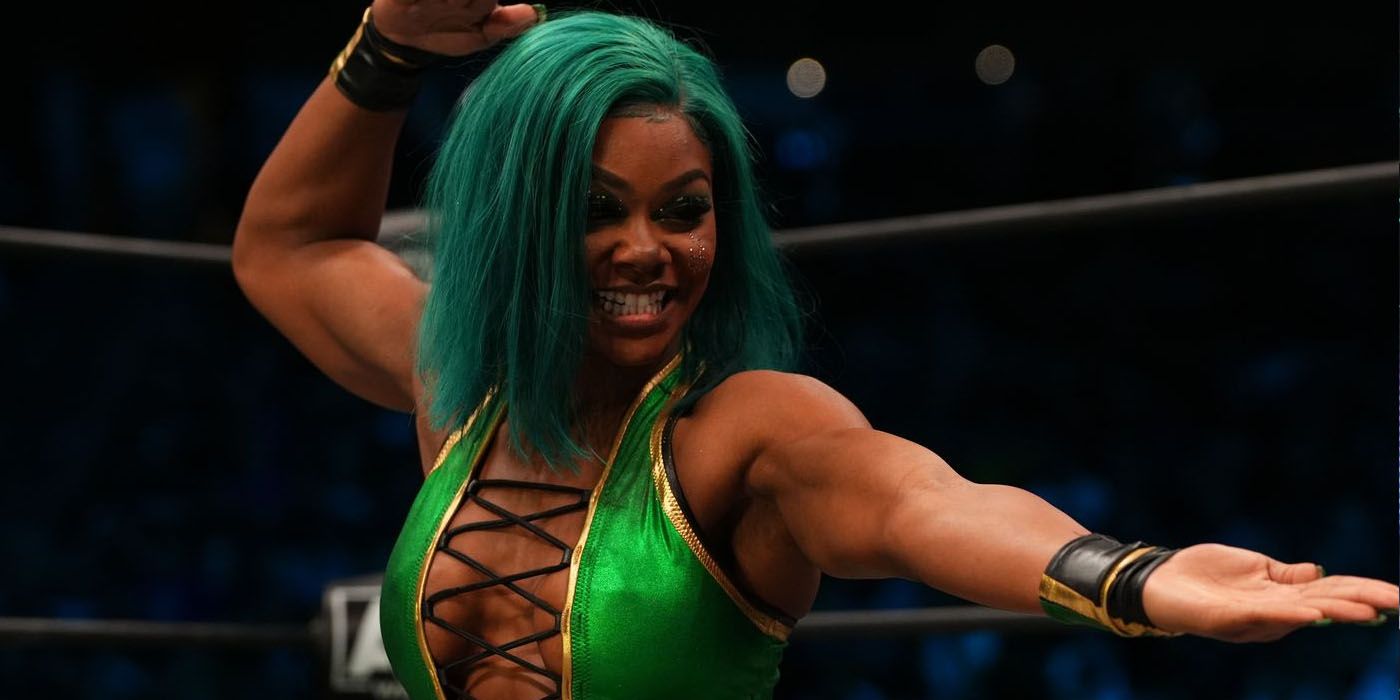 All-Elite Wrestling superstar Jade Cargill recently took to the ring dressed as the similarly-named Jade from Mortal Kombat. Wrestling and gaming go hand-in-hand quite often, with 2K Games about to launch WWE 2K22 later this week and AEW planning its own wrestling game by former WWE developer Yukes. There are also plenty of wrestling fans who share the hobby of gaming, even going as far as to debate their favorite JRPGS during the occasional WWE or AEW house show.
As it turns out, the wrestlers themselves are big gaming fans too, with recent big-name examples including The New Day's Xavier Woods, who hosted a gaming competition show on the returning G4 network last year. Some wrestlers even dress up as their favorite video game characters both in and out of the squared circle, such as then-NXT Champion Tommaso Ciampa showing off an ensemble inspired by God Of War's Kratos during last year's WWE Halloween Havoc special and wrestler Zelina Vega dressing up as Ahri from League Of Legends late last summer. AEW recently joined in on the wrestling cosplay fun with a new line of action figures featuring stars like Kenny Omega and Nick Jackson as Street Fighter characters, but one in-ring competitor recently took a page from Mortal Kombat for her latest battle attire.
Related: God of War Meets WWE With Tommaso Ciampa Kratos Halloween Havoc Costume
Destructoid reports that Jade Cargill recently defended her AEW TBS Championship against Tay Conti at this weekend's AEW Revolution 2022 pay-per-view event in Addition Financial Arena in Orlando, Florida. However, it was Cargill's choice of ring-wear that caught the most attention, as she walked down to the ring clad in a green, ninja-style outfit modeled after Mortal Kombat's Jade. Even the ringside commentators noticed Jade's attire with one of the broadcasters recognizing her look as a character from Mortal Kombat. All-Elite Wrestling even shared the epic intro on its Twitter account.
Aside from sharing the same name, Mortal Kombat's Jade was a rather fitting inspiration for a battle-hardened warrior like Jade Cargill. Introduced as a secret boss in 1993's Mortal Kombat II, Jade first appeared as an initially loyal minion of the evil Overworld ruler Shao Khan. However, when Khan's daughter Princess Kitana betrayed her father in favor of Liu Kang and the warriors of Earthrealm, Jade ultimately chose to side with her childhood friend and defect as well. She would then become fully playable in Ultimate Mortal Kombat 3, wielding a metal staff and razor-edged boomerangs that served her well throughout the rest of the Mortal Kombat series - leading up to her latest appearance in 2019's Mortal Kombat 11.
Wrestling and Mortal Kombat both revolve around colorful, larger-than-life characters and high-stakes martial arts battles - though the matches fought in WWE and AEW are far less deadly than the ones in Mortal Kombat. In fact, some MK fans have suggested that WWE legends like Kane and Mick Foley be included as guest DLC characters in the eventual Mortal Kombat 12. In the meantime, All-Elite Wrestling's Jade Cargill's latest Mortal Kombat inspired outfit is likely the closest fans will get to seeing the forces of EarthRelam come to live in the squared circle.
Next: Cassie Cage's MK11 Combos In Real Life Look Just As Deadly
Source: Destructoid, All-Elite Wrestling/Twitter
from ScreenRant - Feed