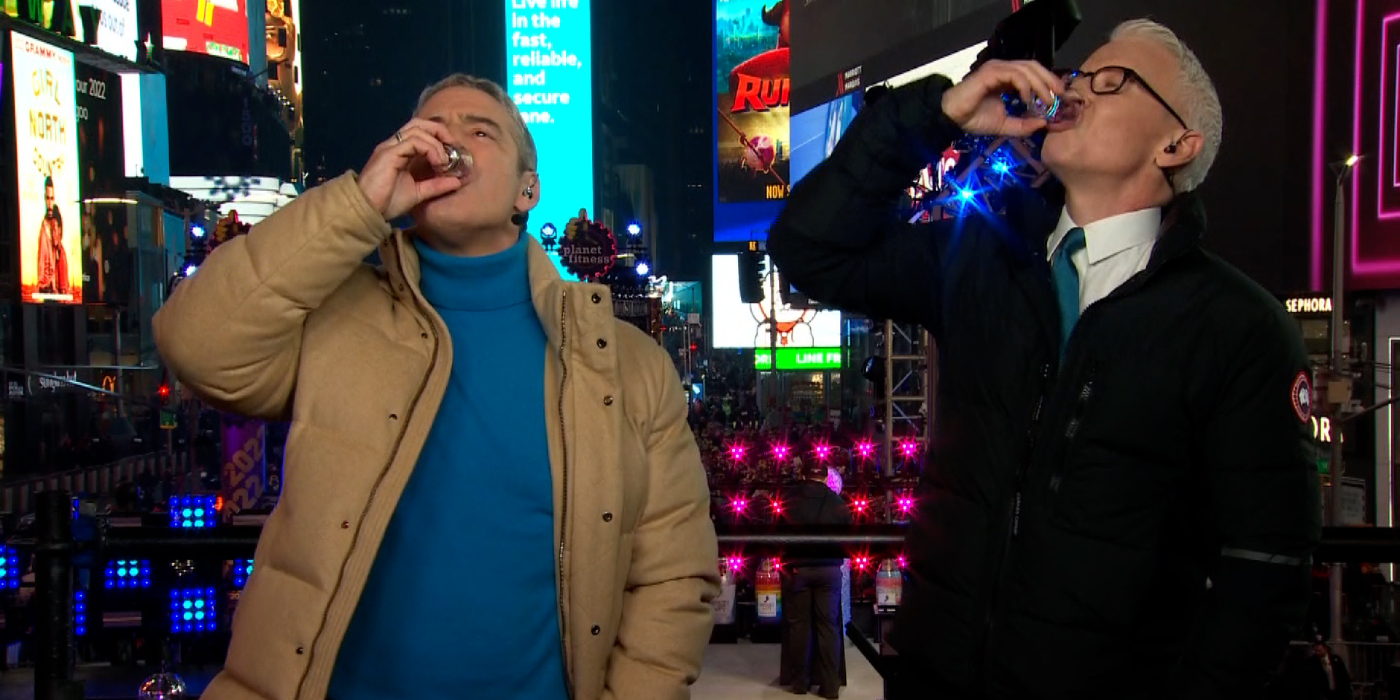 When Watch What Happens Live host Andy Cohen sat down with Jimmy Kimmel on February 3, he revealed that he wasn't in the most coherent state of mind during last year's CNN New Years' Eve Special when he ranted about former Mayor Bill de Blasio. Ever since Kathy Griffin's presidential photoshoot scandal in 2017 got her fired from the news network gig, Andy has teamed up with Anderson Cooper to bring in the new year at the heart of Times Square. While the executive producer doesn't shy from speaking his mind on the Bravo's after-show, his comments about de Blasio during last year's NYE special made a heaping of headlines.
Millions gathered around their TV sets every year to watch the ball drop with Kathy Griffith and Anderson Cooper since 2007, though their bubbly on-camera chemistry didn't last forever. After Kathy shared a photoshoot of her holding a fake severed head of former President Trump, CNN was left with no choice but to end her ten-year stint as Anderson's right-hand woman. Andy, an old colleague of Anderson's during his time at CNN, began taking over Kathy's helm of the yearly special in 2017. The rapport that the news pendant and WWHL host shared received such positive feedback that they went on to have traveling speaking events together across the country.
Related: Watch What Happens Live With Andy Cohen Renewed By Bravo For 2 More Years
During his interview on Thursday night's episode of the Jimmy Kimmel Show, Andy revealed that he practically blacked out during her tirade about Bill de Blasio. While this isn't the first time Andy has been a little tipsy during CNN's New Year's Eve specials, he recounts not even being able to recall even speaking about the former mayor. "It is super fun getting smashed on CNN and just raging on a soapbox . . . We got in the car after and I saw on Twitter the rant I did about de Blasio and I did not recall, though it was about 40 minutes earlier saying 'Sayanora sucker to the outgoing mayor of New York."
Other topics of Andy's interview included him getting COVID, his time with Kimmel on Celebrity Who Wants To Be a Millionaire, and how fun it would be if he and Anderson hosted the Oscars. Kimmel also brought up the fact that Andy was finally getting a star on the Hollywood Walk of Fame. According to Andy, his star will be placed right in front of World of Wonder, the production company responsible for RuPaul's Drag Race. He stated that Garcelle Beauvais and Lisa Rinna would be making speeches on behalf of the past and current members of the Real Housewives franchise. Also making a speech at Andy's Walk of Fame ceremony was singer-songwriter, John Mayer.
While Andy may have gotten away scot-free from CNN when it came to his comments about de Blasio, he may need to learn to hold his tongue in the future if he doesn't want to meet the same fate as Kathy Griffith. While bad-mouthing an outgoing mayor doesn't necessarily carry the same weight as showing gruesome imagery of a president, there certainly must have been CNN viewers who took offense to Andy's drunken remarks. Hopefully, Andy won't rock the boat too hard and lose his job.
More: RHONJ: Why Andy Cohen Refuses To Hire Jersey Shore's Snooki
Watch What Happens Live airs Mondays through Thursdays on Bravo.
Source: Jimmy Kimmel Show/YouTube
from ScreenRant - Feed