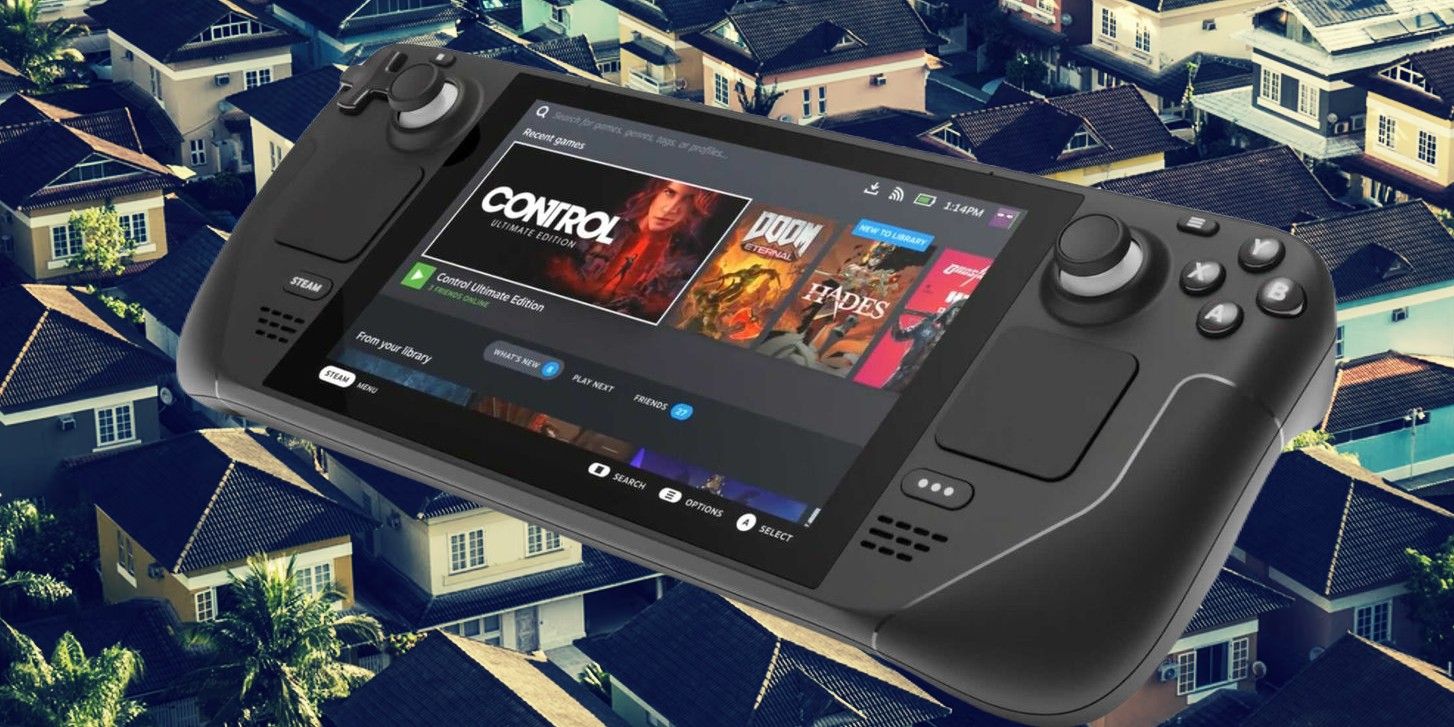 Valve president Gabe Newell is apparently going door-to-door to personally deliver Steam Deck consoles to players - even those that haven't actually ordered the new handheld. Valve's portable answer to the Nintendo Switch finally launched late last week after being delayed from its planned 2021 release, and reviews for the Steam Deck have been positive overall thanks to its ability to play high-caliber PC titles like The Witcher 3 and Elden Ring on the go.
Valve has built a considerable wave of hype for the Steam Deck in the build-up to its launch, and one of the key voices in that push has naturally been Valve's president Gabe Newell. In addition to praising the Steam Deck's portability, Newell has shared many interesting details about his company's plans for its new handheld system, such as the Steam Deck supporting existing subscription services like Xbox Game Pass instead of creating its own and how there might already be a Steam Deck 2 planned for the future. In the meantime, it seems that Valve's head honcho is more involved with the Steam Deck's marketing and distribution than anyone could have guessed.
Related: Steam Deck Has No Subscription Service Plans Yet
According to VGC, Reddit users are sharing stories of how Gabe Newell arrived at their doorstep to hand-deliver Steam Deck consoles to them. bitfiddler0 notes that they received a "spammy looking email" notifying them that the Steam Deck they ordered would be arriving early. A few days later, their wife was surprised by a delivery person asking about bitfiddler0 in the company of a camera crew. Bitfiddler0 would later find out that this delivery person was Gabe Newell himself, and they describe him as "a super cool and down to earth guy" who simply told their wife to email him with any feedback about the surprise delivery. Another user by the handle of SeattleRainPidgeons later claimed that they received a similar surprise visit from Newell despite not even ordering a Steam Deck. Their roommate recognized Newell, but SeattleRainPidgeons didn't believe it until another roommate confirmed who it was. They later shared a picture of the free Steam Deck they received, which Gabe Newell even autographed.
As noted before, the Steam Deck began shipping out units this past weekend, on the same Friday that the long-awaited Elden Ring launched to near-universal acclaim. While not every Steam game is fully compatible with the Steam Deck as of yet, the system has been hailed as a decent competitor to the similarly portable Nintendo Switch, and some observers have even noted that it can run PlayStation 4 titles like God of War about as well as the home console itself. However, given that demand for the Steam Deck has been building since Valve announced it last summer, some customers might still be waiting a long time before they can experience the Steam Deck for themselves.
That is, unless Gabe Newell delivers them a brand-new Steam Deck console first. Newell is already a popular and influential figure in the gaming industry thanks to the success of Steam, and it seems he's looking to repay that good fortune by providing fans with their own Steam Decks. Valve's portable gaming system has only been on the market for a few short days, but it looks like the Steam Deck is off to a promising start thanks to good reviews from game developers and this goodwill gesture from Valve's president himself.
Next: Elden Ring Steam Deck Screen Stutter Will Be Fixed This Week
Source: bitfiddler0/Reddit, SeattleRainPidgeons/Reddit (via VGC)
from ScreenRant - Feed