The Proud Family: Louder and Prouder, coming to Disney+ on February 23, is a revival of the classic Disney Channel animated series The Proud Family. After over fifteen years off the air, the story is picking up where its predecessor left off but making sure to modernizing certain elements in order to reflect the times. Aside from students now trying to be social media influencers, there are also new levels of representation that were previously not as present.
While 14-year old Penny Proud (still voiced by the lovely Kyla Pratt) and her school friends deal with the pressures of growing up, they also welcome two newcomers to their town. Maya (Keke Palmer, Nope) and KG (Artist Julius Dubose, known professionally as A Boogie wit da Hoodie), are here to change Penny's perspective and maybe even social standing - but they're not the only new actors. EJ Johnson (With Love) steps in to play Michael, who is now a more open and proud version of themselves and always ready to lend a hand with fashion or makeup.
Related: Proud Family Images Reveal 6 Animated Guest Stars Including Lizzo
Johnson spoke to Screen Rant about how ecstatic they were to step into the series, and the steps forward the revival takes in terms of representation. Check out the clip below of Michael and Penny's friends and enjoy reading the interview.
What is it like to step into the world of The Proud Family and into the shoes of Phil LaMarr [who played Michael in the original series]?
EJ Johnson: It's been amazing. It's been great. I was a fan as a kid, growing up watching it when I was eight or nine, and now [I'm] a part of it. I love how much the show has changed, how much room that we had to play, and the stories we get to tell.

This character could definitely not have existed back in '04 or '05, or whenever it was first out, and now we have this character who is just living unapologetically and fabulously and free and fearlessly. It's just beautiful to watch. And also, it's even more fun for me to be a part of and give it life. But, yeah, I love the whole experience. Everything.
I know this your first time voice acting. How do you find the experience to be different, and then how do you find the right voice or headspace for Michael?
EJ Johnson: I don't really find it difficult at all. For me it's funny because, as I was telling another person who was interviewing me that one of my earliest memories of acting was just mimicking my mom or friends or people I would see on TV. I just would keep with the voice for hours. Or when I was watching all my favorite fairy tales, I was only in love with the villainesses - I would go around the house and sing "Poor Unfortunate Souls" in the bathtub or walk around in one of my mom's fur coats and pretend to have a cigarette and be Cruella de Vil over and over again. This is just really no different.

I brought a lot of myself into the character. I gave them kind of a Dominique Deveraux elegant, fabulous, intelligent and witty vibe. Coming in with the zingers and the one liners. So, every time I jump in, I'm right back into being Michael. It's almost like no time has passed. You just drop right in. So, it's super easy and super fun for me.
Michael and Penny have this frenemy circle that winds sometimes more as enemies than friends, which is always a very fun situation to be in. How do you build that energy, and how does Michael feel about the rest of the friend circle?
EJ Johnson: I think what I love about Michael is that they definitely have a lot of great zippy zingers. M is always calling somebody out or coming for somebody and getting somebody together, because they have all the knowledge and all the fashion and all the glamour. But it's all out of love, and I think that that's definitely very reminiscent of any great friend group.

You're always poking each other and making fun of each other and calling each other out and pushing each other to be greater and better. But definitely, it's very reminiscent of the kid that I was in high school. I always was the sassy one and always the queen of the pack. Well, Penny is the queen of this pack.

But I love that they're just always there, calling each other out and making fun of each other, but also coming together at the end.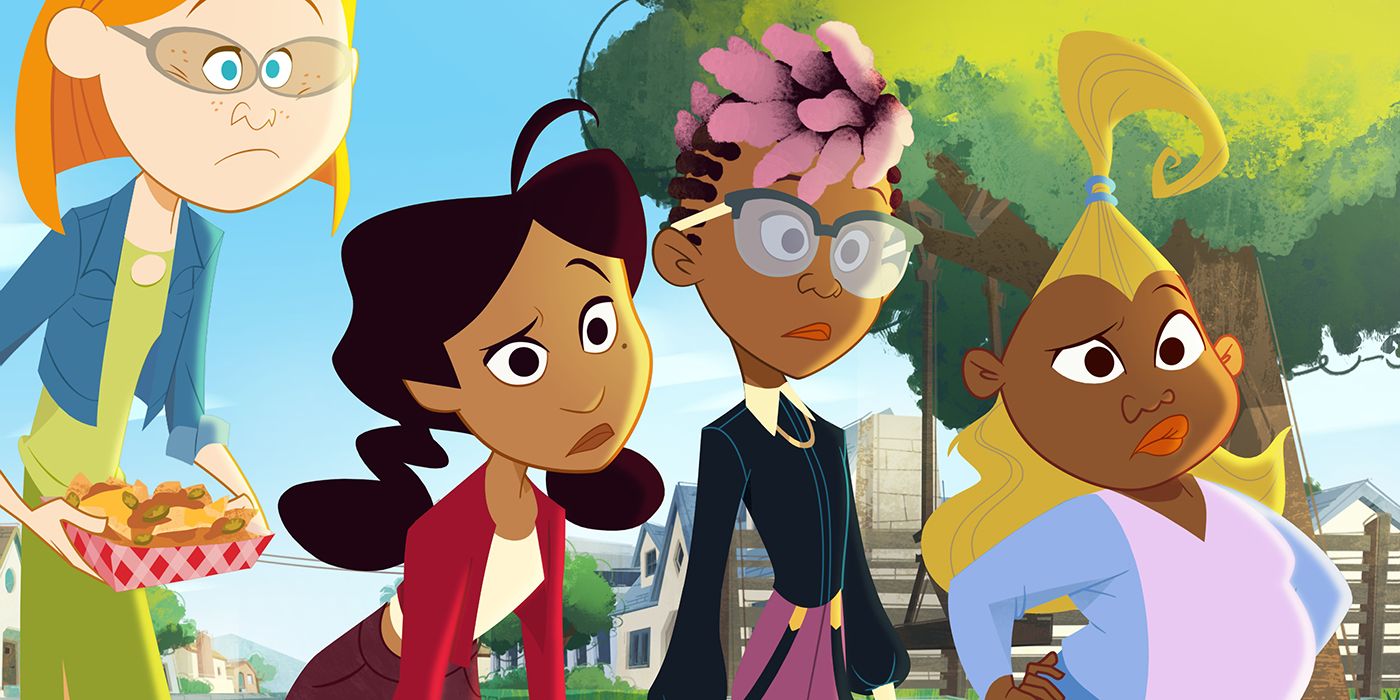 Given your proclivity for Disney villains, I feel like The Proud Family is perfectly situated to crossover with the rest of the Disney universe. Is there any character or property whose world you'd like to merge with?
EJ Johnson: I'd love to be a villainess in one of these live-action movies; that'd be amazing. Or even one in a Marvel movie. But, I mean, all of it! I've always been a huge fan of Disney, growing up through the years, they have stuff for everybody. It's going to be a great crossover for me to get to play these parts.

But, like I said, they have their hands in everything. So, listen, the right project will come at the right time. But I'm excited.
In the very first episode, Penny has to deal with her dad not wanting her to grow up. But Michael is also dealing with parental difficulties too, in terms of expressing themself. Can you talk about what it's like to portray that side of Michael?
EJ Johnson: Yeah, and I think that we get into that a little bit later with the character. I just remember that, definitely, for myself and my dad. Especially when I started to grow up and get more interested in fashion and expressing myself with clothing, and he didn't really understand. It was just this weird back-and-forth moment where he's just like, "What is that?" And I'm like, "Well, this is fashion. Dad, I know because I read Vogue, and I'm reading GQ, and I know what's cute. And this is what's cute. Just trust me on that."

Once I moved to New York and really immersed myself in the fashion world, at a certain point, he was just like, "You know what? I'm just gonna let you do you." And I'm like, "Thank you, because that's what we were waiting for." We have the best relationship now. And he loves to buy me beautiful things and take me shopping, and we just bond over fashion and stuff like that. And my mom too, because we've always loved fashion, and now we go to fashion shows all over the world together and pick out stuff. That's our bonding time.
More: The Proud Family: 4 Times Dijonay Jones Was A Great Friend To Penny (And 6 Times She Was The Worst)
The Proud Family: Louder and Prouder will premiere its first two episodes on Disney+ February 23.
from ScreenRant - Feed