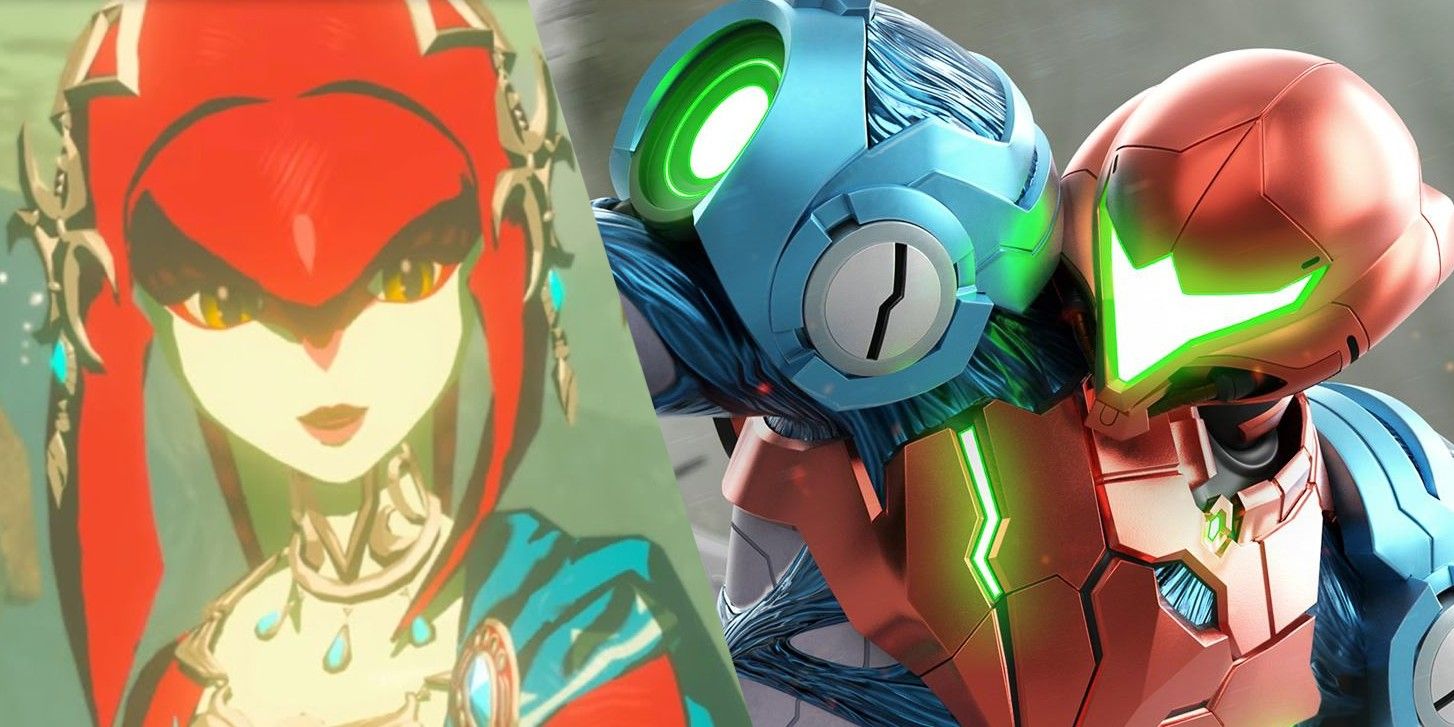 A fan of Zelda: Breath of the Wild and Metroid has reimagined Princess of the Zora Mipha in the gear of Samus Aran, creating an impressive futuristic look at the fan-favorite BOTW Champion. Breath of the Wild is one of the Nintendo Switch's biggest and most popular games, but the 2021 launch of Metroid Dread has also cemented the game as a Switch classic, and a must-play for many.
The Metroid series is one of Nintendo's biggest, yet prior to the launch of Dread, fans had been waiting a long time for a new game. Metroid Prime 4 was first announced back in 2017, but after switching developers in 2019, news on the game has been quiet, with fans unsure on its current state. To the surprise of many, Metroid Dread was announced during the summer 2021 Nintendo Direct, marking the first 2D Metroid in nearly 20 years. When it launched in October, the game became an immediate success and was even nominated for The Game Awards 2021's Game of the Year.
Related: It Takes Two Wins GOTY At The Game Awards 2021, Beating Metroid Dread
Blending the worlds of Metroid and Zelda: Breath of the Wild, Redditor HolyCosmicOcean's impressive fan art sees Mipha don the gear of Samus, replacing BOTW's art style with a futuristic look. The artwork includes the bright blues seen throughout Breath of the Wild, and Samus' suit even features Vah Ruta-inspired shoulder armor, honoring the Divine Beast found in Zora's Domain where Mipha, Princess of the Zora, resided. The artwork has been a success on Reddit, amassing over 1,000 Upvotes at the time of writing.
Metroid's Samus is one of the most instantly recognizable characters in gaming, despite her not typically showing off her face. Over the years, Samus' Metroid suit has inspired cosplay, art, models, figurines, and more, proving to be a popular source of inspiration for creators across a range of mediums. Thanks to Metroid Dread, interest in the longstanding Nintendo series has arguably never been higher, and fan crossovers between Metroid and games like Zelda are becoming more and more common within Nintendo communities.
As two of the biggest names on Switch, it's no surprise that fans would want to reimagine Metroid's Samus as Zelda heroes, with the artwork giving players the chance to imagine what such crossovers could look like. Nintendo's many franchises have spawned countless fan recreations and reimaginings over the years, whether it be players reimagining classic Pokémon or even recreating BOTW in games like Animal Crossing. Thanks to the success of the artwork, it's possible the creator might have more Nintendo mashups planned for the future.
Next: Metroid Dread Fans Need To Read The Original Manga
Source: HolyCosmicOcean/Reddit
from ScreenRant - Feed