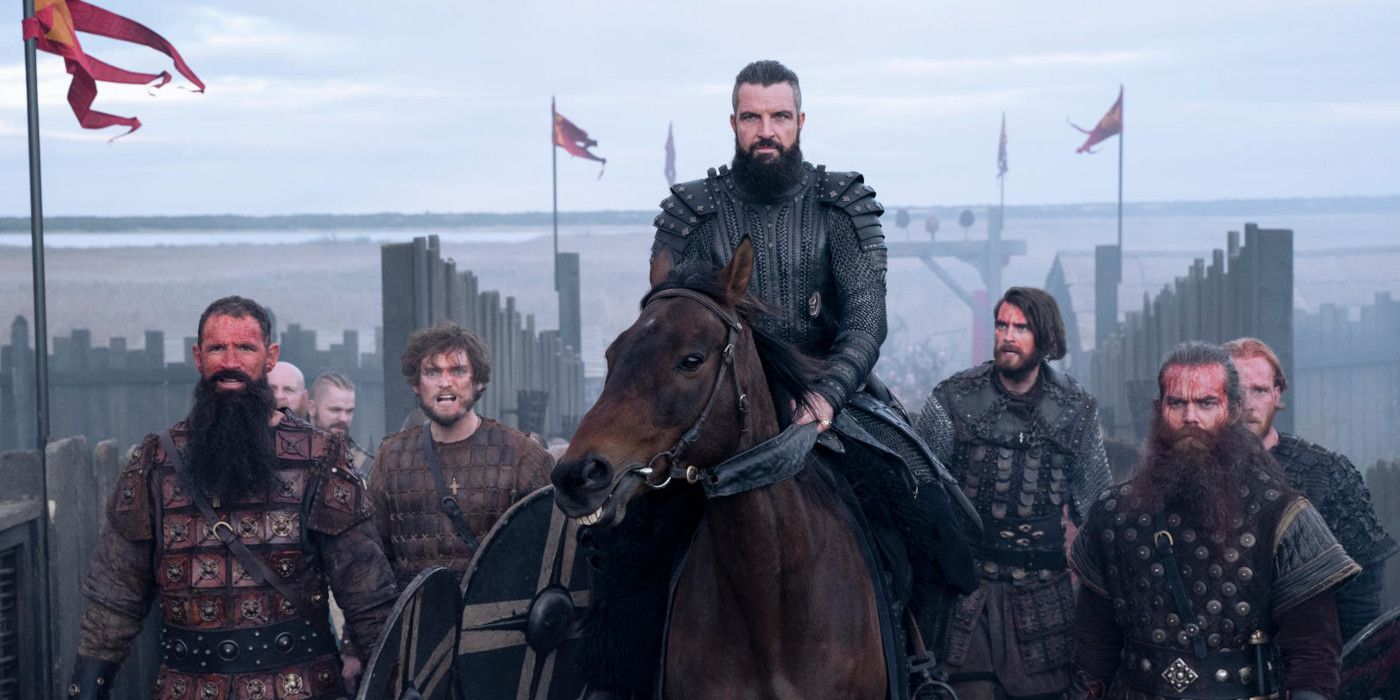 The Norsemen invade jolly old England in the new teaser trailer for Netflix's series Vikings: Valhalla. The historical drama Vikings ran on History and later Amazon Prime for 89 episodes from 2013 to 2020, developing a small but loyal following in the process.
Those original six seasons of Vikings indeed proved to be quite a success for creator Michael Hirst and History as they brought epic Viking Age exploits to the small screen. Now Hirst and co-creator Jeb Stuart are teaming for a the new spinoff series Vikings: Valhalla on streaming giant Netflix. Set 100 years after the events of Vikings, the new show will tackle some of the most famous Norse figures of all, including Leif Eriksson, Freydís Eiríksdóttir, Harald Hardrada and the Norman King William the Conqueror, who famously invaded England in the year 1066.
Related: Why Ragnar Will Be So Important To Valhalla (Despite His Vikings Death)
England indeed is in for a decidedly rough time in the first season of Vikings: Valhalla as indicated by the action-packed new trailer just dropped by Netflix. Unsurprisingly, the clip promises epic battle scenes as the heavily-armed and always-aggressive Vikings descend and the English attempt to defend themselves against the onslaught. See the video in the space below:
The title Vikings: Valhalla of course refers to the Valhalla of Norse mythology (and later Marvel's Thor), one of the places warriors go after they die in battle. The original very bloody Vikings series obviously saw many characters sent to Valhalla, and it seems the Norse version of heaven is about to welcome still more arrivals as the spinoff picks up where the first show left off. But it won't all be gory warfare in Vikings: Valhalla as the series also deals with famous explorer Leif Ericksson (Sam Corlett), the man credited with being the first European to set foot in North America. The show's cast also includes Frida Gustavsson (Freydis Eriksdotter), Leo Suter (Harald Sigurdsson), Bradley Freegard (King Canute), Jóhannes Haukur Jóhannesson (Olaf Haraldsson), Caroline Henderson (Jarl Haakon), Laura Berlin (Emma of Normandy), David Oakes (Earl of Godwin), Louis Davison (Prince Edmund), Bosco Hogan (King Aethelred II), Asbjørn Krogh Nissen (Jarl Kåre), The Walking Dead's Pollyanna McIntosh (Aelfgifu of Northampton) and Soren Pilmark (King Sweyn Forkbeard).
The original Vikings series of course became something of a cult favorite when it aired on History. But Vikings: Valhalla has a chance to become much more of a viral hit given its new home on Netflix, as the streamer has much more worldwide reach. Vikings: Valhalla invades Netflix for an eight episode run beginning on February 25, 2022.
More: How Vikings' Rollo Connects To Valhalla Spinoff
Source: Netflix
from ScreenRant - Feed