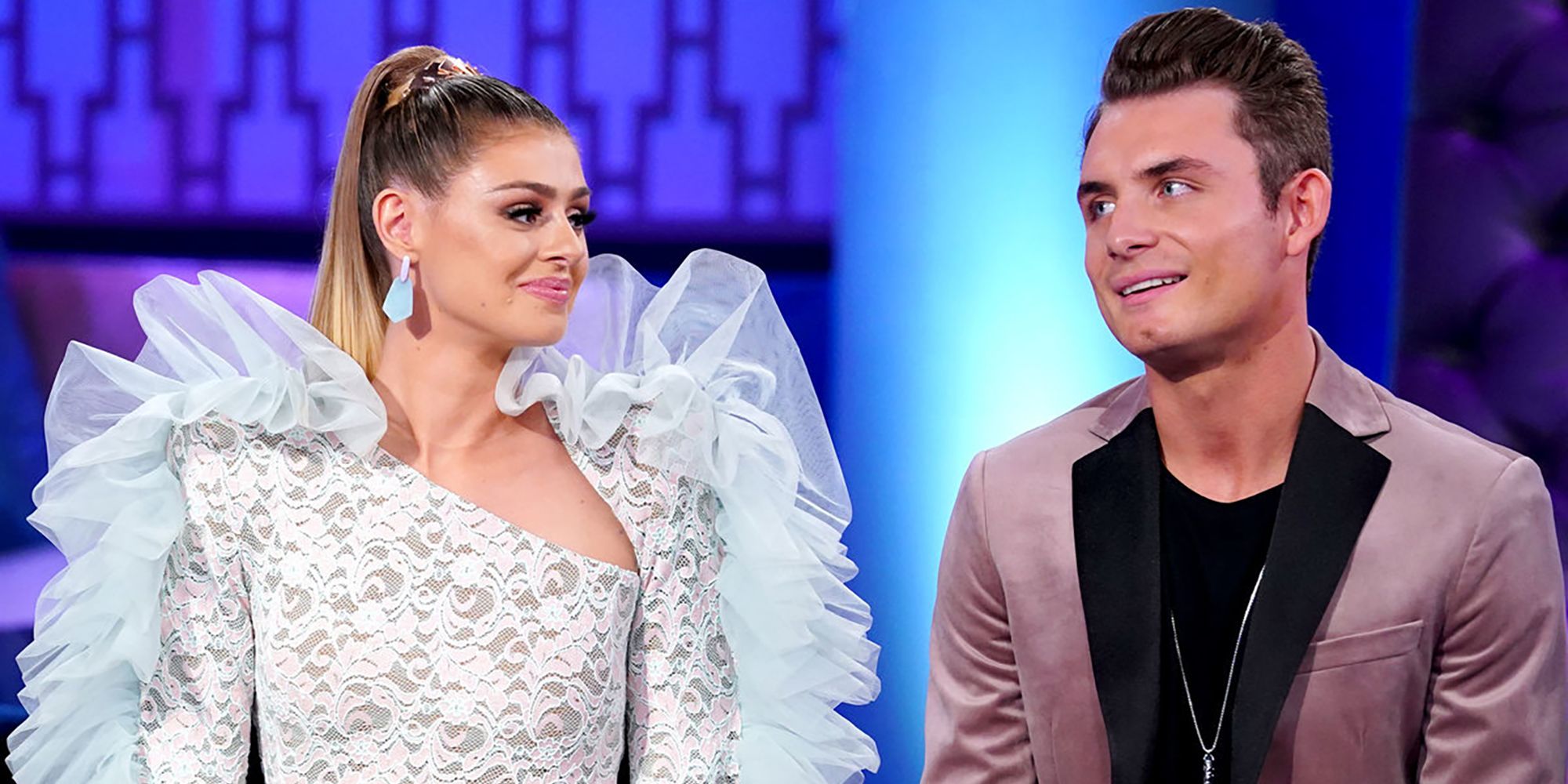 Raquel Leviss from Vanderpump Rules recently ended her engagement with James Kennedy, and fans are wondering how she's doing after such a public breakup. James proposed to Raquel in an elaborate Coachella-themed event, surrounded by their VPR co-stars. Teary-eyed, Raquel accepted, and fans thought that James had finally found someone to settle down with. Unfortunately, soon after the episode aired, news broke that Raquel had handed back her ring during the Vanderpump Rules reunion.
While it may have been a shock to James that Raquel broke off their engagement, viewers weren't surprised that she called it quits. When he began starring in Vanderpump Rules, James became known for his excessive drinking and explosive temper. He admirably got sober after several attempts, but fans were alarmed that his personality was just as aggressive as it had been when he was drinking. In a recent episode, Lala Kent talked to James about his controlling nature towards Raquel. He just brushed it off as him being an "alpha male" and being the decision-maker in the relationship.
Related: Vanderpump Rules: Photos Of Raquel Before & After Her Nose Job
Following the breakup, Raquel has assured fans that she is doing well, and she's leaning on her friends for support. Raquel posted a picture of herself on Instagram hugging a stuffed animal, with a dog curled up at her feet. She added the caption, "Thank you all for the kind words of encouragement. I feel so grateful to have such supportive family and friends during this time. I have been surrounded by so much love and been enjoying my girls night in with my dear friend @jennytingting and her adorable cuddle big fur baby Lexi." In a recent Instagram story, Raquel told her fans that she's been listening to a lot of podcasts to help her on her journey of self-love. She shared that she's going to start journaling and take up hobbies that she's interested in.
Fans were wondering how Raquel and James were going to share custody of their dog, Graham. Raquel answered their question in an Instagram post that featured a picture of the furry brown mini Goldendoodle sitting in the back seat of a car. She captioned it with, "I'm missing my little Graham Bam so much! He's been staying with my mom and dad at their house in Arizona while I figure out a more permanent living situation. His grand-paw-rents have been taking him on nature walks everyday and give me daily updates. I can't wait to see him for Christmas!"
With their lives intertwined with a dog, shared friends, and co-starring roles on the show, Raquel and James are likely to cross paths again. Fans are applauding Raquel for making such a tough decision and realizing that James' behavior was unacceptable. Many left her words of encouragement, such as Julesbush05 who wrote, "STAY STRONG!! Eventually you will look back and know that you dogged a massive bullet. You deserve the world." Loalucci said, "Go live your life!!! Now you finally know what you deserve and what to NOT put up with in the future." Raquel and James have stayed quiet about their decision to split, so viewers are just going to have to wait for the Vanderpump Rules reunion to find out more details.
Next: Vanderpump Rules: James & Raquel Explain Their Breakup At Reunion
Sources: Raquel Leviss/Instagram, Julesbush05/Instagram, Loalucci/Instagram
from ScreenRant - Feed