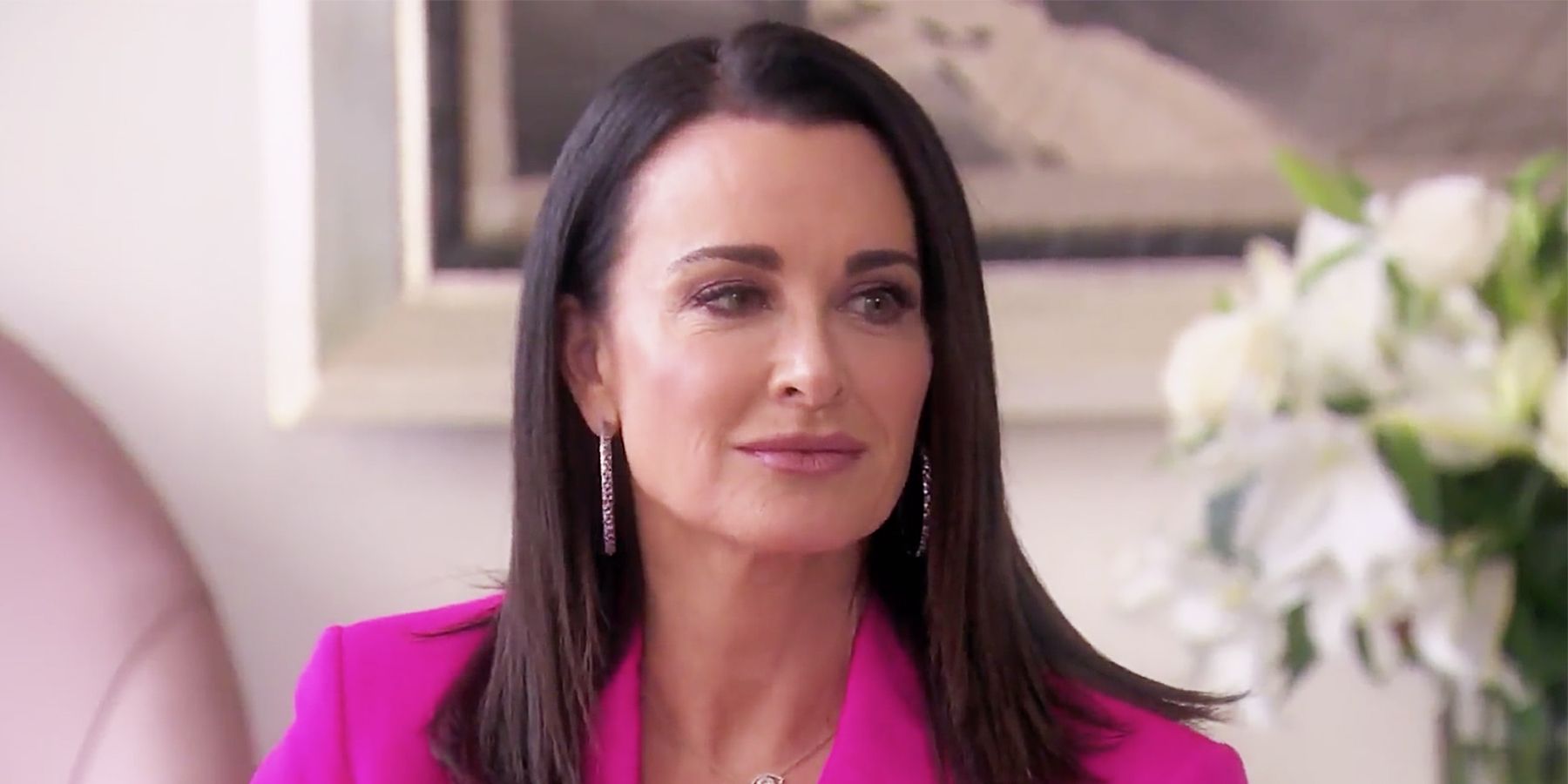 The Real Housewives of Beverly Hills star Kyle Richards shared photos of her family's new puppy, Smokey, on social media. Smokey is the latest addition to the Richards-Umansky household. Prior to this new pup, their household consisted of their four daughters and six dogs--plus Kyle and Mauricio Umanski, of course.
Throughout the years, Richards has featured her ever-expanding family and luxurious home life on RHOBH. Richards along with husband and real estate magnate Mauricio share daughters Alexia, Sophia and Portia. Prior to marrying Umanski, Richards had a daughter, Farrah, who recently got engaged to entrepreneur Alex Manos. The Richards-Umansky family has always made their passion for pets very clear, with Richards recently celebrating her other German Shepherd dog, Storm, in an Instagram post.
Related: RHOBH: Kyle Richards' Daughter Farrah Aldjufrie Announces Engagement
Earlier this month, Richards posted several photos and Stories on Instagram announcing her adorable new puppy. "Welcome to the family Smokey. We all love you so much already," she wrote. Richards also highlighted the fact that Smokey was adopted, not bought from a breeder, adding, "When we heard Smokey needed a home my heart stopped." She also warned her followers of upcoming photo dumps of her new puppy, explaining, "My apologies in advance for the amount of posting I will be doing with this face." Smokey is Richards' seventh dog, and it doesn't seem like the reality star has any plans to stop her pet adoption efforts. As Richards mentioned in another Instagram post celebrating National Dog Day, "I love [our dogs] more than I can explain." Clearly, the Richards-Umansky household has no shortage of dog love.
This is not the first time Richards has been involved with an adopted dog. During RHOBH season 9, Dorit's adoption (and later return) of Lucy Lucy Apple Juicy sparked a season-long feud, aka "Puppygate," which culminated in the demise of Kyle and Lisa Vanderpump's friendship. Hopefully for Richards, Smokey won't be too involved in the drama of the hit reality show. For the time being, it seems like Richards has a full year ahead of herself, loaded with personal and professional growth. She is currently filming for RHOBH season 12, after premiering her scripted Christmas movie The Housewives of the North Pole. Also, after receiving an overwhelmingly positive audience reception for her reprisal as Lindsay Wallace in Halloween Kills, Richards is slated to return to the final installment of the Halloween franchise, Halloween Ends.
All in all, the addition of Smokey to Richards' family and household is endearing and sweet. Hopefully, viewers will get to see the puppy in the upcoming season of The Real Housewives of Beverly Hills, as Richards deals with friends, sisters, work and a very full house. It's a good thing that the cameras are rolling because those puppies grow up fast.
Next: RHOBH: Carmen Electra Says She Would Like To Join The Cast
Sources: Kyle Richards/Instagram, Kyle Richards/Instagram
from ScreenRant - Feed