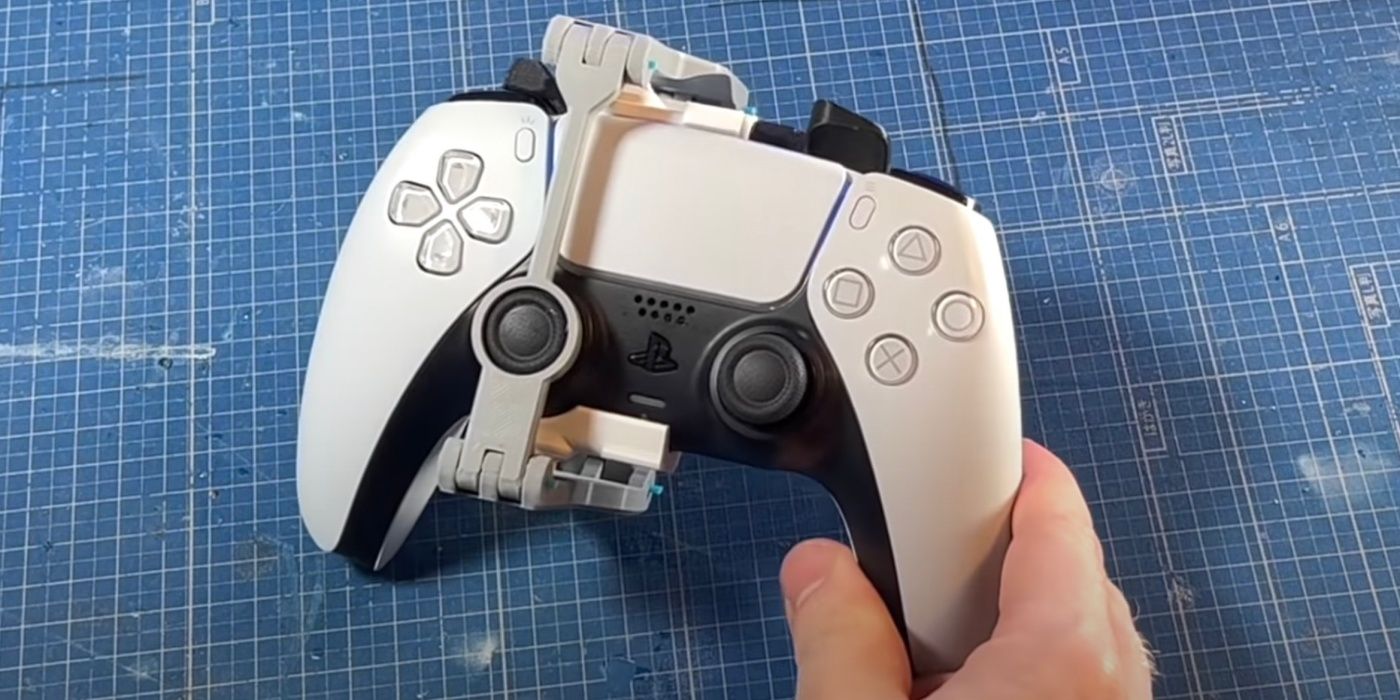 As part of a controller mod contest, YouTuber Akaki Kuumeri designed an impressive one-handed controller adapter for PS5's DualSense with a 3D printer. Though Sony and many of its first-party studios continue to lead the way in terms of in-game accessibility options, the tech giant is arguably behind on this front with regards to hardware. Microsoft launched the Xbox Adaptive Controller in September 2018, for instance, targeting the needs of players the world over with limited mobility. To the chagrin of many, the PlayStation side of the aisle has yet to manufacture a comparable gamepad.
PlayStation, in general, has shown little interest over the years in producing modified versions of its controllers. In early 2020, the hardware manufacturer unleashed the back button attachment for PS4's DualShock 4. Fans hoped such an additive piece would similarly launch for the DualSense; however, the only modifiable controllers on the market for PS5 are of the third-party variety, such as SCUF's high-performance Reflext gamepad. Fortunately, there's now a fan-made solution for PS5 players looking to invest in accessibility-friendly controller options.
Related: PS5 DualSense Teardown Shows How Easily The Controller Can Be Repaired
While taking part in a snap-on controller mod contest, YouTuber Akaki Kuumeri (via Eurogamer) built a one-handed controller adapter for the DualSense. The snap-on piece fits over the left analog stick, with a rubberized "shoe" underneath that right-handed players can place on their thigh. Simply moving the controller allows the adapter to do the work of maneuvering the left stick. This particular mod also repositions the L1 and L2 buttons next to R1 and R2 for further ease of use. Akaki additionally designed a piece that sits atop the DualSense and lets users of the one-handed controller easily access all four face buttons. The YouTuber built the mod with a 3D printer, then uploaded the design for all to access via PrusaPrinters. See the one-handed DualSense in action in the following video:
Akaki's PS5 DualSense controller mod will hopefully open the door to a wider array of accessibility options on the platform. And maybe other skilled designers will similarly lead the charge on this front, given that Sony hasn't brought such a device to market as of yet.
The hardware manufacturer isn't skimping on color variations for the DualSense, though. Last year, the company unleashed two color variants - Cosmic Red and Midnight Black. The likes of Nova Pink, Starlight Blue, and Galactic Purple were added to the DualSense family this month, each one priced at $74.99.
Next: Horizon Forbidden West's DualSense Controls Compared To Other PS5 Games
Source: Akaki Kuumeri/YouTube via Eurogamer
from ScreenRant - Feed