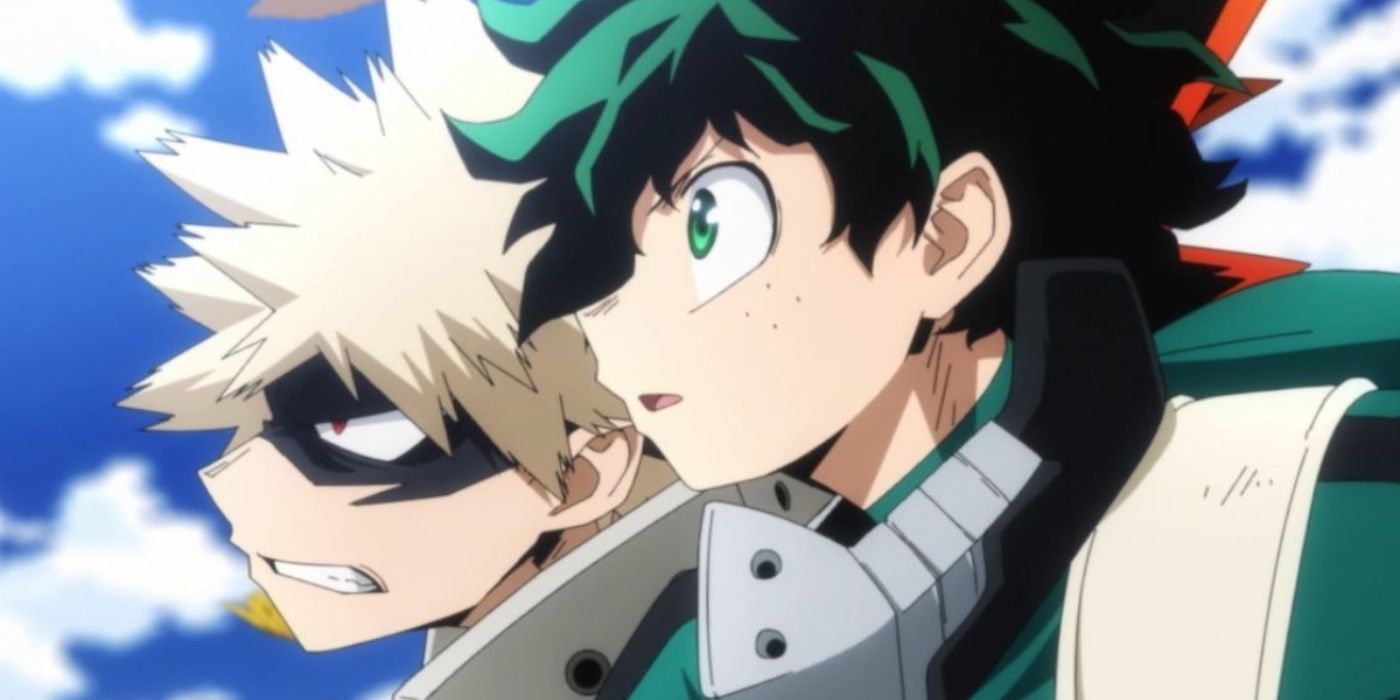 The normally brutal landscape of My Hero Academia just took a sweet turn in a heartwarming piece of fan art featuring Deku and Bakugo. Izuku Midoriya aka Deku and Katsuki Bakugo are heroes-in-training at U.A. High School with the hopes of one-day becoming career heroes. While the two students are on the same team in that they often work together to stop malevolent threats, their relationship is anything but affectionate. In this new piece of fanart, however, a heartwarming moment is shared between the two enemies turned allies.
Katsuki Bakugo made his first appearance in My Hero Academia Chapter 1 by Kohei Horikoshi. In his early life, Bakugo was a skilled child both physically and intellectually though he greatly lacked compassion. While Bakugo was advanced for his age, Deku was underdeveloped, having not acquired a Quirk, or superhuman ability, until after Bakugo. Katsuki was a bully to Deku and only began to respect him as a hero-in-training after Deku proved himself a skillful and powerful fighter both in one-on-one matches and while in battle against supervillains.
Related: My Hero Academia's Deku Becomes Tom Holland's Spider-Man in New Fanart
In a Tweet by Twitter user Habs, the artist posted an original piece of fan art depicting Deku and Bakugo being anything but at odds. The heartwarming picture shows Deku gifting Bakugo a plush figure of the hero All Might. Bakugo is seemingly touched by Deku's act of generosity as he is blushing with a tear in his eye and a little heart floating next to his face indicating that he loves the gift. This depiction of the My Hero Academia characters is sweet, though Deku and Bakugo's relationship in the manga is much more severe and based entirely on strength and fighting ability. If the two were closer in the manga as they are in this fanart, they would assuredly reach higher levels of power as depicted when fans saw Katsuki use a powerful temporary Quirk with the help of Deku.
When Deku and Bakugo were facing off against the My Hero Academia villain known as Nine, their only shot was to enhance their power any way they could. During the battle, Deku was able to transfer the temporary Quirk One For All to Bakugo who used the enhancement to strengthen his Quirk, Explosion. When the two of them worked together rather than competing with each other, they were able to reach new heights in their shared goal of defeating the forces of darkness in their world.
Deku and Bakugo's relationship has been rocky throughout My Hero Academia, but despite any personal disagreements they may have, the two heroes-in-training will always be there for each other when it counts. That sentiment of the two superhumans having each other's back against any villain they may face was heightened to apparent love and adoration between them in this adorable fanart depicting My Hero Academia's Deku and Bakugo sharing a heartwarming moment.
Next: My Hero Academia Himiko Toga Cosplay Makes Her More Menacing Than Ever
Source: Habs
from ScreenRant - Feed