On what would have been Betty White's 100th birthday, Google is paying tribute to the beloved late actress with an Easter egg on its search page. Betty White, the iconic actress and the star of The Golden Girls, passed away December 31st, just a few days shy of what would have been her 100th birthday. Tributes have since poured in from many quarters, and TV networks such as the Hallmark Channel are planning to air a tribute of The Golden Girls in honor of her 100th birthday.
White rose to fame as an actress in the 1950s with roles in movies like Life With Elizabeth before appearing in TV shows like The Mary Tyler Moore Show, That '70s Show, Boston Legal, The Bold and the Beautiful, and more. However, her most iconic role was in the 1980s television sitcom The Golden Girls, where she played Rose Nylund.
Related: Betty White Challenge Honors Late Star's 100th Birthday With Charity Drive
Google is paying tribute to the iconic actress Betty White on her 100th birth anniversary by showering rose petals on its search page every time someone searches her name. To see it, just Google 'Betty White' and see the magic unfold. The tribute is poignant because it is a nod to her character's name on The Golden Girls, arguably her most famous work. Along with the rose petals, Google also shows a touching message that says: "Thank you for being a friend: 1922-2021." It is not only a mark of gratitude towards the late actress for entertaining audiences for decades but also a nod to the theme song of The Golden Girls, making the message even more meaningful.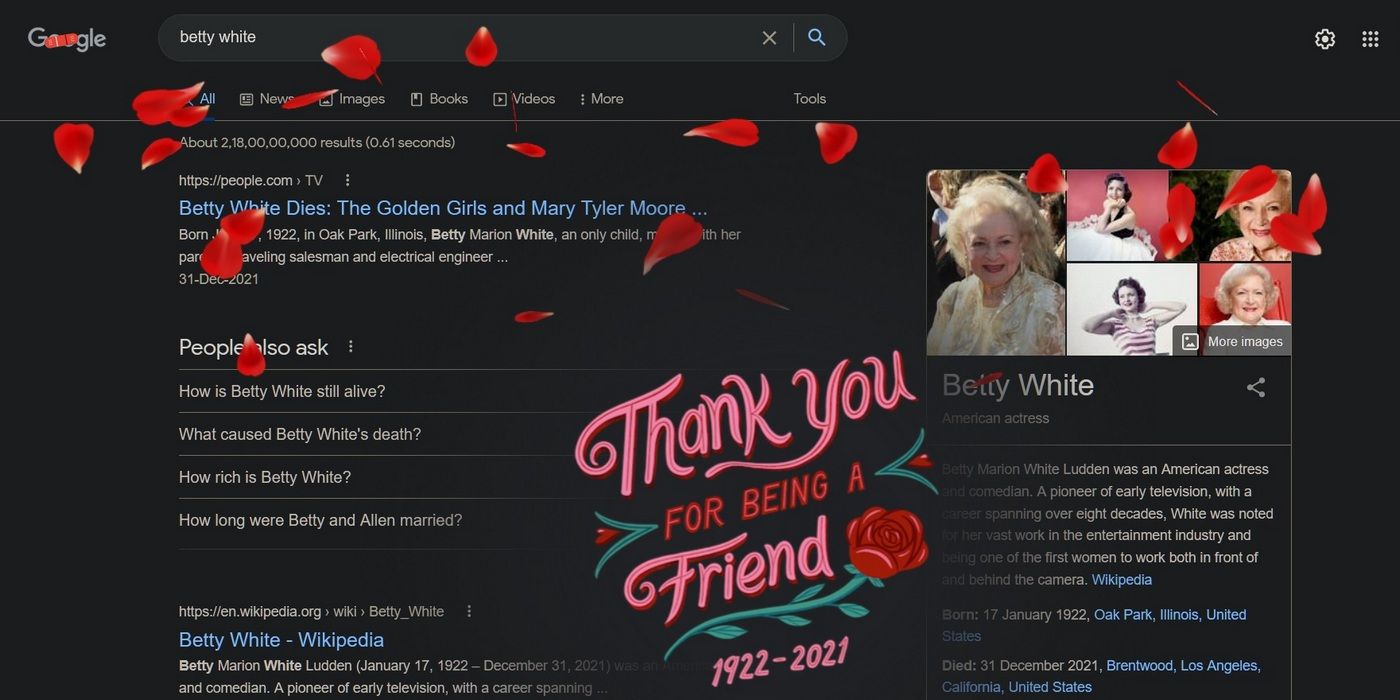 Google has paid tribute on its home page to a wide variety of people over the years, including both the living and the deceased. The list includes the likes of Martin Luther King Jr., Nelson Mandela, Mahatma Gandhi, Mother Teresa, Steven Hawking, and more. However, Easter eggs on the results pages are typically reserved for geeky humor, showcasing the funny side of the company's engineers by altering the search results to display a literal interpretation of a query. Some examples include tilted search results when searching for the word 'askew' and vanishing search results when searching for 'zerg rush' in reference to the video game Starcraft.
While the passing of a legendary cultural icon always invokes heartfelt condolences, Betty White's death was extra sad for many, even though she lived a full life and was almost 100 when she passed. She has left behind a varied and much-loved body of work, and her legacy spans all forms of media, from radio to TV to film. She was one of the quintessential Hollywood icons, and many will miss her for years and decades to come. RIP Betty White.
Next: Rumor Has It Google's Foldable Has Been Given A Name
Source: Google
from ScreenRant - Feed