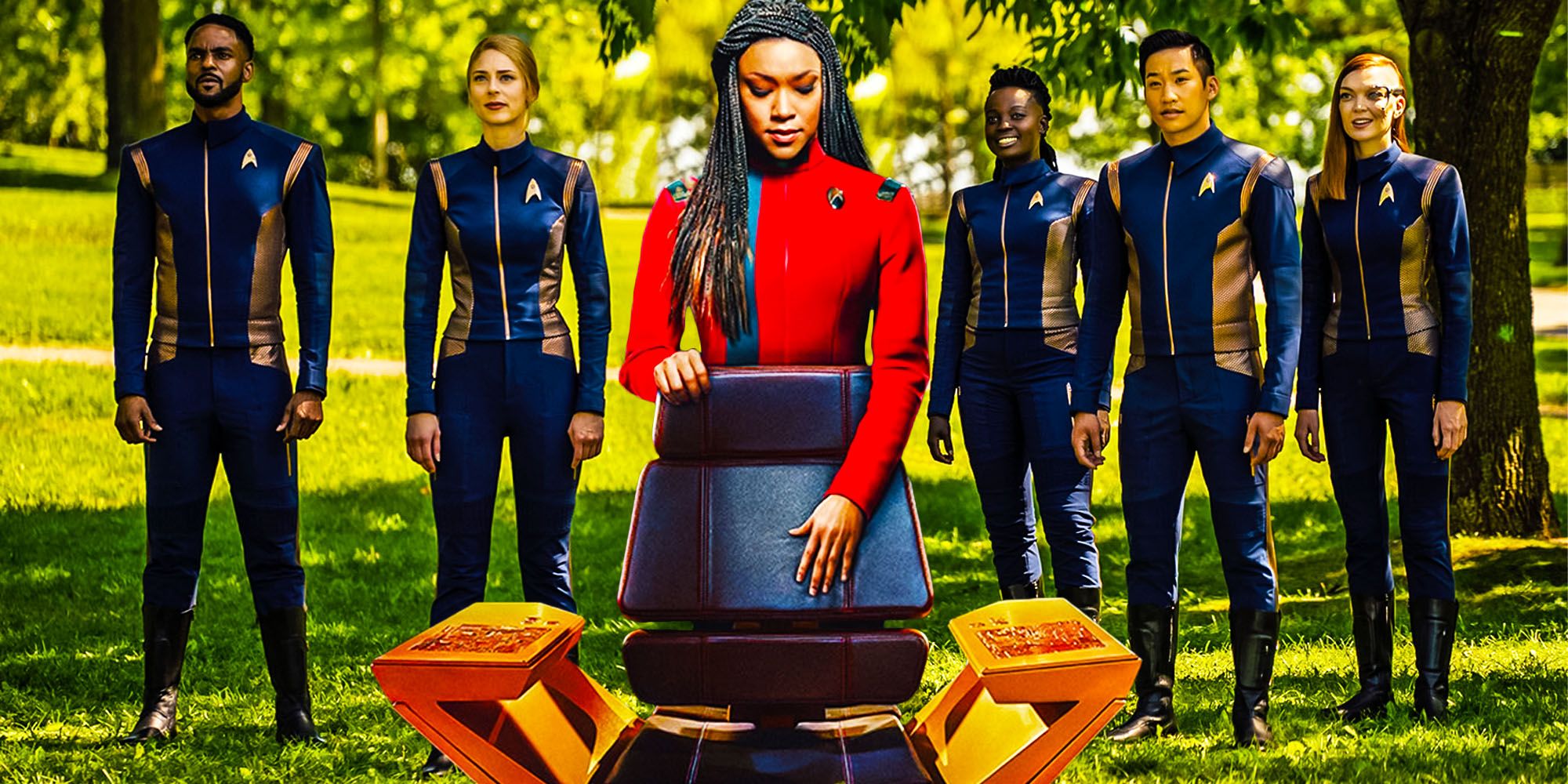 Warning: SPOILERS for Star Trek: Discovery Season 4, Episode 5 - "The Examples".
The USS Discovery's bridge crew are Star Trek: Discovery fan-favorite characters but here's why they were missing from season 4, episode 5, "The Examples." This week's Star Trek: Discovery took huge strides in uncovering the truth behind the Dark Matter Anomaly threatening the United Federation of Planets. One of the Federation's top scientists, Ruon Tarka (Shawn Doyle), came aboard the Discovery and built a working model of the DMA that could have destroyed the starship. However, most of Star Trek: Discovery's familiar bridge crew missed out on all of the action.
As Star Trek: Discovery continued into seasons 3 and 4, the members of the bridge crew finally emerged from background players to more fully-fleshed-out characters. Kayla Detmer (Emily Coutts) is the USS Discovery's hotshot pilot who had trouble coping with their one-way trip to the 32nd century. Joann Owosekun (Oyin Oladejo) is Detmer's best friend and the ship's operations officer. Gen Rhys (Patrick Kwok-Choon) is the Discovery's tactical officer while Ronald Bryce (Ronnie Rowe, Jr.) is the ship's communications officer. Star Trek: Discovery season 4 promoted all four of the bridge crew to Lt. Commander after expanding their roles in season 3. But despite being vital to the operation of Discovery's bridge and trusted implicitly by Captain Michael Burnham (Sonequa Martin-Green) and First Officer Saru (Doug Jones), Detmer, Owosekun, and Bryce were conspicuously absent from Star Trek: Discovery for the first time.
Related: Star Trek: Discovery's First Officer Repeats The Show's Captain Problem
The in-universe reason for Star Trek: Discovery's missing bridge crew is that Captain Burnham mandated that everyone aboard must get time off for their mental and emotional health. All of Discovery's crew are traumatized by their one-way time travel to 920 years into the future as well as the back-to-back ordeals of solving The Burn and now facing the Dark Matter Anomaly, so Captain Burnham makes sure everyone gets ample time off or even shore leave. Dr. Hugh Culber (Wilson Cruz) now serves as Ship's Counselor and meets with every crewmember to assess how they're coping with life in the 32nd century. In addition, Lt. Commander Bryce sometimes serves away from the USS Discovery and is replaced by a new Comm officer, Lt. Christopher (Orville Cummings), who appears in "The Examples."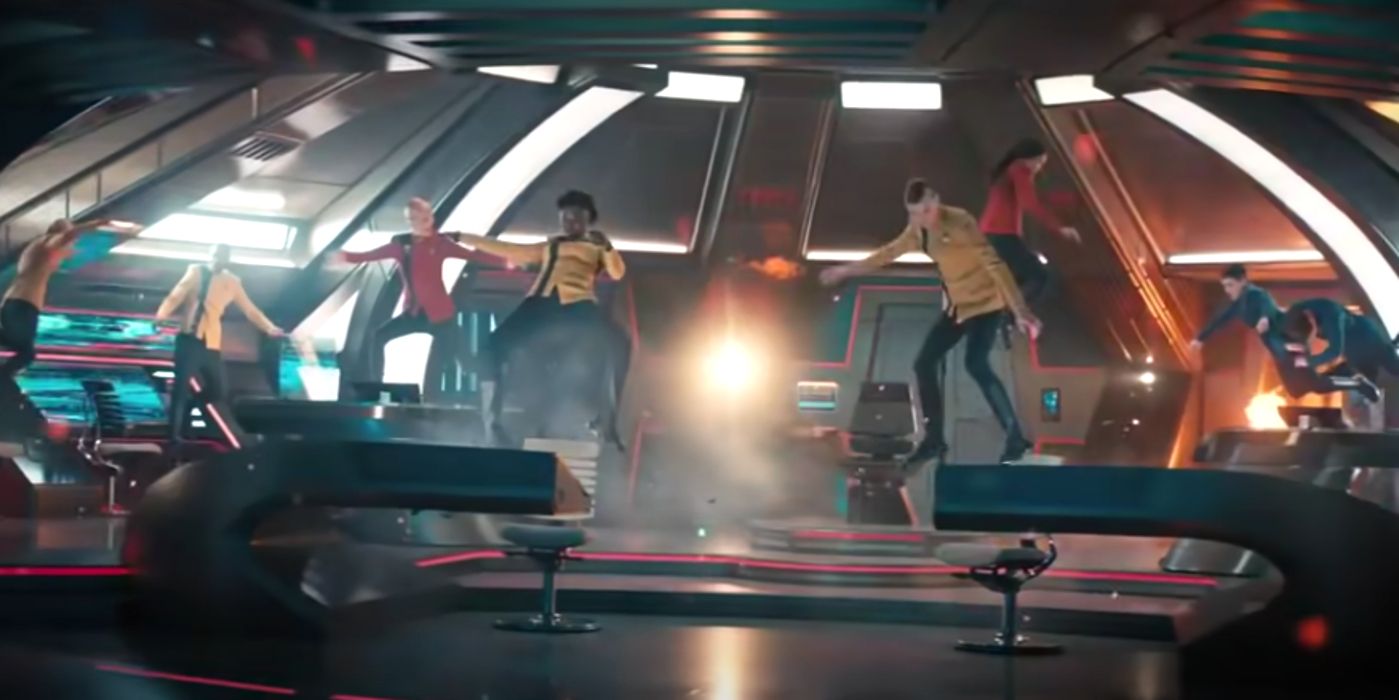 The real-world reason for Star Trek: Discovery's missing bridge crew is that season 4 was produced under strict COVID-19 protocols. To help keep the actors and crew safe, they are rotated off-set, which necessitates new actors and characters taking their spots on the bridge crew in some episodes. Burnham's rule of making Discovery's crew take time off is a clever way to explain why there are sometimes different officers on the bridge. In "The Examples," the USS Discovery had a different, unnamed pilot at the Conn subbing for Detmer while an unnamed Shlerm, which is a race first seen in Star Trek Beyond, sat in Owosekun's chair at Ops.
Meanwhile, Captain Burnham, Lt. Commander Rhys, and Book (David Ajala) were all on Away missions while Captain Saru spent much of "The Examples" in Engineering with Dr. Tarka, Commander Paul Stamets (Anthony Rapp), and Commander Jett Reno (Tig Notaro), which contributed to the Discovery's bridge feeling bare of the usual familiar faces for most of the episode. In addition, Lt. Sylvia Tilly (Mary Wiseman) left the Discovery to teach at Starfleet Academy, and she was replaced on the bridge by Lt. Linus (David Tomlinson). However, Lt. Commander Nilsson (Sara Mitich) was at her usual post manning spore drive operations, so she gave a bit more stability to the bridge in Star Trek: Discovery season 4, episode 5.
Next: Star Trek: Discovery's Major Exit Creates A Season 4 Crew Problem
Star Trek: Discovery streams Thursdays on Paramount+.
from ScreenRant - Feed