During the peak of the Pokémon TCG's popularity in the early 2000s, Wizards of the Coast published some special Black Star promotional cards that were given out during events. These cards represented everything from trainer cards to classic Pokémon and showed up in issues of Nintendo Power as well as at screenings of Pokémon: The First Movie. Due to their low supply, some of these Black Star promo cards have risen in price dramatically and go for hundreds of dollars on secondhand markets.
As their name implies, these Pokémon cards all have a black star in one of their corners, denoting that they were not given out in booster packs. Each one has a different price based on where they were given out and how many were in circulation, meaning that some are less expensive than others. In addition, many of these are hard to find and some were given out not during Pokémon leagues, but during one-time-only events like store openings and movie premieres. For new collectors looking for the rarest Pokémon trading cards, some of these cards will be hard to find and even harder to purchase.
Related: Pokémon TCG: Rarest Cards In The Celebrations Expansion
According to TCGPlayer, the most expensive card for sale is the promos for a Lucky Stadium and a Pokémon Center that was given out to fans who attended the grand opening of the New York Pokémon Center. The Lucky Stadium has the Empire State Building in the background and goes for $747, while the Pokémon Center has original art and goes for $599. Its promotional nature combined with the specific artwork referencing New York City makes this a tough find and an intriguing piece of memorabilia. However, for those looking for Black Star promo Pokémon cards with characters on them, there is one that's almost as expensive.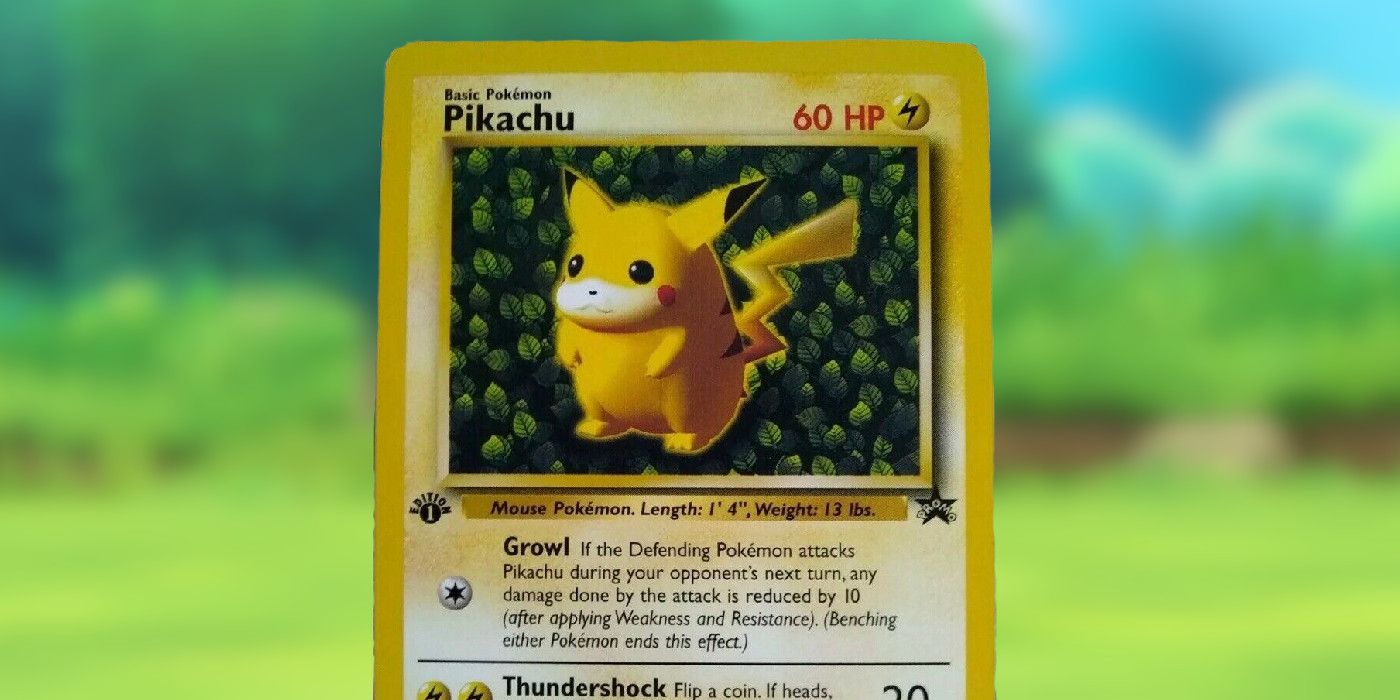 The honor of most sought-after character goes to the First Edition printings of Pikachu. Listed on TCGPlayer from one supplier in moderately played condition, the card is going for $467, but this isn't a completely accurate representation of its market value. The Birthday Pikachu card banned from Pokémon Tournaments is rare, but this version is more so - professionally graded versions of this card in perfect condition often sell on eBay for upwards of $500.
In addition to having black stars next to their type lines, the first edition printings also had a logo across from it denoting their importance and rarity. The English version of the fan-dubbed "Ivy Pikachu" was actually released in booster packs and for a long time was thought to be a misprint due to its promotional nature. However, these turned out to be intentional and actually a rare version of the Pokémon card specifically printed for North America to give that market some copies of the Japanese-only promo at the time. The Holofoil leaves in the background, in conjunction with the strange nature of its release, make it a valuable collector's item.
Black Star promo cards these days are often mass-produced and not separated out by print run. They are usually much-needed reprints for gameplay like Pokémon TCG's Celebrations' classic cards and don't command a high price. Even many of the Pokémon TCG's Black Star promos can be found near-mint for less than thirty dollars due to the high amount distributed. Those looking for collector's items worth money today can find secret rare alternate art cards in modern-day sets like Fusion Strike as well as the classic cards from the '90s that most people chase after.
Next: How To Build A Pokémon TCG Deck Around Your Favorite Card
from ScreenRant - Feed