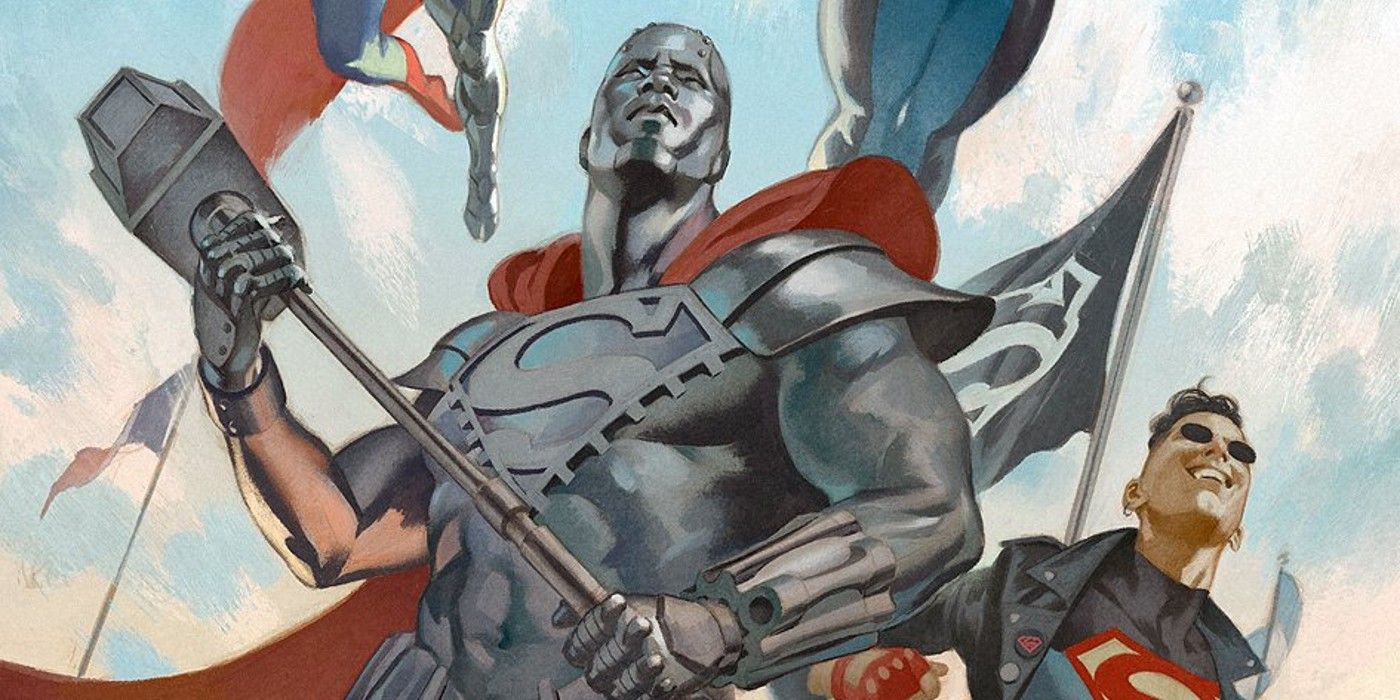 A new DC Comics cover pays tribute to the "Reign of the Supermen" arc from The Death of Superman and sees Superboy, Steel, Cyborg Superman, and the Eradicator present and ready for action. This cover will serve as a variant for Action Comics #1041.
"Reign of the Supermen" was an arc within The Death of Superman crossover comic event from 1992. It featured four Supermen who rose to prominence when the actual Superman supposedly died (before his inevitable resurrection). This was the first appearance of three of these characters - this version of Superboy, Steel, and Cyborg Superman - while Eradicator had already debuted in 1989 in Action Comics Annual #2. They all have reappeared in DC Comics over the years since.
Related: All of DC's Wonder Women Unite in Amazing Women's Day Variant Cover
On Twitter, comic artist J. Totino Tedesco recently shared his cover for the upcoming Action Comics #1041. The issue comes from the creative team of Phillip Kennedy Johnson, Shawn Aldridge, Riccardo Federici, and Adriana Melo. It will involve Superman's fight on Warworld and conclude the first part of the current Warworld Saga. The cover art clearly does not depict the site of Superman's current struggle; it instead pays homage to one of the hero's most notorious stories. Particularly noticeable apart from the Supermen is the presence of the black and white Superman flag, which calls back to the costume the Man of Steel wore after his resurrection.
It has been almost thirty years since the hit Superman story took the comic book world by surprise, causing a flood of media attention to be thrust upon DC and the industry. While this issue will be coming out many months before the official thirtieth-anniversary date, there's no question that this event is an important one in comic history. Even if Superman's death was reversed, the event had lasting effects, evidenced by the four Supermen featured on this cover.
This variant marks a major moment in Superman's lengthy history. Even with Superman alive, there are more Kryptonians and Superman-inspired heroes entering comics. Recently, the hero's son, Jon Kent, took up the mantle while he is away. Some other Supermen will also face new conflict with one another during the upcoming War for Earth-3 crossover event. There are many Supermen in DC's comic universe and for some of them, so it's not impossible more will show up. Tedesco's stunning cover art highlights the ongoing legacy of the Man of Steel, which doesn't seem anywhere close to ending - even as other characters take up (or twist) his mantle. Action Comics #1041 and this stunning tribute cover to "Reign of the Supermen," featuring Steel, Superboy, Eradicator, and Cyborg Superman will release March 22.
More: Wild West Batman: Which Cowboy Batsuit Is the Dark Knight's Best?
Source: J. Totino Tedesco
from ScreenRant - Feed