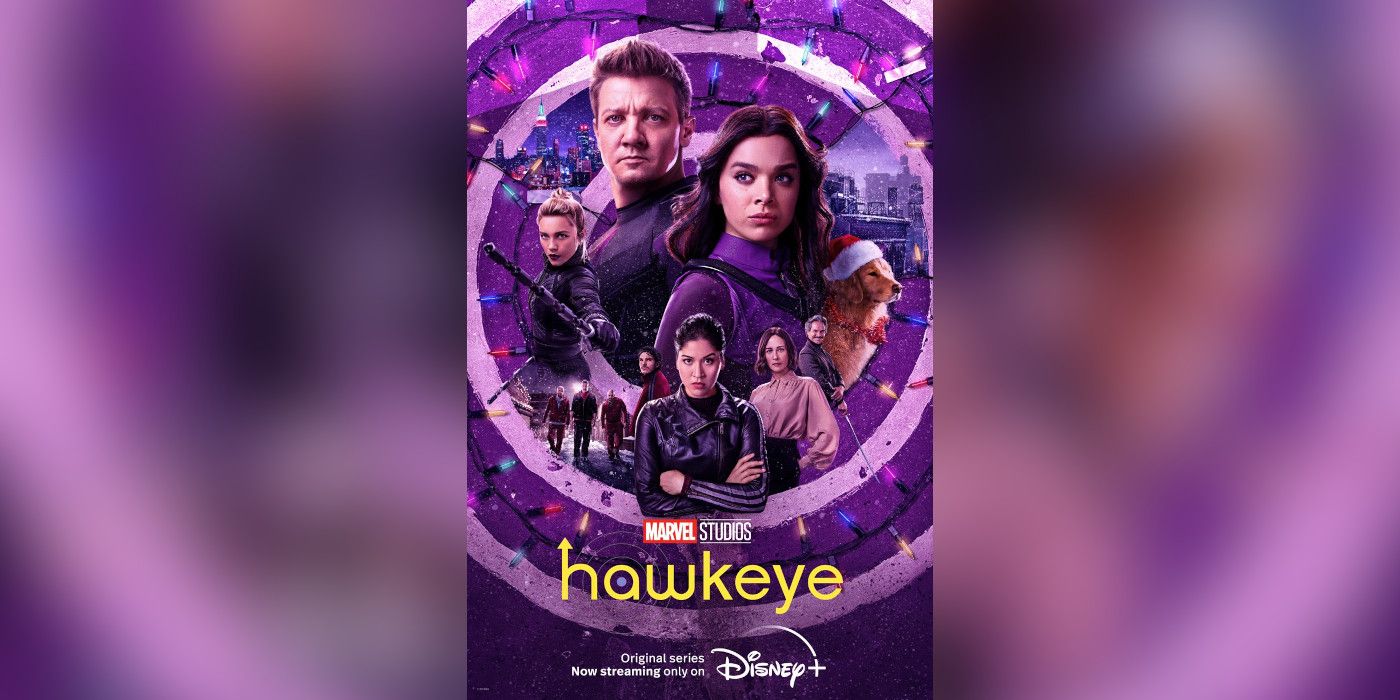 A newly-released poster for the Hawkeye season 1 finale hides Vincent D'Onofrio's Kingpin. The latest Marvel series for Disney+ gets set to wrap up its six-episode story this week and things are definitely about to get action-packed.
Of course the big question for the final episode of Hawkeye involves the fate of Clint Barton who currently has multiple individuals wanting to put him out of action forever. There has been wide speculation that the character of Hawkeye will indeed die in the episode, possibly at the hands of Marvel villain Kingpin, who is confirmed to return with D'Onofrio reprising the role he first played on Daredevil. Hawkeye will also have his hands full with Yelena Belova (Florence Pugh), who wants to kill him in revenge for the death of Natasha Romanoff (Scarlett Johansson). Then there's newly-introduced character Echo (Alaqua Cox), who also has sworn vengeance against Hawkeye after he murdered her father.
Related: Hawkeye Episode 5 Asks 6 Questions About Clint's MCU Ending
Everyone wants to kill Hawkeye it seems (except his new ally Kate Bishop and her friend Pizza Dog) and most of these characters are indeed featured on the new season finale poster that was just released (via Hawkeye on Twitter). But one character seems notably absent from the image, until one looks closer and spies his silhouette craftily hidden within it. See the image in the space below:
Indeed that is the outline of Kingpin barely showing behind the other characters (a similar outline was used to herald the character's arrival at the end of episode 5). Speculation about Kingpin showing up on Hawkeye of course began early on, leading to the usual denials. But after some episode 3 teases it became obvious that Kingpin was in fact coming. Episode 5 then made it official, and indeed Kingpin's continued presence in episode 6 was teased in a recent TV spot. Considering how much is already set to go down in the finale episode, adding Kingpin to the mix only creates a greater sense of monumental happenings, with potential larger MCU ramifications in the mix.
The season finale of Hawkeye indeed has a lot to wrap up as Kate Bishop and Clint Barton continue to fight off all the enemies they've accumulated throughout the season. It of course remains to be seen if Hawkeye season 2 will ever happen, but if it does, it seems likely that the show would revolve around Bishop with Barton likely out of the picture forever. As for Kingpin, he certainly seems to have a big future in the MCU as well, and it will be fascinating to see how Kevin Feige and company come to deploy D'Onofrio's character in future shows or movies.
More: Hawkeye's Kingpin Reveal Perfectly Mocked Marvel's Leak Problem
Source: Hawkeye/Twitter
from ScreenRant - Feed