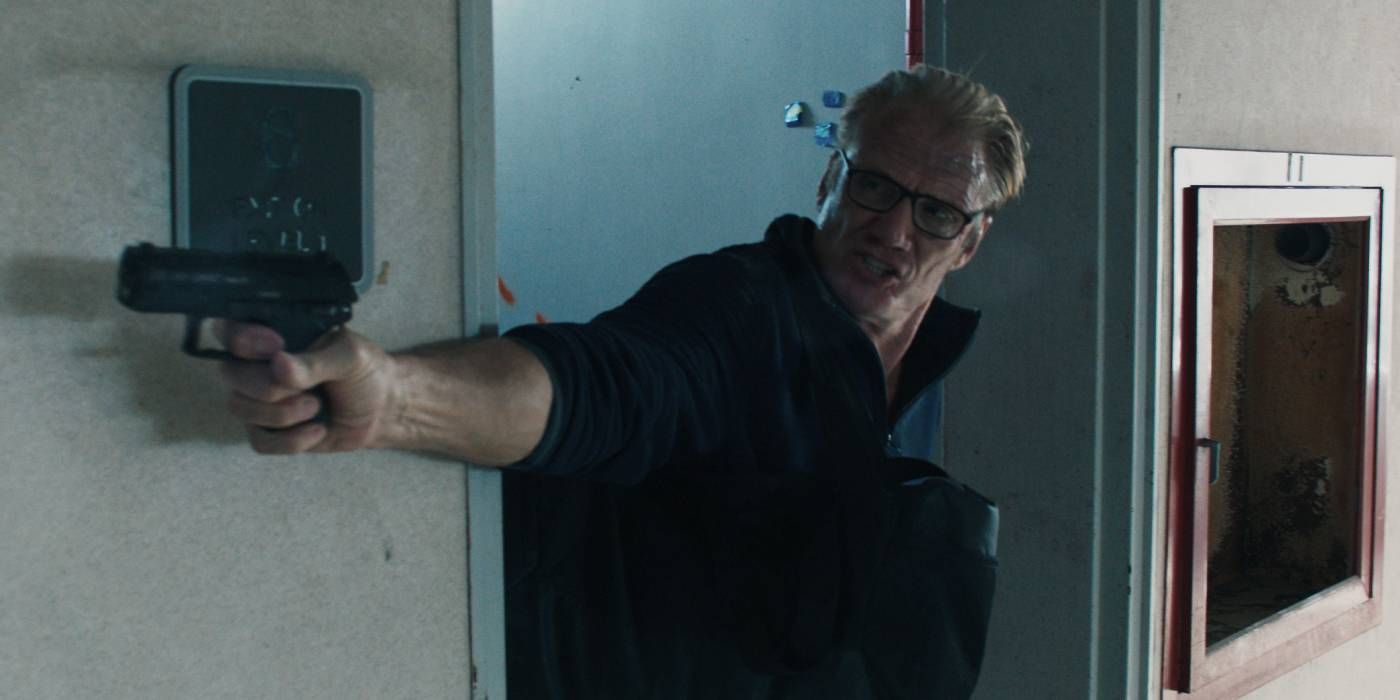 Action fans know Dolph Lundgren well from hits like Rocky IV, the Universal Soldier franchise, and The Expendables movies, However, aside from portraying larger-than-life heroes and villains in front of the camera, he's also become a prolific director, as well. His newest action film, Castle Falls, teams him up once again with fellow action star Scott Adkins, in a high-stakes battle with a criminal gang for some stashed bags of money.
Adkins plays Mika Wade, a former MMA fighter working a brief gig in an old hospital scheduled for demolition, only to stumble across hidden duffel bags containing $3 million. He's not the only one interested in the money though, with a group of criminals arriving to retrieve it on behalf of their jailed boss, along with corrections officer Richard Ericson (Lundgren) getting wind of the money and hoping to make off with it to save his dying daughter. With the building set to be demolished in ninety minutes, it's a race against the clock for Wade and Ericson to dodge the gang and escape with the loot.
RELATED: Dolph Lundgren Almost Played Leatherface In Texas Chainsaw Massacre
We speak to Dolph Lundgren on the making of Castle Falls, the challenges that came with shooting the movie during the COVID-19 pandemic (which included a shutdown on the first day of production), and his return as Gunner Jensen in The Expendables 4. Plus check out an exclusive clip from Castle Falls below!
Screen Rant: How did Castle Falls come about?
Dolph Lundgren: There was this other project Scott and I were supposed to do together that fell through, and I was looking for another script, and this one came across my desk. It was a two-hander, but Ericson was more of a bad guy, and Scott's character was also an MMA fighter. So, we tweaked the script and found a way to make Ericson kind of sympathetic, but still put them up against each other, because I thought it was interesting that you have two main leads, and they push from opposite sides, then they're on the same side. Then there was this ticking clock element to the building and the money and all of that going on. I thought, "Yeah, I can make this film for a small budget and direct it", so that's how I made the decision to get into it.
You were also unfortunately impacted by the pandemic early on, and had to shut down on the first day. How did that affect Castle Falls in terms of having to come back months later to start again?
Dolph Lundgren: Yeah, that was tough. It was very disappointing when we shut down, but then in those seven months, I had more time to prepare. I was able to talk to the actors and work on the script and other aspects of the film, and when I came back, even though we only had 17 days and COVID tests, I was very prepared, and I think it was better for the film, so it turned out to be a blessing in disguise.
You've made several movies with Scott Adkins, and you've also done fight scenes together before. What's the process like of doing a fight scene with Scott Adkins after you've worked together so much?
Dolph Lundgren: Well, Scott brought in the fight choreographer [Tim Man], but he couldn't come into America from Europe because of COVID. But he designed the fights, and we pretty much stuck to his design, which was fairly realistic, not too many crazy moves or backflips. Scott and I did own our fighting, and it was tough. I was dealing with an injury at the time, too, I ripped my upper bicep tendon in my left arm, so I had to work with that. It's challenging to work with Scott, too, because he's fast and really good.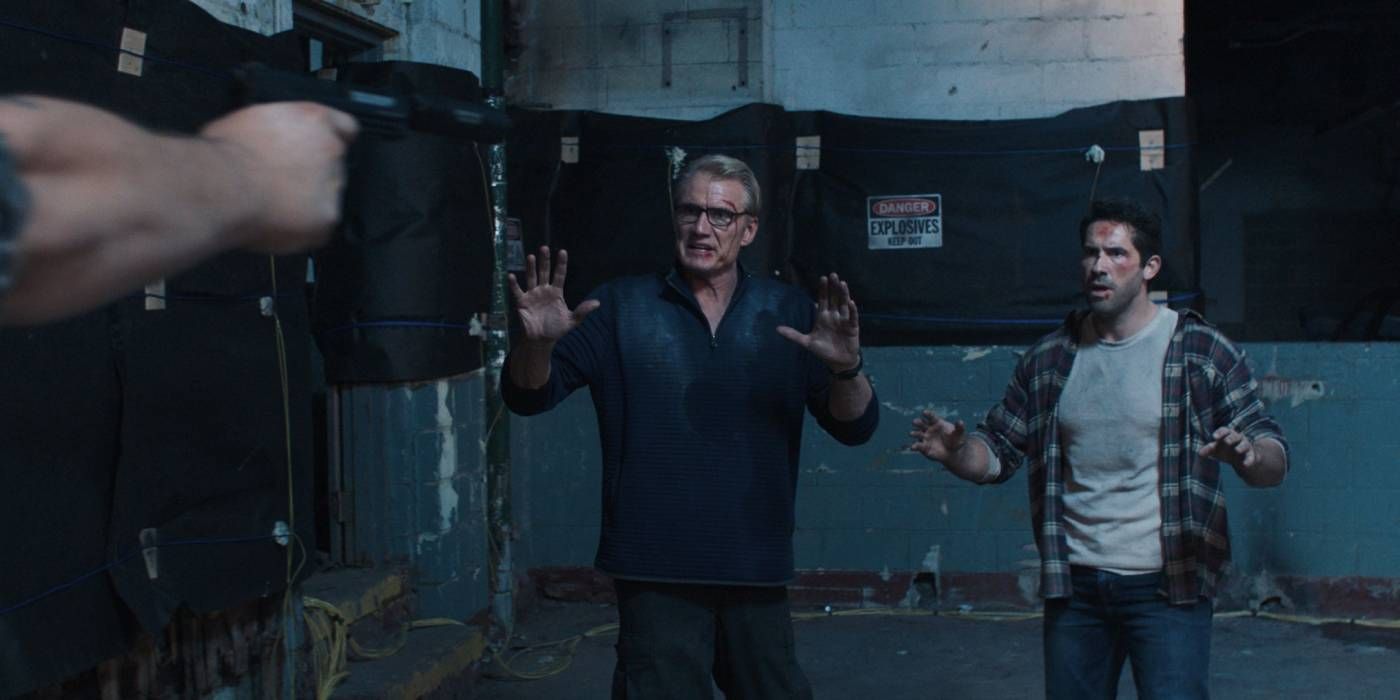 Castle Falls also takes place primarily in an old hospital scheduled for demolition. How did you select the location for the movie?
Dolph Lundgren: That was really difficult, because we needed something we could shoot in, and had the look of a building that was about to be demolished, but that wasn't too bad or too unhealthy, or too far away from the city. We were looking at various options, and in the original script, it was an apartment building, but then we found this hospital that looked kind of perfect.

So, I adjusted the script that it was a hospital that was part of segregation in the south because it was. So, it had some history that I tried to weave into the story, and it was a tough location, and there were some high and dangerous parts of it, so we had to be very serious about safety. But, on the whole, I think it was a good location, and we were there for seventy-five percent of the shoot, so it was easy in that respect.
Other than the challenges of the pandemic and working with Scott Adkins again, what really stood out to you about the making of Castle Falls?
Dolph Lundgren: I think I was just determined to make it work and push through, despite all the problems and the difficulties that we had. Also, since we got shut down, we had to claim insurance, so there were financial difficulties. The hardest thing was really just sticking to my vision for the movie despite all of the hardships, and I think it'd be difficult to come up with a more problematic shoot than we had, so I feel pretty confident moving forward as a director. I survived this one, so I'm sure I could survive the next.
You also have The Expendables 4 coming up in 2022, which will include new cast members like Tony Jaa and Iko Uwais as the villain. What's it been like returning to the role of Gunner Jensen and working with a lot of the original cast?
Dolph Lundgren: Well, it's a lot of fun to come back with people you've worked with many times. Sly [Stallone] and I have made five movies now, and it was great seeing Randy Couture back, and 50 Cent and Megan Fox coming aboard. It's fun to play that character again, and he's a little insane.

There's something special each time because it's old school, kick-ass fights and firearms, and vehicles, and The Expendables isn't as heavy on visual effects, so it makes it special.
NEXT: Rocky 4 Director's Cut Completes Creed 2's Drago Retcon
Castle Falls is available in theaters, digital, and On Demand on December 3.
from ScreenRant - Feed