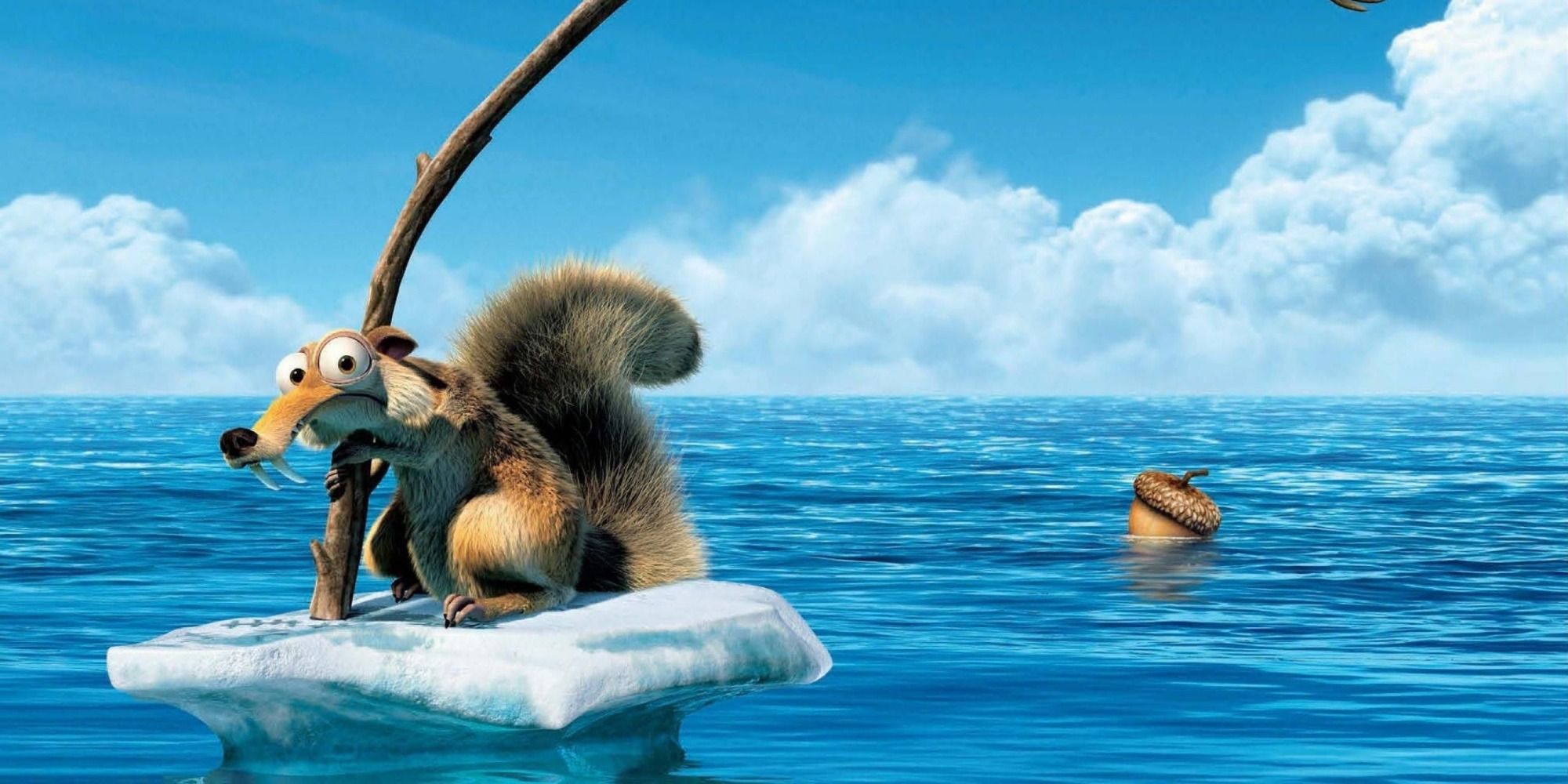 The release of Ice Age: Continental Drift (aka Ice Age 4) was preceded by a cute promotional short titled Scrat's Continental Crack-Up – here's how to watch the two-parter online. Saber-toothed squirrel Scrat might not be a main Ice Age character, but he's definitely the franchise's breakout star. Voiced by director and producer Chris Wedge, the prehistoric acorn-obsessed rodent made his debut in the first Ice Age film from 2002 and has appeared in every other entry made since then.
Funnily enough, Scrat was never intended to be a franchise mainstay. He was originally set to meet a sticky end a few minutes into the first Ice Age by getting trampled to death by a herd of migrating animals. However, when Scrat-focused scenes from the opening sequence were featured in the Ice Age trailer, the saber-toothed squirrel proved so popular with audiences that Wedge and character designer Peter de Seve decided to keep Scrat alive and give him more screen time.
Related: Did Jack Black's Ice Age Villain Zeke Die?
Scrat is such a popular character, in fact, that he's become the focus of most of the Ice Age franchise's short films. The 2006 animated short No Time For Nuts follows Scrat as he inadvertently travels through time in pursuit of an acorn, while 2015's Scrat: Spaced Out saw the fan favorite encounter a race of alien saber-toothed squirrels in space. Scrat's Continental Crack-Up is another Scrat-focused short released in the lead-up to Ice Age: Continental Drift. Watch the two-parter below.
Scrat's Continental Crack-Up is basically a compilation of the saber-toothed squirrel's adventures in Ice Age: Continental Drift. The first part of Scrat's Continental Crack-Up follows Scrat as he tries to bury an acorn but accidentally causes Pangaea to break up in the process, while its concluding second part sees the unfortunate rodent stranded on a desert island before being captured by pirates on an iceberg helmed by Ice Age: Continental Drift's villain Captain Gutt.
The saber-toothed squirrel's influence extends beyond short films like Scrat's Continental Crack-Up and the wider adventures of the Ice Age series. Back in 2006, Scrat had a cameo in an episode of Family Guy titled "Sibling Rivalry" during a scene that saw him try to steal Peter Griffin's nuts and – more recently – a giant balloon version of Scrat measuring 59 feet in length was featured in the 2015 Macy's Thanksgiving Day Parade. The next outing for the franchise will be the TV series Ice Age: Adventures of Buck Wild, with Simon Pegg reprising the title role, while Scrat is also set to be part of the 2022 show.
Next: Where To Watch Every Ice Age Movie Online
from ScreenRant - Feed