Bruised, out in select theaters now and headed towards a Netflix release on November 24, is a redemption story and sports saga all rolled into one. Specifically, Halle Berry (who also directed the film) stars as Jackie Justice, an MMA fighter who tried to run away from the ring years before. Upon reuniting with the son she gave up for adoption, she's ready to get back in the game and face off against legendary opponent Lady Killer (Valentina Shevchenko).
Related: Sheila Atim Interview: Bruised
Shevchenko spoke to Screen Rant about the highs and lows of MMA and training the star director in real life as preparation for the film.
Screen Rant: One of the stories that are told in this movie is that there's a lot of sacrifices that go into being a top-level MMA fighter. And we see that through Jackie's eyes in this film. There are stories like Jackie's all-around MMA. Can you talk about that a little bit?
Valentina Shevchenko: It's everything like this. It definitely sacrifices. It's more about this struggle, this fight, the inner fight, not just with your opponent, but with yourself, because you're inside. It's very hard, but when you can go over it, you find yourself, you get this open mindset and you just feel happy. This is what's about, this movie, to find yourself through the struggles. And it's not about the fear of your opponent, it's like a fear of fighting yourself, but it's kind of reflecting in the eyes, this fear of your opponent. In the eyes of Lady Killer.

There's so much in this movie, it's so deep and it's showing that every person will have enough power to confront everything, but she has to believe. She has to believe in herself. And this is the most important.
This is some of the best MMA action I've seen on film. You really put Halle Berry through the paces in terms of training. From what I've read, this training camp that you guys were in was pretty close to a training camp that you would prepare for a fight. Can you talk to me about training with Halle and, and how she took the training seriously, to portray that on film?
Valentina Shevchenko: We trained for two months before the filming. Two months, everyday training started from 7:00 AM and ended at 1:00 PM. So five hours of training nonstop. We never break for the rest. We never spoke or laughed during the training… too much sometimes, yes, but it was everything serious, but very enjoyable. It was not any kind of pressure to do it now, good. We knew we had to build it. We have a lot of time, like on the front we have to build ourselves, we have to make. What Halle wanted; she didn't want that, just fights surrealistic and real, whatever, but beautiful. She wanted the real fight.

We were working together as a team to add a little detail to the fight, to make it real and believable that, for example, it was like moves that I really do in my fight. There was, if I'm not mistaken, the first round, a combination, what I exactly did in my last title defense.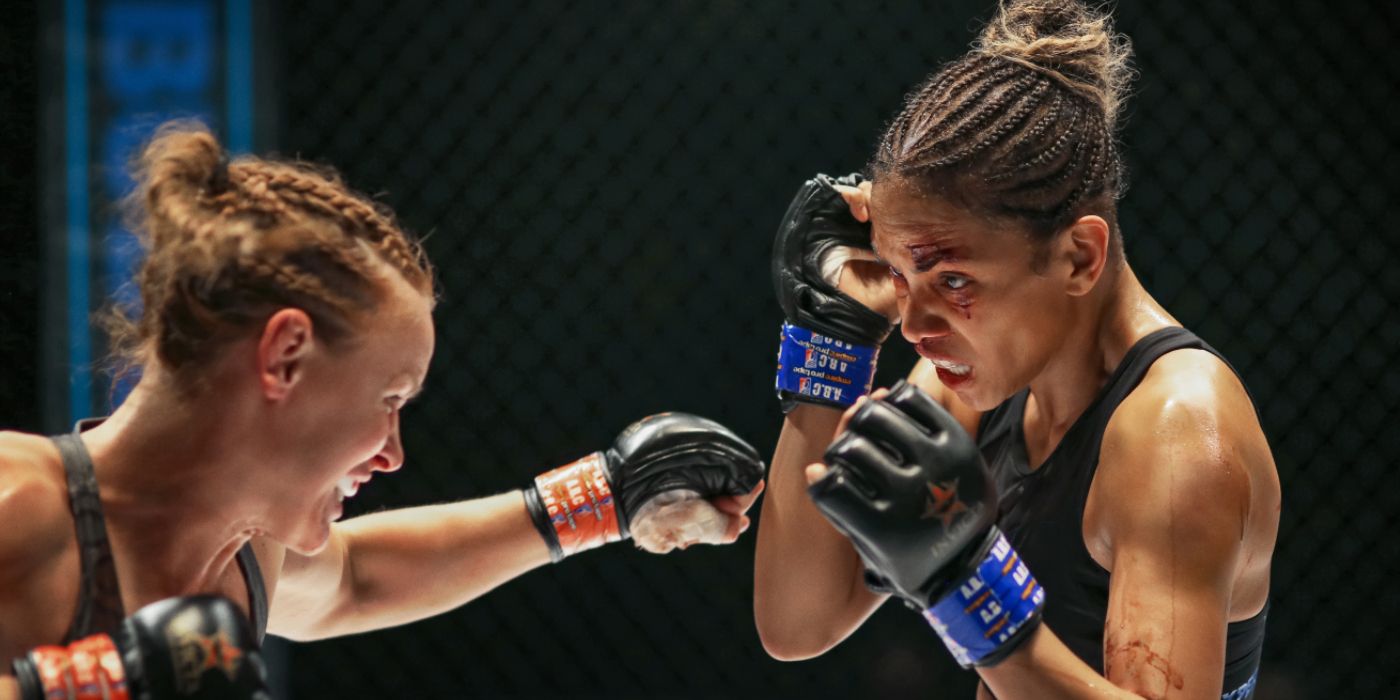 Halle Berry makes her directorial debut in this film, knocks it out of the park. Can you talk to me about working with her as a collaborator and what her directing style added to Bruised?
Valentina Shevchenko: I think she has a brilliant directive style and this is the right approach for every person with the right words. This is the most important thing. When you see it, when I see it, I felt so much confidence. It's calm, I know that everything is going to be good. She doesn't say too many words. She said one or two, but it's the exact words that you want to hear. This is I think the best quality because she saw the picture, what she wants from the movie, her movie. She exactly knows how to describe it to you for you to understand what to perform.
Now the last question I have for you, there's a line that you said that says, "There's a tiny line between a real fight and a movie fight". Can you talk to me about that a little bit, and what's Halle better at the ground game or the strikes?
Valentina Shevchenko: You know, mixed martial arts is everything. Its universal fighter and its universal fight with universal technique. Halle was training before this movie for two or three years. She's very good at everything because yeah, she's an MMA fighter now.
Next: Every Real MMA Fighter In Warrior
from ScreenRant - Feed