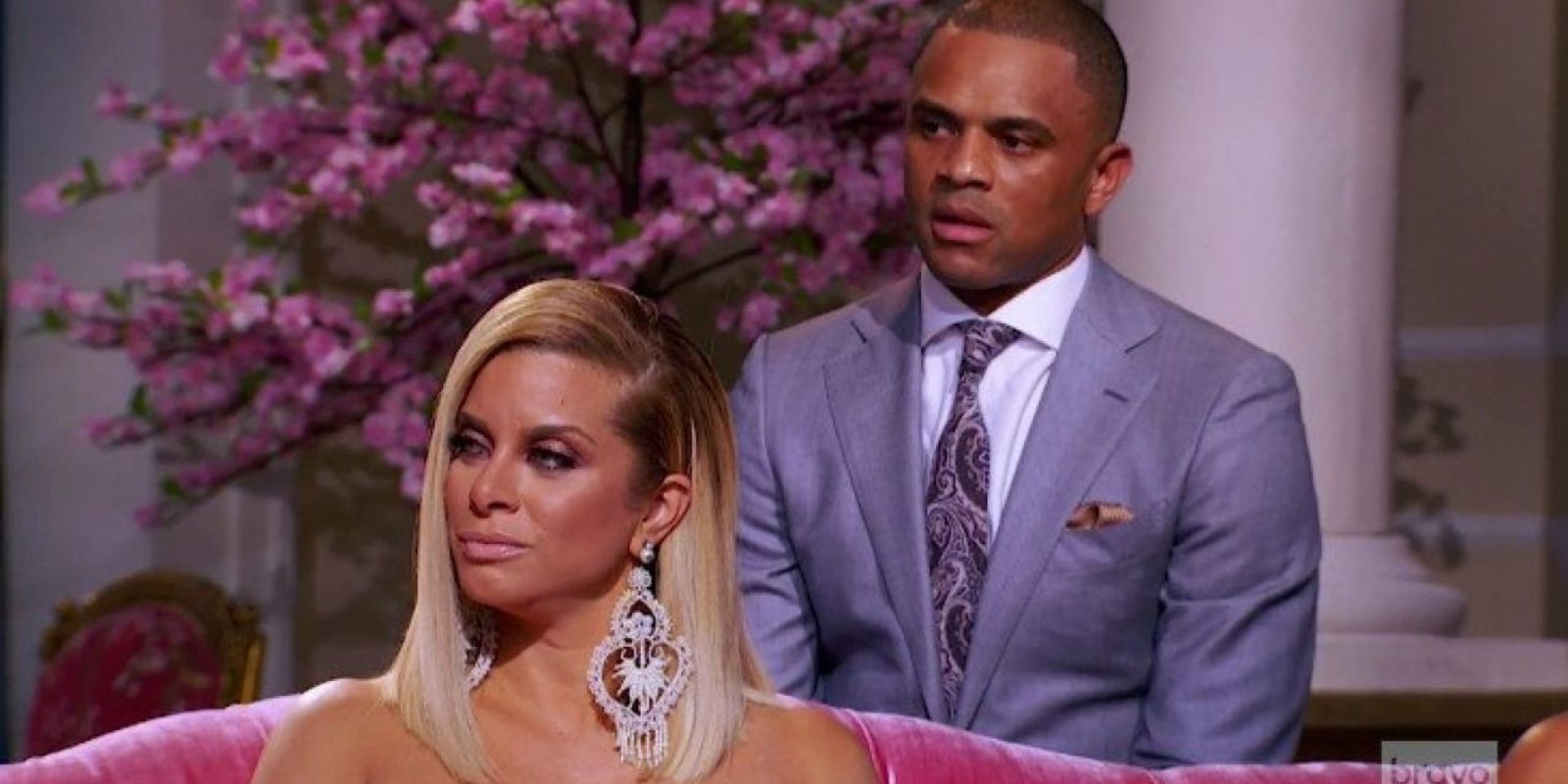 Amid The Real Housewives of Potomac season 6 finale, some fans are starting to accuse Juan Dixon of cheating on Robyn Dixon. Viewers watched as Juan left Robyn by herself in the middle of Karen and Ray Huger's vowel renewal. Juan attended the ceremony and watched Karen and Ray exchange their renewed vowels after 25 years of marriage. However, during the reception, Juan enjoyed a few drinks, talked with Ashley and Michael Darby before surprising Robyn with his decision to leave the event early. The move came after Robyn spent the season defending their relationship to her co-stars.
RHOP fans are well aware of Robyn and Juan's confusing relationship status. The couple is engaged after being married for seven years and getting divorced. Robyn and Juan have lived together while raising their two sons Corey and Carter. They were previously married from 2005 until 2012. They continued to live together after their divorce and ended up reconciling and getting engaged for the second time in 2019. They have been together since college, and Robyn has stuck by Juan's side despite his past cheating and absence during his time playing in the NBA.
Related: RHOP: Karen Reveals Nicki Minaj Called Out Candiace & Gizelle
Robyn and Wendy Osefo were at odds during season 5 after Wendy took a jab at Robyn and Juan's up and down relationship status. Robyn spent the season defending her relationship and taking offense to Wendy's remarks. But Juan's behavior at Karen and Ray's vowel renewal didn't make things any better. Viewers watched Juan leave his fiance at a wedding of all places. When making his exit announcement, Robyn asked him why he was leaving and Juan claimed it was because he had work in the morning. But one viewer picked up on Michael Darby's face during the exchange. "Juan: "I have to leave. I have to work." Michael's face. Something isn't adding up here. He needs to work at night??," Jenifer captioned a tweet that included stills from the scene.
A number of fans pointed out how Michael made a face like he had an idea of where Juan was really going. Others noted how close Juan and Michael are and assume it's because the two husbands, who have both gotten caught cheating in their marriages in the past, know each other's secrets. "Nah, I just think they have sins in common. Partners in crime," one fan said. Others noted that Juan works as an NCAA basketball coach and that his job requires night shifts. But others questioned why Juan didn't let Robyn know ahead of time that he would be leaving early. "It's not that he said he had to work at night, honestly coaches never stop, but the fact he didn't tell her beforehand that he was leaving early. That's messed up," said someone else.
Once again, Juan has fans questioning his feelings for Robyn. This is nothing new and something many viewers have said about the couple since season 1. Season 6 saw less and less of both Juan and Michael. But this time around, Juan appeared completely checked out with filming and showed little to no affection to his fiance onscreen. It's likely things are better behind the scenes, and Juan just doesn't care for the cameras. However, he is only further fueling speculation into his alleged cheating with other women. If Robyn returns for season 7, The Real Housewives of Potomac fans would like to see more romance with Juan. That is unless he's getting it from somewhere else.
Next: RHOP: Fans React To Candiace Dillard's Grammy Campaign
Source: Jenifer/Twitter
from ScreenRant - Feed