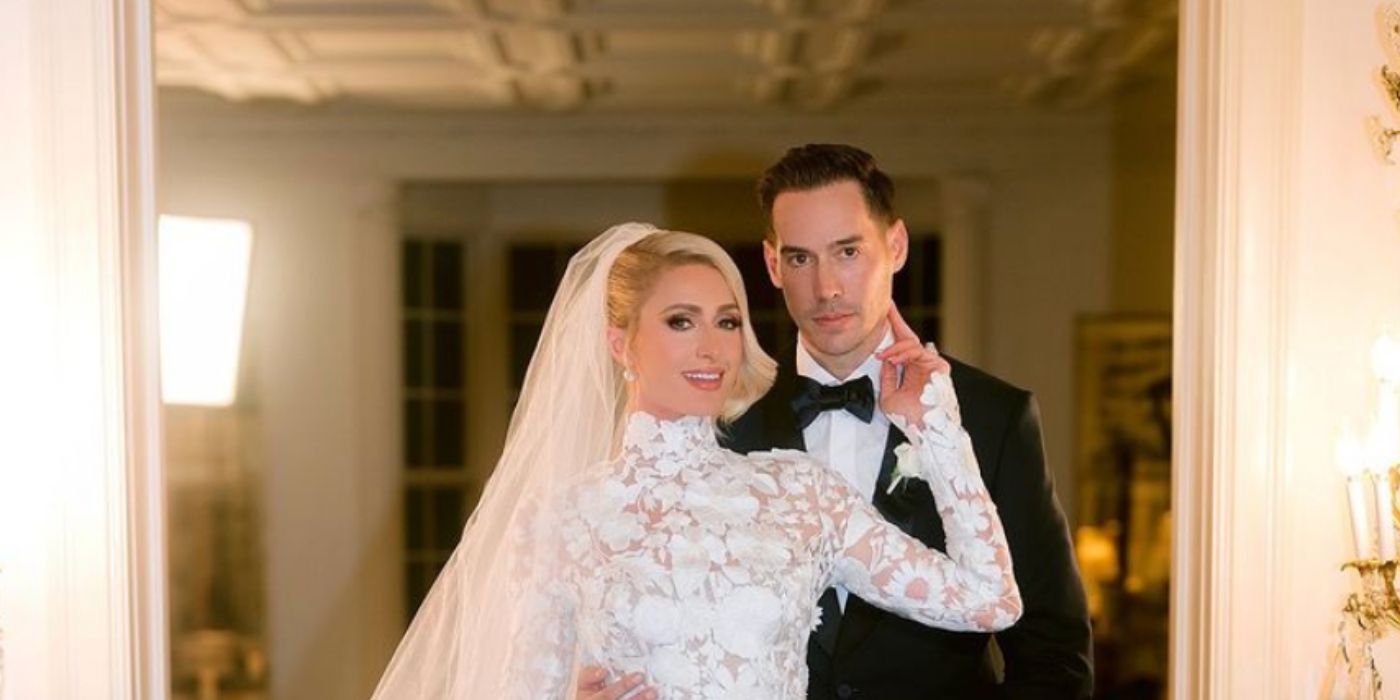 Paris In Love star Paris Hilton has added to the fun of her honeymoon world tour by premiering a new YouTube series called "My Dream Honeymoon." The reality tv star married entrepreneur Carter Reum on November 11th. The pair held an extravagant wedding at Paris' late grandfather's Bel Aire estate. The three-day ceremony featured an array of celebrity guests, including Nicole Richie, Kim Kardashian, and Emma Roberts.
Paris and Carter have now jetted off on their honeymoon. Paris announced in an Instagram caption that the post-marriage trip would be a "honeymoon world tour." The first place the two stopped at was Bora Bora. Paris shared photos from the trip on her Instagram page. She and her husband appeared to be snorkeling in the turquoise waters and relaxing on their boat.
Related: Paris In Love: Paris Hilton Reunites With Nicole Richie At Her Wedding
Now Paris is taking fans along on her vacation with her new YouTube series, My Dream Honeymoon. The show will follow her and Carter as they travel around the world on their honeymoon world tour. In the first episode of the series, Paris announced that she will partner with Hilton Hotels for the honeymoon travel series. The star said, "it's gonna be incredible traveling all over the world to my favorite hotels." The star also raved about Bora Bora and admitted that she vacationed there with Carter for their ten-month anniversary.
Paris admitted in the premiere of Paris In Love that she enjoys celebrating monthly anniversaries with her husband. The heiress has been open about her past failed relationships and some of the abuse she faced from former partners. Paris now speaks so highly of her husband and enjoys amplifying every moment of their relationship because Carter makes her feel happy and loved. Though the pair have not confirmed where they're off to next, Carter's brother, Courtney Reum, shared footage from the honeymoon to his Instagram story and then posted a photo suggesting the couple might be heading to Tahiti.
Paris adores her fans, so it only makes sense that she would want to take them along for her honeymoon. The Paris In Love star looks like she's having a great time, and surely flights to Bora Bora must be filling up rapidly. Especially while a lot of the world is moving into the colder winter season, a nice tropical getaway sounds great right now. Fans will likely be tuning in to the YouTube series over the next few weeks to see where Paris is headed next. Maybe she'll even stop by her namesake city during the potential European leg of her tour. If fans want to know for sure where Paris and Carter are flying off to, they'll have to tune into her YouTube channel.
Next: Paris In Love: Paris Hilton Reportedly Invited Britney Spears To Wedding
Paris In Love streams Thursdays on Peacock.
Sources: Paris Hilton/ Youtube, Courtney Reum/ Instagram
from ScreenRant - Feed