Writer and director Kenneth Branagh's semi-autobiographical film Belfast premieres in theaters on November 12 but has already gained considerable buzz from critics. The film tells the story of Buddy (newcomer Jude Hill) growing up in Northern Ireland during The Troubles in the 1960s. Jamie Dornan and Caitríona Balfe star as Buddy's parents, while Judi Dench and Ciarán Hinds play his grandparents.
Related: Kenneth Branagh Could Break An Oscars Record Next Year
Screen Rant spoke to Dornan and Balfe about the personal nature of Belfast and the movie's musical number.
Screen Rant: What does it mean to tell a story that is already getting so much buzz but is also from a part of the world that means so much to you both?
Jamie Dornan: It's a bit of a dream. I've been very lucky so far in my career. I've played plenty of characters from that part of the world - played characters from Belfast, but never in a movie called Belfast and never in this way, in this light. This is a different way of showing people from that part of the world and showing the events that led to the outside understanding of Belfast.

I think when people hear Belfast, they consider it a certain way. And I think this movie gives Belfast slightly more informed resonance and [allows people to] see it in a different way. For a genuinely good, working-class family and see how that is.

It means a lot. I think it's important as someone who left there 20 years ago, has traveled a lot in that time, and always had to deal with what I was talking about there - what people's interpretation of Belfast is, and it's often quite negative. So to be able to shine some light and show a different side of it, for me, personally, is hugely important.

Caitríona Balfe: I've been looking for something to do in Ireland for a really long time. I think I've only ever played one Irish character before. Even though we didn't actually film our stuff in Belfast, it hits you in a different way, I think when you're playing something so close to where you're from.

I know so many amazing women from the north of Ireland. I know so many amazing people from the north of Ireland. It felt really special and felt like a privilege to be able to portray these characters in such a beautiful, positive way. It's very rare you get a script about the North that isn't just soaked in ideology. There's a place for that, but this felt really special to do something different and portray people in a different light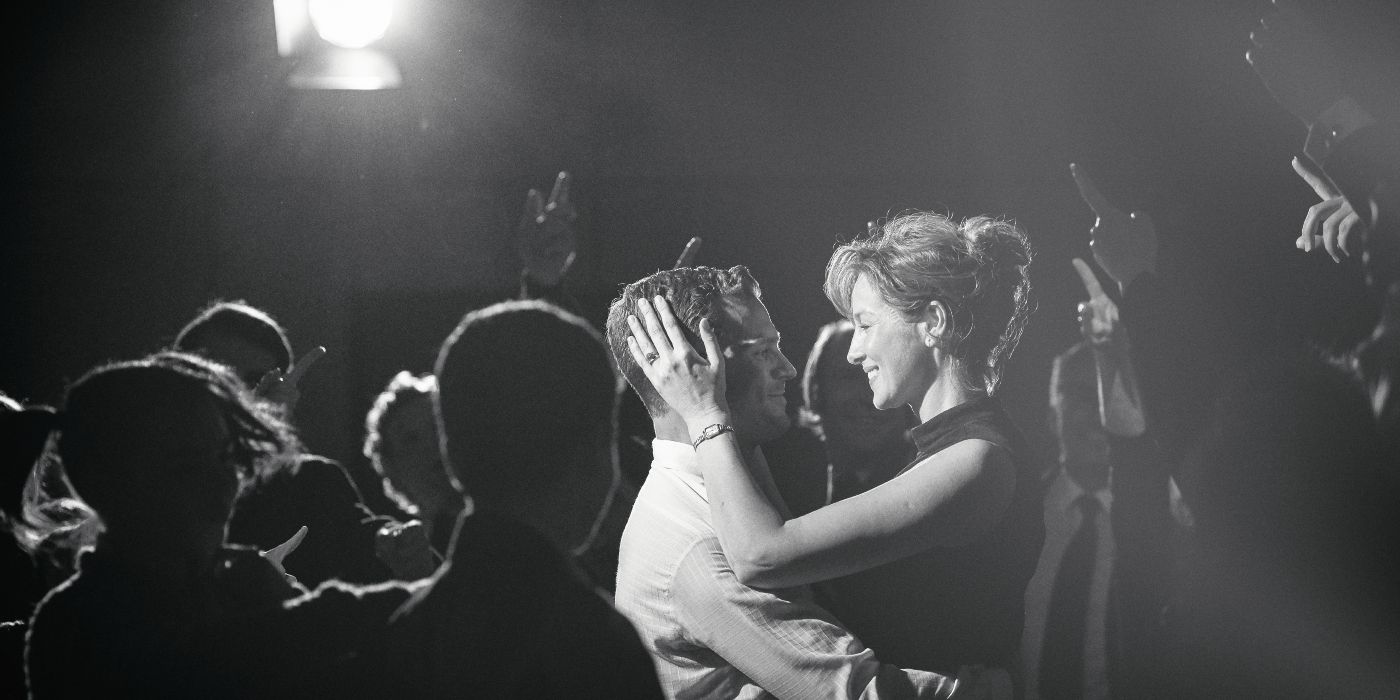 Jamie, we've been blessed with not just one, but two Jamie Dornan musical numbers this year. We've got "Everlasting Love" and "Edgar's Prayer" - two bops. What was it like filming "Everlasting Love" in comparison to "Edgar's Prayer", which is a little different?
Jamie Dornan: Very different, very different. Let's just say that. I don't think I'll ever sing more in on film or television; I feel I've done it in the last four or five things I've done. So it probably won't stop there. But I've never done anything like "Edgar's Prayer." It was very unique in its ambition and tone.

But it's terrifying, singing. Luckily, we recorded my vocals after. So on the day, I'm just lip-synching to the real track and then the vocal we did after, which was made it slightly less stressful. There's still the dance move aspects of what we're trying to achieve but they which were fairly disabling.

Caitríona Balfe: He was brilliant in it. He really knocked it out of the park. It was such a joyous fun day, and you were brilliant.
Next: Kenneth Branagh's New Movie Has A Touching Thor Easter Egg
from ScreenRant - Feed